Taking a photo for Instagram seems like an easy thing to do. You grab your phone, turn on the front camera, and boom – it's done. You transfer it to the Instagram photo editor, slap a filter on top of it, and wait for the likes to come. Well, that's not how it works, folks!
A plethora of good photos on Instagram can bring you not only more likes but more job opportunities, for example.
Nowadays, employers tend to look at the employee's social media profiles and if your pictures aren't unique or at least beautiful, that's a red flag. But, let's assume that you're a girl hungry for attention. Or perhaps a boy who wants to attracts some nice girls. Because let's be honest, young people use Instagram mainly for this purpose.
How to take good Instagram photos by yourself? Taking good Instagram photos by yourself requires lots of preparation and practice. Also, it is recommended to have adequate equipment (tripod) and proper lighting conditions. Good Instagram photos don't come overnight and they require time and effort but with your determination and our guide your Instagram profile will look amazing in no time.
If you're tired of harassing your friends or family for that 100th shot, hoping that you will look perfect in the photo, you've come to the right place. Now, let's get straight to the topic!
Required Equipment for Good Instagram Photos
---
Preferably a Camera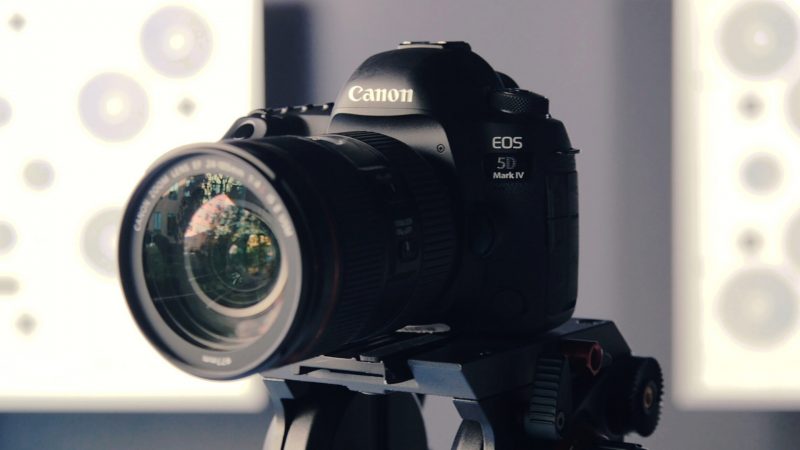 Most people say that you don't need a camera or a good phone camera for proper Instagram photos but let us say something. Yes, you don't need a camera but only if you let someone else take photos of you.
If you don't have a camera, it's much harder to take beautiful photos. You have to enable the timer, which almost always goes up to 5 or up to 10 seconds, then rush back to your place, take a pose, and snap a photo. To be honest, this method can sometimes work great but more often than not, you won't get what you want.
This doesn't need to be a DSLR camera. You can get a mirrorless camera, for example. You don't even need to spend a ton of cash on a high-quality camera. Remember that Instagram compresses your photos before uploading them, meaning that you'll still lose some quality.
So, what kind of camera do you need? You need a camera that can connect to Wi-Fi.
Most of these cameras support so-called companion apps. These apps allow you to remotely control the camera shutter, so you can see everything that's in the frame of the camera. This will allow you to position yourself exactly how you want it for achieving stunning results.
Also, phones nowadays have amazing cameras and are definitely worth considering but for a high-end phone, you can buy a pretty decent DSLR or a mirrorless camera. We will talk about this in the later sections of the article.
Related: How to Choose the Best Camera for Your Needs – 7 Step Guide
---
Tripod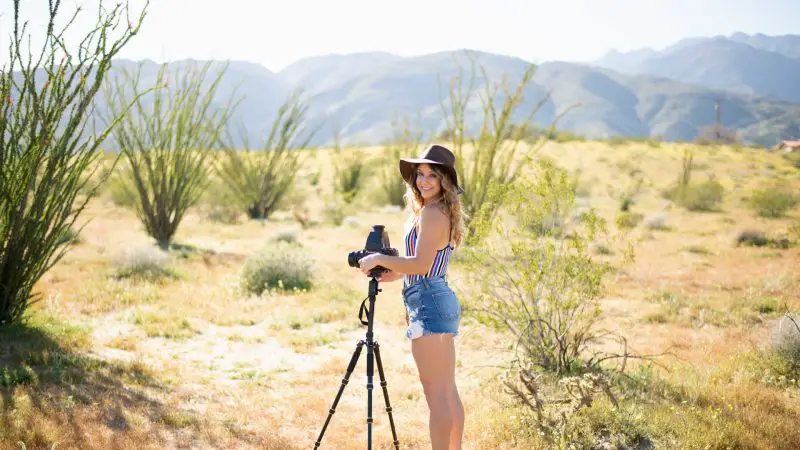 You already know the drill, right? Tripod represents a crucial factor in taking some decent shots. It doesn't only allow you to place your camera somewhere but also to stabilize the photo, eliminating blur or out-of-focus shots.
Phone Tripod, UBeesize Portable and Adjustable...
2019 Upgraded: This cell phone tripod is upgraded in 2019 with stronger material for peerless durability, the defect rate is down more than 80% from this year. And your purchase is guaranteed by UBeesize lifetime service.
Get The Perfect Angle - Adjustable OCTOPUS style legs help to capture clean shots from any angle even in the move. Want a view difficult to get with common tripod? This is your best choice!
Stable On Any Surface - Made of very strong durable foam and plastic, the ball head and no-slip feet make positioning and straightening devices easy
Luckily, tripods will not cost you a fortune. Even a cheap tripod of 20 bucks or less will do the job, given that you don't have a giant DSLR. For bigger cameras, tripods are a bit more expensive but nothing mind-boggling.
Related: Best Tripods for Photography in 2020
---
How to Take Good Instagram Photos by Yourself: General Tips
---
Good Lighting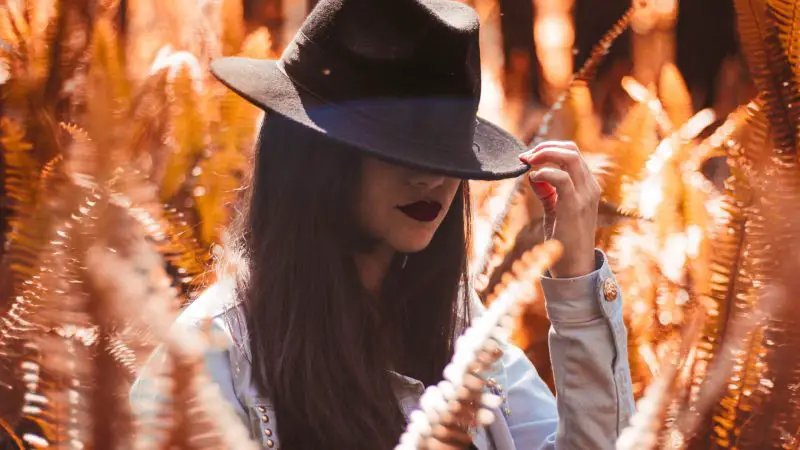 Taking photos without good lighting is like trying to learn how to read without knowing the alphabet. No, we are not talking about your flash or your LED lightbulb. We're talking about natural lighting. The lighting that passes through your window in the morning or in the sunset – that lighting!
If the lighting isn't good when you're trying to take a photo, the most you can do is sit and wait. You can always be at least visible in the artificial lighting but the photos will not be high in quality. They always turn washed out or have that annoying yellowish/orange tint.
When it comes to lighting, you know what the best time of the day is, right? Of course, the golden hour. This is the time about one hour before the sunset and one hour after sunrise. It will cast a golden glow that gives your photo a much better look, which is ideal for taking photos of yourself.
---
Proper Background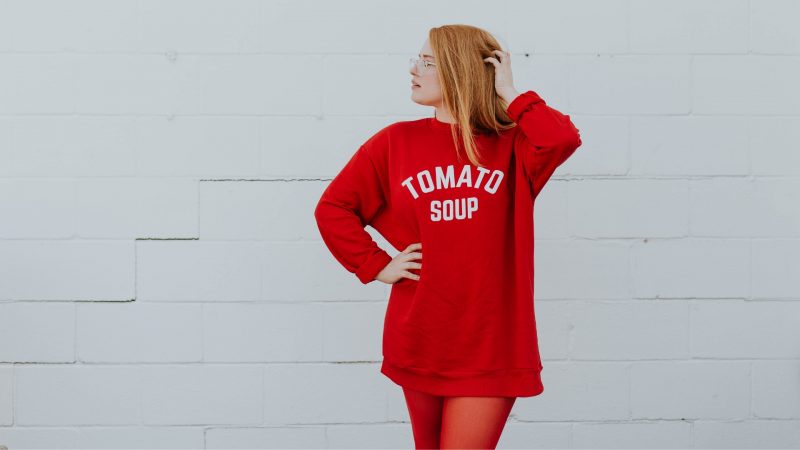 Now, the proper background is a subjective thing to an extent. A simple background will ALWAYS look better than your old sleeping room with your underwear, t-shirts, and socks scattered all around.
If you want to go this route, make sure your background isn't cluttered. Make it simple, so that you can stand out. After all, this is your photo.
Another method is to blur the background or use the so-called bokeh effect. We all know about bokeh. Every smartphone has it and you can use it on your camera.
When blurring the background, you allow yourself to be the main point of the photo. This effect can be achieved by using a Portrait mode on your phone or adjusting the F-stop value on your camera.
Sure, the camera will do it better but only if you set the required value properly. This requires some experimenting but it is possible to do after a few tries.
---
Movement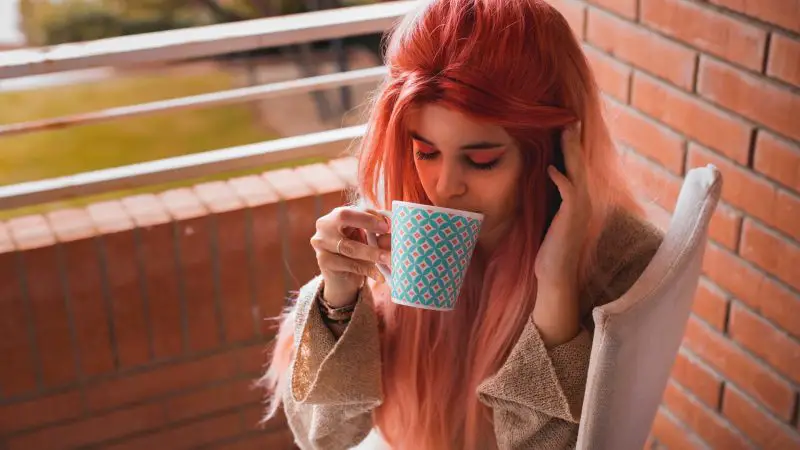 When we talk about movement, we don't think about running around. It's the subtle movement that adds meaning to your photo. You don't need to freeze like an ice statue, you are not taking a photo for your tombstone but Instagram instead. One of the tricks I like is to walk slowly towards the camera.
Another good example is doing something you often do – watch TV, play around with your phone, drinking coffee, etc. Either way, don't just stand there.
Use your imagination and craft some outstanding photos. By doing this, you'll have a full gallery for updating your profile for the month or two each week.
---
Utilize the Rule of Thirds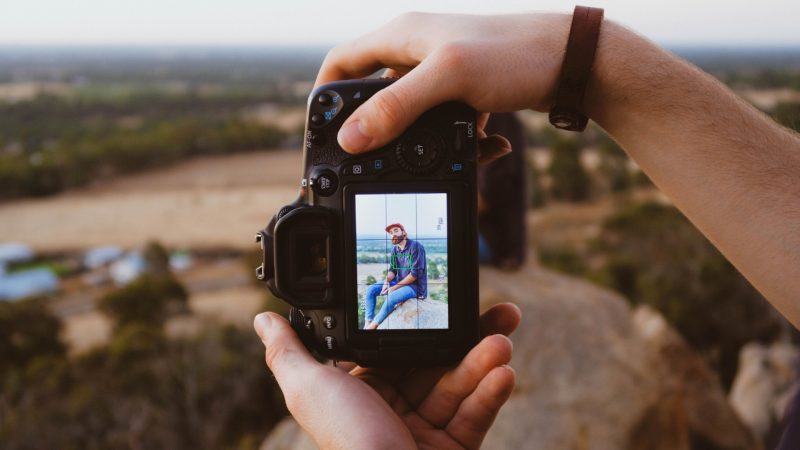 Utilizing the rule of thirds is much easier on the phone but if you can also use it on your camera. On your phone, you'll find an option to enable the grid.
This grid divides your photo into horizontal and vertical thirds. The subject of the photo e.g. you should never be in the center. Instead, aim for the sides, bottom third or two-thirds at the bottom. This will make your pictures much better.
---
Shoot in Public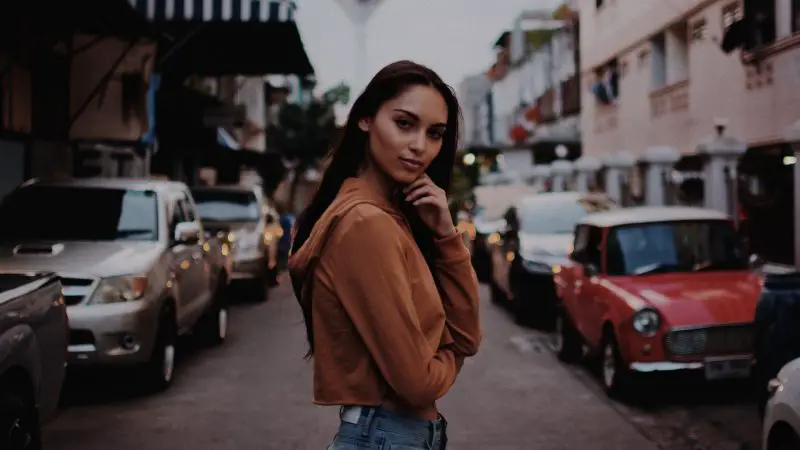 Shooting in the same environment each time makes the process boring and tedious. For a change, try shooting in public. We know that many people dislike this idea because they find it too uncomfortable and to be honest, we understand you. It's easier to sit on your couch or stand in your yard while your friend takes a shot.
But, shooting in public can be a great idea, especially if you know some beautiful places that can complement the background. While some think it's a good idea to shoot in your town's square, it's not.
First, you won't be in the main focus of your photo because there are lots of people around you. Second, if you find shooting in public uncomfortable, it will be even more uncomfortable when all eyes are on you.
Try to find a park in your city, a monument or a street where you won't get disturbed and take a photo there, having in mind our previous tips. One thing I've done a couple of times is arriving earlier to my college while there's almost no one there. Then, I could take pictures in front of it, in the hallways, in the classrooms, etc.
Places to evade include stores and other people's properties. Many stores nowadays have a strict policy about shooting photos and/or videos inside. You can get arrested if you're caught doing this but, in most cases, you'll pay a not-so-small fine.
As for other people's properties, I think it's clear. Don't just invade other people's backyards – you never know who or what you can find there!
Related: What Is the Best Time for Outdoor Photography?
---
Shoot with a Drone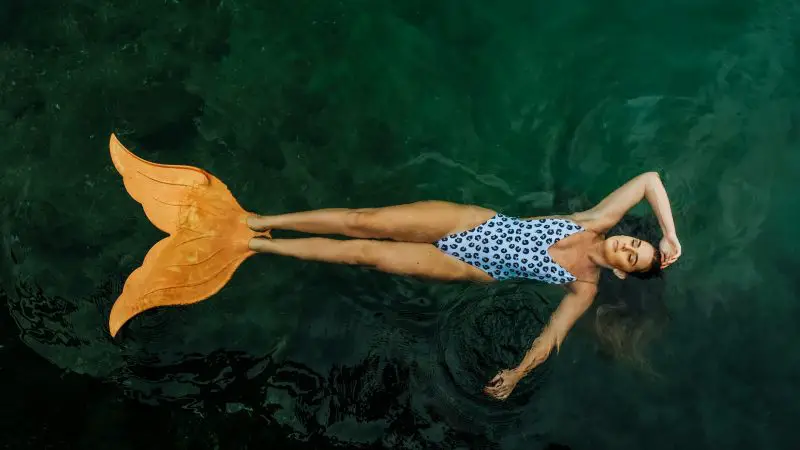 You'll agree that not everyone can afford a drone. Just a few years ago, owning a drone was like owning a classy BMW or any similar car.
Nowadays, drones aren't that expensive, yet they're very effective at taking photos from millions of different angles. Even when you want to take a selfie, a drone can deliver some stunning results. Of course, if you're an introvert person, a drone might be your best friend because you won't have to ask anyone to take a photo of you.
We don't say you need to buy a drone to take a good photo on Instagram. We say that if you have a drone, you can utilize it for this purpose. If you are thinking of buying a drone, we suggest taking a look at Potensic D88 Foldable Drone.
Drones with Camera for Adults 4k, Potensic D88 UHD...
4K Full HD Auto Adjustable Camera: The FPV drone is equipped with professional 4K camera with 110° wide angle. Due to built-in gimbal, the camera can be adjust 90° automatically when the drone flying. Much easier to enjoy real-time images form different angles on phone.
Strong Power System: Four 1350KV brushless motor enable the Potensic D88 to fly stably at high speed, maximum up to 50km/h; 7.6V 3400mAh high capacity intelligent 2 battery provides 32-40 minutes flight, bringing a better flight experience.(come with 2 battery)
GPS Safe Flight, User Friendly: The combination of GPS and optical flow positioning makes for smooth and stable flying, even smoother flight. It meets the needs of beginners and experts. One button GPS return helps to control the drone. When the camera drone has low power or signals, it will return the start point automatically.
There are drawbacks to this method – drones aren't allowed in every part of the world and the photo quality will not be at its highest. But, if you shoot in the golden hour with the proper lighting, you can get some pretty good photos.
---
Best Cameras for Instagram Photos
---
Sony A6000 (Mirrorless)
Sale
Sony Alpha a6000 Mirrorless Digital Camera 24.3MP...
Advanced 24.2MP back Illuminated 35 millimeter full frame image sensor
ISO 100 25600 (expandable to 51200). Lens compatibility: Sony E mount lenses
Hybrid AF with 179 point focal plane phase detection and 25 contrast detect points
Sony A6000 is one of the most popular mirrorless cameras at the moment. Although it's not Sony's newest iteration, this camera blows away many users with its small form factor and exceptional image quality.
The reason we went with this one is that it has a great screen for shooting. This will help you transition from your smartphone to the camera much easier.
One thing we mentioned earlier that's important is the Wi-Fi connectivity. Sony offers its PlayMemories app that lets you take a photo on your camera using your phone. Furthermore, this app lets you edit and even post the photo to Instagram from your beloved smartphone.
The battery life of A6000 is pretty impressive for a camera this small. You'll agree that 310 shots aren't anything new and extraordinary. But, since you're going to use it for Instagram photos, it'll be more than enough.
Sony A6000 is our favorite mirrorless camera for stunning Instagram photos. Given its small size, you can keep it in your jacket's pocket and carry it wherever you go.
---
Canon T6i (DSLR)
What about some DSLR stuff? It's not other than Canon T6i, an entry-level DSLR camera crafted for the pickiest photographers. If you want to ensure the great picture quality, even though Instagram compress it, you can't go wrong with a DSLR.
We must mention one thing and that's massive lens support. This means that you can even pair it with a plethora of lenses to achieve the wanted results. However, for Instagram photos of you, no lens is required except for a standard-zoom one. Even if you don't have a lens, you can still take amazing photos.
Like A6000, T6i also has built-in Wi-Fi connectivity and can take advantage of the Canon Camera Connect app. This app lets you take photos from distance and download images.
With its huge 24MP sensor and deadly-precise autofocus, Canon T6i will scratch every itch you have regarding Instagram photography.
---
Canon 5D Mark IV (DSLR)
Canon EOS 5D Mark IV Full Frame Digital SLR Camera...
New 30.4 Megapixel full-frame CMOS sensor for versatile shooting in nearly any light, with ISO range 100-32000; expandable up to 50-102400 (equivalent ISO).
4K Motion JPEG video (DCI cinema-type 4096 x 2160) at 30p or 24p; in- camera still frame grab of 4K 8.8-Megapixel images; multiple video options include Full HD up to 60p, and HD up to 120p.
Superb Dual Pixel CMOS AF for responsive and smooth AF during video or live view shooting; LCD monitor has a full touchscreen interface, including selection of AF area.
If you're up for some huge megapixel counts, here is the Canon 5D Mark IV, a 30MP DSLR camera. We've seen many travel photographers carry this baby around.
Aside from being great for capturing landscapes and travel destinations, it's also great for making your all pretty for Instagram. Thanks to its high dynamic range, the sky behind you won't get blown out when shooting outside.
And if you're brave enough to go outside and shoot while it's raining, you will have one of the best weather sealing capabilities on this camera.
We know not many of you shoot videos for Instagram but it's good to know that you can rely on this camera, even for this. The 1080p videos are razor-sharp, with solid optical stabilization.
Needless to say, the Wi-Fi connectivity is here and lets you take advantage of Canon's app we mentioned above. Whether you want this camera for professional use or just for your everyday Instagram posts, it's a real beauty… and a beast! It will fulfill your every wish without hassle.
---
Best Smartphone Cameras for Instagram Photos
---
Google Pixel 4
Google Pixel 4 - Just Black - 64GB - Unlocked
Point and shoot for the perfect photo. Capture brilliant color and control the exposure balance of different parts of your photos.
Get the shot without the flash. Night Sight is now faster and easier to use it can even take photos of the Milky Way.
Get more done with your voice. The new Google Assistant is the easiest way to send texts, share photos, and more.
Google Pixel 4 camera software is one of the best at this moment. Last year's Pixels managed to take stunning photos with only one camera, while Pixel 4 comes with two of them – wide and telephoto. The wide camera boasts a 12MP sensor, while the telephoto one has a 16MP 2x optical zoom sensor.
Google's software flexes its muscles here, bringing extremely good photo quality. The dynamic range is excellent and the colors are accurate. Even if you want to shoot at night, the Night Sight on Pixel 4 is astonishing. Just take a look at YouTube reviews and you'll see what we're talking about.
---
Apple iPhone 11 Pro
Apple iPhone 11 Pro, US Version, 64GB, Silver for...
This device is locked to T-Mobile only and not compatible with any other carrier.
Tested for battery health and guaranteed to have a minimum battery capacity of 80%.
Successfully passed a full diagnostic test which ensures like-new functionality and removal of any prior-user personal information.
Apple iPhone 11 Pro has a camera that goes shoulder-to-shoulder with Pixel 4. For some users, it's even better. All three cameras (wide, telephoto, ultra-wide) on the back have 12MP and all of them are optically stabilized, except for the ultra-wide one.
The photo quality is exceptional. iPhone has been always known for its realistic colors and that is the case here as well.
No sharpening, no fancy-looking filters. Just natural colors with tons of details. The new 12MP front camera lets you shoot "slofies" as Apple calls them. So you can wave your hair and watch it bloom in the slo-mo… what a time to be alive!
---
Samsung Galaxy Note 10+
Samsung Galaxy Note 10+ Factory Unlocked Cell...
Fast charging, long lasting intelligent power and super speed processing outlast whatever you throw at Note 10 plus
S pen's newest Evolution gives you the power of air gestures, a remote shutter and playlist button and handwriting to text, all in One Magic wand
With a full set of Pro lenses, super stabilization, live video bokeh and precision audio recording, Note 10 plus is a studio in your pocket
In our opinion, the Samsung Galaxy Note 10+ has the best optical stabilization we've ever seen. Its super-steady videos will look clear even when you're running. But, since we aren't talking about the video quality here, let's shift to its photo-capturing capabilities.
It has two 12MP wide and telephoto cameras, respectively, and one 16MP ultra-wide camera. The best camera here is the wide one, offering great photo accuracy and dynamic range. This camera is the one you'll be using the most when taking photos of you.
Good to know is that there's a 3D TOF camera, enhancing the bokeh effect for achieving buttery-smooth photos.
You can even use an S-Pen, which lets you take photos from the distance, so you won't even need a DSLR with the Wi-Fi connectivity!
---
Related: How to Take Good Photos with Phone?
---
Summary
To conclude, not everyone can take good Instagram photos. It doesn't always revolve around your looks. Sometimes, it's the way you pose and take photos.
Most of us know those people that look stunning in real life and below average on Instagram. This is because they don't know how to take decent shots.
Now that you know how to successfully take Instagram portraits, it's time for you to make a move. If you have the required equipment, start today, experiment, and you'll see results in a short period. Best of luck!
---
Related: 7 Tips on How to Promote a Photography Business on Instagram