Taking handheld photos or videos is sometimes very exhausting. Having to hold your gigantic DSLR in your hands all the time isn't a great option when you can buy a great tripod and give your arms some rest. Tripods are so popular nowadays that manufacturers produce tripods aimed at smartphones.
You'll agree that choosing the right tripod for you is a mundane task. Having to search through the vast offerings of tripods with different specifications is time-consuming and will only leave you wandering around. That's why we created a special list consisting of the best tripods for your money and we even included some budget options if you don't have a lot of money to spend.
10 Best Tripods for Photography in 2023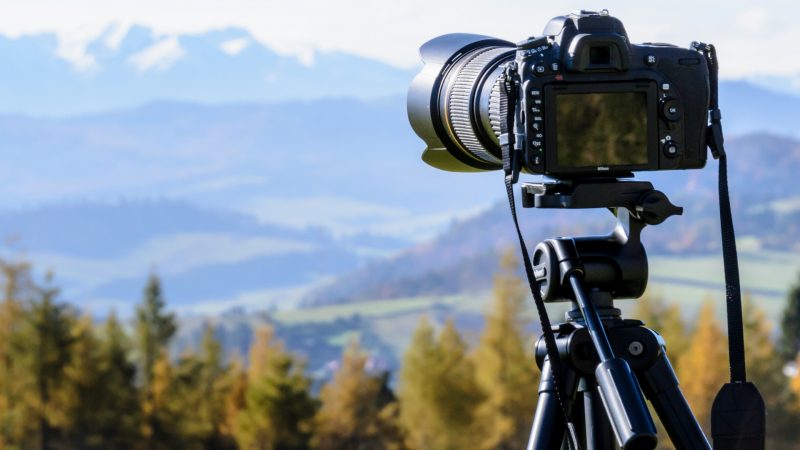 Benro SystemGo Plus Carbon Fiber Tripod with...
Versatile 180 Degree center column allows you limitless camera positioning possibilities including vertical, horizontal and inverted positions
Quick leg lock system improved stability with faster deployment and dust resistance
Integrated Monopod let's you detach a leg that becomes a monopod.
Benro GoPlus Travel FGP18A + B0 is one of the most versatile options on our list. Let's begin by mentioning the material which is used here – carbon. However, the manufacturer lets us choose between aluminum and carbon fiber, with the carbon fiber version being much more expensive and more durable. 
With its folded height of 46cm, it's not very robust and it's easy to carry around, especially if you travel a lot. An extended height of 165cm is decent, allowing you to swiftly control your camera. Since it's very tall, you won't have to lean too much, unless you're over 200cm tall.
The maximum load of legs is 10kg, while the maximum load of a head is around 8kg. It has 4 leg sections and its weight is somewhere around 2kg, making it more on the lightweight side. 
Thankfully, it can be used as a monopod if you unscrew one of the legs. The feet of this tripod is supported with rubber spikes and pads that are interchangeable, so you don't have to worry about stability at all.
Vanguard VEO 235AB Aluminum Travel Tripod with...
Includes a multi-action TBH-50 ball head with a large ergonomic main locking knob, bubble level and (No Suggestions) quick release plate
5 section 23mm aluminum alloy legs with 3 different leg angle options and feet that convert from rubber to spiked
Extra low angle photography option (low angle adaptor included)
Vanguard VEO 235AB, a tripod with an aluminum build, weighs around 1.5kg, making it compact and easy to carry around. Vanguard took the compactness to a whole new level by making its folded height 38cm and extended height 147cm. The maximum height is definitely far from impressive. If only we could have the same folded height and a bit higher extended height. Nonetheless, the tripod can carry a great load of 6kg for the legs, and 9kg for the head.
The number of leg sections is 5 – a bit higher than the aforementioned tripod. Although it's great for fine-tuning the height, we must mention again that the extended height could be bigger, especially because of the higher number of leg sections. 
For the feet, the tripod includes a retractable spike within the feet pads made of rubber. There's also a ball head with a panning lock, as well as the well-known Arca Swiss quick-release plate for easier setup.
Gitzo Series 0 Traveler tripod is a serious competitor for one of the best tripods. It has a carbon fiber eXact material which represents the pinnacle of the Gitzo engineering. It's lightweight and durable, with a weight of 0.9 kg. It's really compact and can be carried around like a Chihuahua puppy.
With its great engineering, the setup speed and overall stability are great, thanks to the ball head, which is a welcome addition.
MeFOTO GlobeTrotter 64.2" Carbon Fiber Travel...
The MeFOTO GlobeTrotter is a compact travel camera tripod that folds up inversely and turns into a monopod. When incorporated with the MeFOTO SideKick iPhone tripod mount (not included), the GlobeTrotter makes the perfect choice. Available in several colors.
360-degree Panning: Accurate panoramas can be easily orchestrated using the graduated panning scale for accurate image alignment. Two Leg Angle Positions: For an extra measure of flexibility, tripod legs can be independently locked into place at two different angles to enable shooting in cramped quarters, on irregular surface areas, or at ground level.
Recessed Center-Column Hook: A spring loaded recessed hook, located in the bottom of the center-column, allows you to hang additional weight from the tripod's center of gravity for increased stability. Separate Head and Pan Lock: Individual head tension and lock knob as well as pan lock help make the right adjustment.
This travel tripod has an amazing carbon fiber build that packs a lot of sturdiness at a 1.7 kg weight. If you love compact tripods, then you should definitely skip this one. Its folded height is 41 cm and its extended height is 163cm. We think that this height is almost ideal for an average-height photographer.
It has 5 leg sections and you can also use it as a monopod. It has impressive rigidity even at the highest levels of height because of its center column. MeFoto tripod comes with a quality carry bag that looks amazing and you can it also comes in two colors black or titanium. Really an amazing tripod for anyone.
Sale
GEEKOTO 79 inches Carbon Fiber Camera Tripod...
Carbon fiber: high-density carbon fiber, with good stability and light weight
360° ball head: The ball head can rotate 360° make it shooting around 360° and with horizontal bubbles, and a scale
Adjustable and expandable: the legs of the tripod have 3 adjustable triggers and retractable ring buckles, which can be adjusted to different placemMulti-function: not only can be combined into a monopod, can be used as a trekking pole, but also can be upside down for low-angle shooting!ent positions and different shooting heights
This tripod offers an amazing package that comes at a good price. You'll get a true carbon fiber tripod that's durable, sturdy, and screams quality. 
First of all, it's important to mention its weight of just 1.5 kg, which is on the compact side of the spectrum. This means that carrying it around shouldn't be a problem unless you have arms like spaghetti. Furthermore, its maximum load is 12 kg and it comes with a max height of 201 cm.
The carbon legs are really well done. This tripod is resistant to any kind of vibration or flexing, even when fully extended, it's a nice tripod for taking blur-free photos.
Benro Travel Angel 2 Series Aluminum Tripod w/ B1...
Designed to offer compact and lightweight camera support. Weighing just 4.6 lbs. and able to hold up to 22 lbs., the FTA28AB1 can extend from a minimum height of 17.9" up to 62.8".
The 4-section legs are held in place by twist locks and can be adjusted independently.
Equipped with interchangeable screw-in rubber feet and stainless steel spiked feet for increased stability. In addition, a removable leg can be combined with the center column to create a full-size monopod.
Benro Travel Angel FTA28AB1 is an interesting product. It's sort of a mixed bag when it comes to features. Its aluminum build is great, although I prefer carbon fiber. The aluminum is a lot heavier, with 2.42kg of weight. That's a lot of weight considering you're going to carry it around.
As for the max load, some increases were made. It has now 10kg for the legs and 14kg for the head, which is impressive. Something that's not impressive is its maximum operating height of 161cm and its folded height of 45cm.
On the other hand, engineering is brilliant. We have aluminum leg sections flavored with magnesium castings. You can even detach one leg and use it as a monopod if you wish to do so. Thanks to the generosity of the manufacturer, it has also some accessories – interchangeable rubber pads, metal pads, a padded soft case, and a short alternative center column.
The only downside here is the maximum height, made up of useful accessories. 
Manfrotto MKBFRA4-BH BeFree Compact Aluminum...
Light and compact design. The special design of this tripod with head ensures your camera stays firmly locked in position.
Supports up to 8.8lbs
Designed to fit into carry-on luggage and backpacks
Manfrotto Befree is a cute little piece of a tripod. At this price, you would expect some cutbacks in build quality but none of that is here. We still have the aluminum built and surprisingly low weight of 1.5kg. 
A carbon fiber version would be even lighter but such a thing doesn't exist. With its low weight comes a major compromise and it's the maximum load of 4kg for both head and legs. Even though the maximum height is 144cm, it's still a surprise. With a folded height of 41cm, it's still a compact thing to carry around.
The setup of Manfrotto Befree is expectedly easy. It comes with a single adjustment knob with no panning lock or releases whatsoever. The feet are also basic and don't include retractable spikes. 
On top of that, there are only two angles for the legs, which is a huge step backward. After all, this tripod is for those who enjoy ease of use and don't want anything professional.
NEEWER 72 inch Camera Tripod Monopod with Center...
Stable Tripod: Made of aluminium alloy, the tripod with maximum 1.1"/28mm tube diameter is stable enough to support your camera gear up to 33lb/15kg. Comes with a carabiner which can hang sandbag or other heavy objects to increase stability if necessary
Multi Angle Center Column: The center column lets you adjust the shooting angle, whether it's vertical (0°, 22.5°, 45°, 67.5°, or 90°) or horizontal angle (360° panning). Reverse the center column to shoot macro photos
Panoramic Ball Head: Securely attaches a camera to the tripod while allowing you to change the composition quickly with 3 adjustment knobs and the Arca Type quick release plate. 2 bubble levels to keep your photos look straight
Aluminum alloy is used to create the NEEWER 72-inch Camera Tripod Monopod. It is a four-section, aluminum alloy tripod with twist locks that reaches a height of 72.4″ (184 cm) when fully extended and collapses to 26.4″ (67 cm) when not in use. This may be used as a monopod or with the ability to quickly change the leg angles.
The tube diameter is a maximum of 1.1″/28mm. Your camera equipment up to 33lb (15kg) may be supported by this since it is stable enough. It also includes a carabiner so you may hang sandbags or other heavy things to add support.
In order to utilize it on uneven ground, steps, rocks, etc., this tripod's middle column allows you to alter the shooting angle, whether it be vertical or horizontal. While taking macro photographs, you may also flip the middle column.
Also, it incorporates a panoramic ball head with three adjustment knobs and an Arca Type quick-release plate. This may swiftly modify the composition while securely mounting a camera to the tripod. While taking panoramic pictures, it may also be turned 360 degrees to aid increase camera activity scope.
SmallRig 71" Camera Tripod, Foldable Aluminum...
Wide Compatibility: This camera tripod is universally compatible with cameras and devices with 1/4"-20 and 3/8"-16 threaded holes, such as DSLR cameras, action cameras and mirrorless cameras, etc. It can also be used with cell phones and projectors. 【Note】For cameras with telephoto zoom lens, you need to purchase additional tripod mount ring or telephoto lens mount for better balance.
2 in 1 Tripod &Monopod: You can easily turn the aluminum tripod into a monopod according to your needs, this tripod is a good companion for your hiking or traveling.
Angle Adjustable:The specially designed 36mm metal ball-head can rotate 360 degree allowing you to take photos at any angle with horizontally and vertically. And the central pole can be inverted to allow for low angle shooting and macro photography.
The SmallRig 71″ Camera Tripod is a tripod that can be used with a variety of devices, including your cell phones, projectors, and cameras with telephoto zoom lenses. It is universally compatible with 1/4″-20 and 3/8″-16 threaded holes, including DSLR cameras, action cameras, and mirrorless cameras. 
The high degree of stability provided by the tripod is due to the excellent level of magnesium aluminum alloy used. Up to 33 pounds can be supported by it (15 kg). This tripod is unique from others in that it has three additional 1/4″ threaded holes added to the bracket to accommodate the demands of smartphones, monitors, etc.
Depending on your requirements, you may quickly convert this aluminum tripod into a monopod. That is why it makes a fantastic hiking or vacation companion. You may also quickly change the working height from 16″ to 71″ because of its 4-section column legs and three fast-release flip-locks. Its 16.6″ folded size makes it portable for outdoor photography anyplace.
This tripod also has adjustable legs. You may capture images at any angle, both horizontally and vertically. This is because of the built 36mm metal ball-360-degree head rotation. Moreover, the center pole may be turned around to enable closeup and low-angle pictures.
Tripod Camera Tripods, 74" Tripod for Camera Cell...
【Lightweight & Easy to Adjust】Upgraded trapezoidal flap lock tripod adjusted freely from 19" and 74" in a few seconds to meet different height requirements for variety of shooting environments and photography needs. while it's only 18" when folded with the pan head removed. 19" compact storage size and 3.15 lbs weight make it easy to carry, you can easily take it anywhere with our lightweight travel tripod carry bag.
【Durable & Horizontally Stable】 The professional flexible tripod for cameras and phones provides ultra stability and steadiness for various terrain. Images are aligned precisely, no need to worry the hands will shake, easy and convenient for perfect shooting. Non-slip rubber feet and double sponge pads can provide a firm grip and strong friction. The thicker tube makes the tripod more torsional resistant & anti-shaking. Stability hook for hanging additional weight which can more stable support.
【Tripod for All Camera and Phone】Additional quick-release plates and phone mount maximize the compatibility to the greatest extent. Standard 1/4" screw mount compatible with all cameras (Nikon D3500, Fujifilm X-T200, Canon EOS 250D, Olympus, Panasonic), DSLR, SLR, webcams, compact camcorders, digital cinema cameras, projector, ring light, spotting scopes, and binoculars. The 360° phone mount is compatible with iPhone 14 13 12 11/11 Pro/XS Max/XS/XR/X/8/8 plus/ Galaxy Note 9/S10/S20.
The JOILCAN Tripod Camera is portable and simple to use. The upgraded trapezoidal flap lock tripod was easily adjustable between 19″ and 74″ in height to accommodate various shooting situations and photographic needs. It has a 19″ compact storage space and 3.15 lbs weight making it easy to transport. You can simply take it anywhere since it's just 18″ when folded with the pan head removed.
It also boasts two sponge cushions and non-slip rubber feet that may offer a solid grip and good friction. The tripod is more anti-shaking and torsional robust because of its thicker tube.
A solid, ergonomic, three-way pan head with a headlock, pan lock, and tilt lock is a feature of the JOILCAN small camera tripod. This head may be used for overhead, vertical, and other types of shooting.
Angles may be flexibly adjusted for 360° panoramic photography, 180° up and down photography, and 90° vertical portrait. The tripod provides exceptional stability and produces good, smooth results when pans and tilts are used during picture or video capture.
Best Budget Tripods for Photography in 2023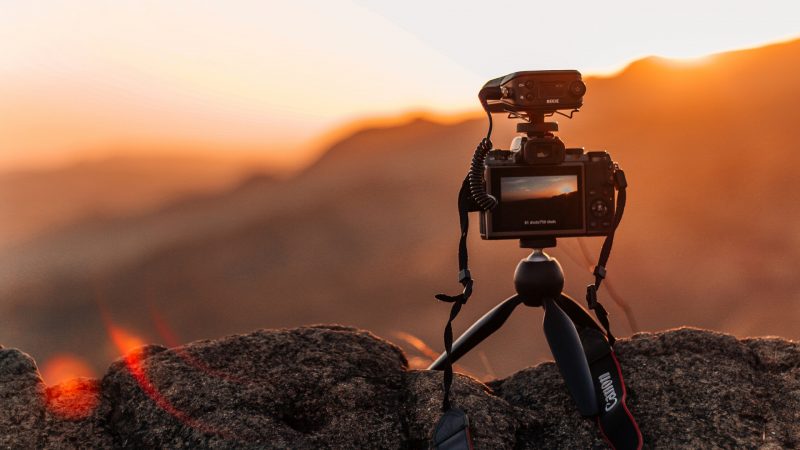 Sale
JOBY GorillaPod 325: A Compact, Flexible Tripod...
Evolved: New stainless steel reinforced ball head with 90° tilt is perfect for shooting in portrait or landscape mode for FaceTime, livestreaming and selfies
Flexible: Wrappable legs wrap around objects for unlimited angles and precise composition control
Versatile: Mount point-and-shoot cameras, lighting, microphone, Pico projector, speaker, any device weighing up to 325 grams with a ¼"-20 tripod mount or smartphone using JOBY GripTight mount
Joby GorillaPod 325 comes with some decent features, a perfect tripod for a lot less money. It comes with 3 tiny legs that are completely bendable, meaning that you can attach it everywhere you want. 
You can twist the legs to grab onto a bar, tree, or anything that's thin enough. The rubber pads at the bottom ensure that the tripod is stable. Since it's only 52g heavy, you won't even notice that you have it!
The supported weight of 325g isn't anything impressive. However, it's great for tight spaces, as well as compact camera systems.
Manfrotto has its roots even in the budget segment. Just a minute ago, A small and lightweight tripod such as this one is great for compact cameras and even small DSLRs. 
Despite its lack of size, the stability is great although it doesn't have quality rubber paddings at the bottom. The weight of 230g is still on the lighter side of the spectrum and it even supports 650g of weight.
Regetek Travel Camera Tripod (Aluminum 63"...
Regetek Professional Camera Tripod RG233: Adjustable Center Column Converts to 3-Section 22"-64" Tripod. 2.75 lbs Net weight; 8.8 lbs Load Capacity. Foldable Feature for Travel.
3-Way Flexible Pan and Tilt Head: Provide 360° Rotation Panoramas; Built-in Bubble View Levels.
Quick-Release Plate with Standard 1/4"-20 Screw Mount Compatible for all DSLRs, Digital Cameras, Mirrorless Camera, Lenses, most Camcorders, GoPro devices, Binocular, Telescopes. If you want more Quick-Release Plate for this Camera Tripod, please search "B082M2WNKP".
This tripod aims to give you an experience of your life while not depleting your wallet. It still has a great aluminum construction and the build quality is exceptional. 
Since it's made of metal, it weighs around 1200 g. Luckily, if you buy this tripod, you get a basic bag for carrying it around. Regetek is definitely a manufacturer with a bright future. You get everything you need and the tripod even supports heavy DSLRs. 
This tripod is a lot cheaper than some high-end tripods out there, earning the spot on this list with no hassle. The highlight of this tripod is its extended height of 161.5cm, being able to go head-to-head with the more expensive counterparts. 
The supported weight of 2kg is still a tiny letdown and is a bit odd, as tripod weighs around 940g. If you want a tripod that feels professional and costs much less, here's what you should buy.
How to Buy the Right Tripod?
Buying a tripod is harder than buying bread in the supermarket. Before rushing out and ordering a new tripod, here's what you should think about:
Build Quality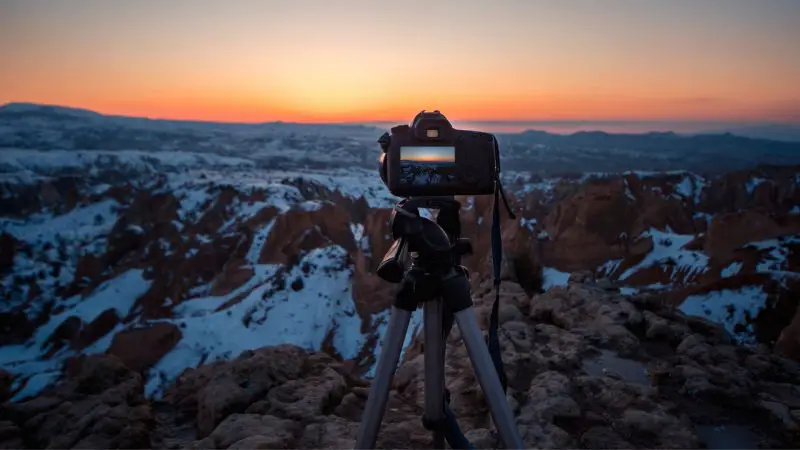 Build quality is of the utmost importance. While aluminum weighs more and aluminum tripods are cheaper, carbon-fiber tripods are lightweight and more expensive. Although carbon-fiber tripods are a better option if you care about mitigating vibration, aluminum tripods are better when it comes to stability.
Folded and Extended Length
A tripod's folded and extended length can be either its best or worst feature. For those who like compact tripods, having a tripod with the short folded length is something that's mandatory. 
However, if you want a tall tripod and don't care about compactness, you should look for the maximum extended height. Either way, manufacturers rarely balance these two, so you'll have to compromise according to your needs.
Leg Sections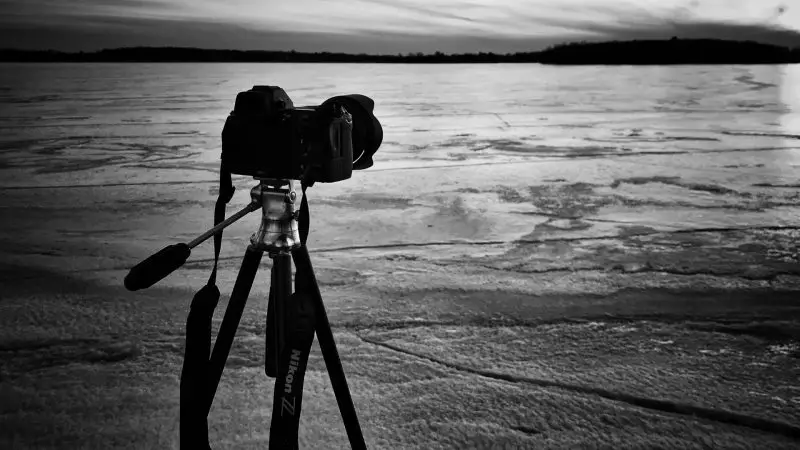 The most common number of leg sections is 4. However, tripods also have 3 or 5 leg sections. A tripod with the larger number of sections will be shorter and it's easier to fold it.
In short, a larger number of sections imply that a tripod can be more portable. The downside is that the setup might last a little longer and the stability is compromised.
Leg Angles
Having a choice of several different angles for each leg is very useful and comes in handy when working in tight areas. There are many tripods out there that don't support the angular change for every leg, meaning that the flexibility is reduced. If you manage to find a tripod that can change angles for all legs, it will allow you to shoot from lower angles.
Feet Padding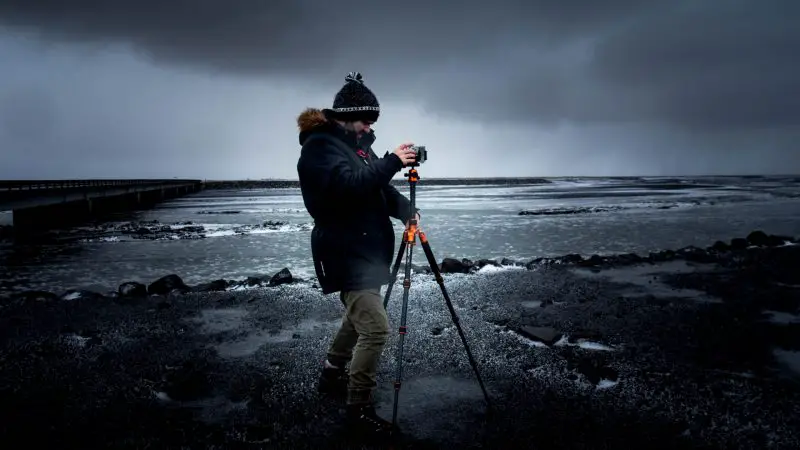 Feet padding is very important. It can either be rubber padding which works well with the surface you don't want to damage. There are also metal spikes and their goal is to provide stability on the soft ground. The best case scenario is when a tripod has both rubber feet and metal paddings.
Leg Locks
Two main types are implemented in tripods – flip locks and twist locks. While the twist locks work swiftly and allow you to unlock all the leg sections in a single movement, flip locks are much slower. Flip locks allow you to operate each leg section individually. This allows for more flexibility but drastically reduces the speed of the setup.