For a professional photographer like you, you would always want to use the best DSLR camera that can fit your needs. Mirrorless cameras are getting a lot of attention these days. But since they are costly compared to DSLRs, you might want to resist the temptation. After all, there are still a lot of DSLR cameras with the same features.
The best part of choosing a DSLR camera for professional photography over a mirrorless is its very low prices. Some models have been discounted, but you can still find old stocks and refurbished ones online. To give an idea, below is our list of the Top 10 best DSLR professional cameras from different popular brands, especially Canon and Nikon.
10 Best Professional DSLR Cameras in 2022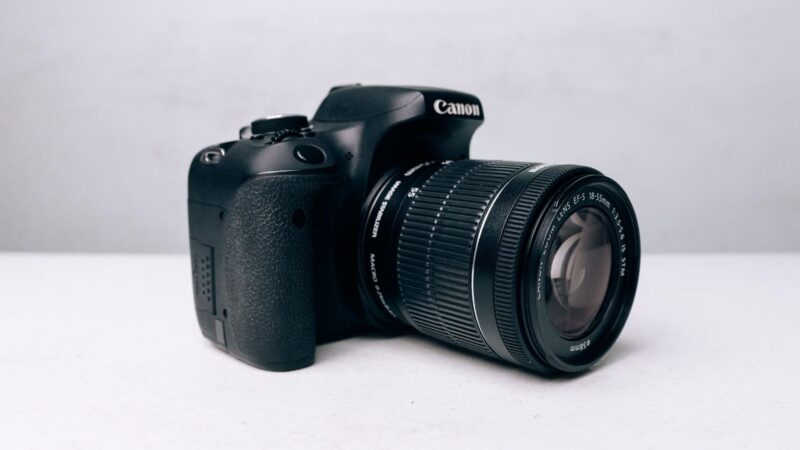 Canon EOS-1D X Mark III DSLR Camera (Body Only)...
Bundle Includes: 1 x Canon EOS-1D X Mark III DSLR Camera (Body Only), 1 x Sony 128GB CFexpress Type B TOUGH Memory Card , 1 x Camera Bag, 1 x 12 inch Flexible Tripod, 1 x Hand Strap, 1 x Memory Card Wallet, 1 x Cleaning Kit
Built for speed, sensitivity, and precision, the Canon EOS-1D X Mark III is a powerful DSLR designed for sports, wildlife, and other trying and dynamic imaging applications. Designed as the flagship of the EOS system, the 1D X Mark III is characterized by its refined processing capabilities and distinct speed to suit both photo and video applications. Featuring a newly designed 20.1MP full-frame CMOS sensor and updated DIGIC X image processor
This camera is capable of continuous shooting rates up to 16 fps with the optical viewfinder or 20 fps in live view, with a 1000-shot buffer when shooting raw+JPEG. Complementing this speed is an impressive native sensitivity range from ISO 100-102400, that can be expanded to ISO 50-819200, to suit working in a variety of lighting conditions. Also benefitting the speed is the EOS iTR AF X autofocus system, which uses 191 points for quickly and accurately acquiring focus.
The Canon EOS-1D X Mark III is the last flagship DSLR camera for the company, as it plans to switch to mirrorless cameras. Launched in January 2022, it replaced the 1D X Mark II, but with some very powerful advancements. So far, this 1D X Mark III DSLR is also undoubtedly the best professional DSLR camera that Canon has ever released.
The 1D X Mark III features the Digic X processor, which can shoot up to 16 fps bursts in the viewfinder, 20 fps burst rate in live view with Dual-pixel AF, and 4K video at 60 fps. It also has an amazing 191-pt viewfinder AF system (155 are cross-type), an ISO range up to 102400 (expandable to 819200), and 2 high-speed CFexpress memory card slots.
Here, Canon allows you to shoot in HEIF (High-Efficiency Image File) image format, which is far better than JPEG in terms of image quality and compression. Battery life is very impressive at 2,850 shots. As expected, 1D X Mark III has fast built-in Bluetooth and Wi-Fi connectivity. Like the 1D X Mark II, it sports the 2.1M-dot fixed touchscreen. 
The EOS-1D X Mark III seems to be a perfect camera, but it is not. Despite having an incomparable build quality, it is quite bulky and heavy at 1440 grams. The LCD is not articulating, and there is no USB charging. But still, it has super-fast autofocus, produces excellent image quality, and is the best DSLR for professional videography.
EOS-1D X Mark II
Fastest shooting EOS-1D, capable of up to 14 fps full-resolution RAW or JPEG, and up to 16 fps in Live View mode with new Dual DIGIC 6Plus Image Processors
Achieves a maximum burst rate of up to 170 raws in continuous shooting at up to 16 fps, and 4K movies using CFast cards in the new CFast 2.0 slot
Improved AF performance through 61-point, wide area AF system with 41 cross-type points, improved center point focusing sensitivity to -3 EV and compatibility down to f 8
The Canon EOS-1D X Mark II is the predecessor of the 1D X Mark III. Launched in February 2016, this full-frame DSLR camera replaced the Canon EOS-1D X. At that time, this flagship DSLR was dubbed the world's best professional DSLR camera. It also introduced a lot of advanced features that are still common today.
To start with, the EOS-1D X Mark II is Canon's first DSLR camera to feature the DPAF CMOS (Dual Pixel Autofocus) system, dual DIGIC 6+ image processors, a CFast 2.0 card reader slot (aside from the regular CF card slot), and an A/D converter inside the 20.2MP CMOS sensor. It is also Canon's first full-frame camera with a touchscreen.
Interestingly, this 1D X Mark II is also the first Canon DSLR to offer 4K video at 60fps. This second edition of 1D X also has an impressive continuous shooting speed of 16 fps, as well as a top-notch ISO range of 100 – 51200, which can be expanded to 409600. However, the 3.2″ 1.62M-dot touchscreen is limited to only tap-to-focus in Live View.
The battery life is good for 1,210 shots per charge, which is pretty good for professional photographers. One disadvantage is the 1530-gram weight, which is much heavier than the 1D X Mark III. Expect it also to be more pricey than mid-range cameras. Overall, this weather-sealed 1D X Mark II is great for sports and wildlife photography.
Nikon D850 FX-Format Digital SLR Camera Body
Nikon designed back side illuminated (BSI) full frame image sensor with no optical low pass filter
45.7 megapixels of extraordinary resolution, outstanding dynamic range and virtually no risk of moiré
Up to 9 fps1 continuous shooting at full resolution with full AF performance
The Nikon D850 was officially announced on July 25, 2017, which is also Nikon's 100th-anniversary celebration. As a successor to the D810, this powerful DSLR camera was an instant hit to professional photographers, and until today. On top of that, the Nikon D850 also won the best Professional DSLR camera during the 2018 TIPA World Awards.
Probably the best upgrade is the inclusion of a 45.7MP full-frame BSI CMOS sensor. The D850 is the first Nikon DSLR camera to capture 4K UHD video at the full sensor width, up to 30p. Powered by Expeed 5 image processor, this Nikon FX-format camera also has a new 181k-pixel RGB metering sensor and a continuous speed of 7 fps.
Like the Nikon D5 and D500, the D850 boasts a 153-point AF system, with 99 of which are cross-type. Equipped with a tilting 3.2-inch LCD touchscreen with a very high resolution of 2,359,000 dots, this weather-sealed DSLR has a very wide native ISO range of 64-25600 (expandable to 32-102,400) and an improved JPEG noise reduction.
Battery life is rated at 1840 shots per charge, which is great for a professional camera.
But instead of a built-in flash, there is a wireless flash option for compatible external flash. Although not the best camera for super-fast actions and pretty heavy at 1,005 grams with battery, the D850 is still an excellent choice for landscapes and wildlife.
Nikon D780 Body
The D780 features 24.5 MP resolution and robust EXPEED 6 image processing engine
Capture full frame still images and 4K UHD video
Wireless connectivity with the easy to use SnapBridge app
The professional Nikon D780 replaced the mid-range D750 in January 2020. But while the D780 has some similar advanced features to the also professional D850, the former seems to be designed for general purposes instead of specific ones. Interestingly, this relatively new full-frame DSLR camera is slightly cheaper than both the D850 and D750.
In terms of the image processor, the D780 uses the upgraded Expeed 6 as compared to the Expeed 5 of the D850 and Expeed 4 of the D750. Despite having the same image sensor sizes at 35.9 x 23.9 mm, D780's 24.5 MP BSI CMOS sensor can capture slightly more details than the D750's 24.3 MP but fails huge compared to D850's 45.7 MP.
Like the D850, the D780 uses a 3.2-inch diagonal TFT-LCD touchscreen with 2,359,000 dots. The minimum shutter is also the same at 1/8000 but has a much longer light exposure at 900 sec in manual mode instead of 30 sec. This means that the D780 is better for night photography, while the D850 works better for daylight photography.
Both DSLR cameras allow 4k video recording but the D780 has better video quality due to 10-bit output over HDMI instead of 8 bits. The D780 has a battery life of 2260 shots per charge, which is far better than the D850's 1840 shots. But overall, it does not mean that one is better than the other. It's about choosing the best DSLR for your chosen field.
Canon EOS 5D Mark IV Full Frame Digital SLR Camera...
New 30.4 Megapixel full-frame CMOS sensor for versatile shooting in nearly any light, with ISO range 100-32000; expandable up to 50-102400 (equivalent ISO).
4K Motion JPEG video (DCI cinema-type 4096 x 2160) at 30p or 24p; in- camera still frame grab of 4K 8.8-Megapixel images; multiple video options include Full HD up to 60p, and HD up to 120p.
Superb Dual Pixel CMOS AF for responsive and smooth AF during video or live view shooting; LCD monitor has a full touchscreen interface, including selection of AF area.
The Canon EOS 5D Mark IV is so far the last of the 5D series, as Canon is now switching to mirrorless cameras. Launched in 2016, this professional DSLR camera succeeded the 5D Mark III and offered amazing upgrades and new features for still photography and videography. No wonder it remains one of the best DSLRs today.
Unlike the 5D Mark III, which uses DIGIC 5+ image processor, the 5D Mark IV is equipped with a faster 6+ image processor and a responsive 3.20-inch fixed LCD touchscreen with 1,620,000 dots. It also sports a 30MP full-frame CMOS sensor instead of 22MP, a 7-fps continuous shooting instead of 6 fps, and built-in GPS and NFC/Wi-Fi connectivity.
The 5D Mark IV also uses the faster and smoother Dual Pixel CMOS AF with Dual Pixel RAW. Here, the sensor takes two 30-MP images from the same subject and detects any phase differences between them. However, this option also results in a larger file size and a huge drop in buffer capacity. You can also shoot full DCI 4K at 30 fps, but not at 60 fps. 
It also has a native sensitivity ISO range of 100-32000 that expands to 50-102400.
Canon also installed a C-log upgrade option, which gives users a more dynamic range in 4K and HD video files during post-processing. The battery life is impressive at 900 shots per charge, though. As a whole, the 5D Mark IV DSLR is still worth investing in.
Sale
Designed for professional photographers and enthusiasts, the Canon EOS 7D Mark II replaced the EOS 7D in September 2014. With its predecessor being 5 years older, this full-frame DSLR camera is equipped with a lot of sophisticated features. Because of this, the 7D Mark II won the Best Digital SLR Expert award at the 2015 TIPA Awards.
Powered by dual DIGIC 6 image processors, the 7D Mark II possesses the 20.2MP APS-C CMOS sensor, Dual Pixel CMOS AF, 3.0-inch Clear View II fixed type LCD screen with 1,040,000 dots, 150,000-pixel RGB and infrared (IR) sensor, and has continuous burst speeds up to 10 fps. It also uses an optical pentaprism viewfinder.
The 7D Mark II uses a 65-point all-cross-type AF sensor and has an ISO range of 100–16,000, which is expandable to 51,200. The shutter mechanism is rated for 200K actuations. There are also two card slots – SD and CF cards. However, there is no touchscreen, no built-in Wi-Fi, and no 4K video. The video recording is at 1080p/60 fps.
This weather-sealed DSLR camera is made of tough magnesium alloy and weighs 910 grams, including the battery. Battery life is up to 670 shots only compared to the 800 shots for EOS 7D. Sad to say, this is quite low for professional photography. But after weighing the pros and cons, the Canon 7D Mark II is a very useful tool for professionals. 
Sale
Nikon D810 FX-format Digital SLR Camera Body
36.3 MP FX format CMOS sensor without an Optical Low Pass Filter (OLPF)
30 percent faster Expeed 4 image processing engine. Shutter speed: 1/8000 to 30 sec
51point AF system and 3D color matrix metering III with a 91,000 pixel RGB sensor
The Nikon D810 is the predecessor of the Nikon D850, which is only three years younger. Launched in June 2014, this professional DSLR camera has a handful of incremental upgrades compared to its predecessors, the Nikon D800 and the D800E. And despite its age, this full-frame DSLR is still in demand in 2022.
Like the D800/D800E, the D810 is equipped with a 36.3MP CMOS sensor with a size of 35.9 x 24mm and a pixel size of 4.88µ. Powered by Expeed 4 instead of Expeed 3, the base ISO is ISO 64 of 100, thus producing higher image quality with less shadow noise and more dynamic range. Native sensitivity is higher at up to 12,800 instead of 6,400.
The D810 uses the same 3.2-inch diagonal TFT-LCD (no touchscreen) but with a higher resolution at 1,229,000 dots, a 91,000-pixel RGB sensor, and 51 AF points, where 15 are cross-type. 1080p video at up to 60p, and a shutter speed of 1/8000-30 sec. But unlike the Nikon D850, it has no 4k video capability but can shoot smooth video at 1080p/60p.
The battery life is rated at 1200 shots, which is far better than the 900 shots of the D800 and shorter than the 1840 shots of the D850. The D810 weighs 880 grams, which is 20 and 125 grams lighter than the D800 and D850, respectively. Overall, this weather-sealed DSLR camera is a great option for the D850 and is still one of the best DSLRs.
The Nikon D6 was announced in February 2020 to replace the D5. Dubbed as one of Nikon's best flagship DSLR cameras, this full-frame professional DSLR is a powerhouse in terms of functionality and durability. Specifically designed for sports and action photography, this sixth of Nikon's D series has lots of similarities with its predecessor.
At first glance, you might mistake the D6 for the D5 since these two DSLRs are almost twins. They have the same body features and dimensions, and the D6 is only 30 grams heavier at 1270 grams. They have the same 20.8 MP CMOS sensor, a 3.2-inch diagonal TFT-LCD touchscreen with 2,359,000 dots, and an optical pentaprism viewfinder.
The D6 features the Expeed 6 image processor instead of Expeed 5, but they have the same ISO sensitivity range at ISO 100-102,400 expandable to 204,800-3,280,000. But then, the D6 has a faster 153-focus point (99 cross-type) against the 105 all-cross-type focus points of the D5. This upgraded version also has built-in GPS and Wi-Fi.
Both of them can also shoot 4k UHD video up to 30p and offers 14-fps continuous shooting. The Nikon D6 has a triple-sensor arrangement for each focus point, while the D5 only has a double-sensor. It is also 140 grams lighter at 1270 grams and has a super long battery life at 3,580 shots. To sum it up, this D6 is a powerful professional DSLR.
Pentax 645D 40MP Medium Format Digital SLR Camera...
40 megapixel CCD sensor provides a top resolution of 7264x5440
Fully weather sealed and coldproof design resists rain, snow, dust and other environmental hazards during field use
14 Bit RAW files in Pentax PEF and Adobe DNG formats
Launched by Ricoh in March 2010, you might think that this Pentax 645D now belongs to the museum. But no, this professional DSLR camera is still being used by a lot of photographers in fashion and advertising who prefer medium-format cameras over the full frame. It means that such cameras have larger sensors, producing better image quality.
The Pentax 645D uses the 33 x 44mm 39.5MP CCD image sensor, which is quite larger than the 24 by 36mm full-frame sensor. Therefore, this medium-format camera needs longer focal lengths and image circles but ends up with a shallower depth of field. On the negative side, it is bulkier, heavier, and more expensive than full-frame cameras.
Powered by a Prime II image processor, the Pentax 645D is equipped with a 3-inch 921k-dot LCD (with no touchscreen), an excellent optical pentaprism viewfinder, and an advanced SAFOX IX+ focus sensor with 11 AF points, of which 9 are cross-type. The ISO rating is significantly low, though, only at ISO 200-1000, expandable to 100-1600.
Battery life is impressive at 800 shots per charge. The probably biggest disadvantage is that this gigantic camera does not support video and Live View. There is also no built-in flash, no Wi-Fi, and GPS, and weighs a whopping 1,480 grams. But if you are only after taking super-high-resolution images, the Pentax 645D will surely not disappoint you.
Pentax K-1 Mark II Full Frame 36MP Weather...
36 MP AA filter less shake reduction sensor with APS C crop mode for compatibility with Pentax k mount lenses
Hand Held Pixel Shift Resolution that allows 4 images to be complied into an superior image with increased color rendition and sharpness
Engine Accelerometer for reduced image noise, faster focusing and increased image sharpness
The Pentax K-1 Mark II may be the last on this list but should still not be disregarded. This professional DSLR camera has proven that DSLRs are far from dead. As a successor to K-1, the first full-frame Pentax SLR, this K-1 Mark II has modest upgrades that are very suitable for professional photographers but at a very reasonable price.
Launched in February 2018, the K-1 Mark II uses the same PRIME IV image processor, 36MP full-frame CMOS sensor, and a 3.2-inch fully articulating LCD screen as that of the K-1. To attain super-high-resolution images with the K-1 II, Ricoh added the new handheld Pixel Shift mode, which reduces noise while improving the resolution. 
The K-1 Mark II is also the first full-frame Pentax camera with an accelerator unit, which helps full-time noise reduction faster during image processing. It also has a higher ISO output range at ISO 100-819200 and a slightly faster AF system. Like the K-1, the K-1 II has a 4.4fps continuous shooting, and the AF system has 33 AF points (25 cross-type).
As expected, the K-1 Mark II lacks 4K video capture but allows you to shoot full HD video at 1080/30p. And since the camera is big and the body is made of magnesium alloy, it's pretty heavy at 1.01 kilos. The battery life is 90 shots lower at 670 shots per charge. But if you are a Pentax avid fan, the K-1 Mark II is still an excellent upgrade.
Summary
Most DSLR cameras for professionals are designed for specific fields. Some of them are suited for videographers, while others work better in still photos. Aside from the prices, you should consider the features that you only need. Durability and weight are also important. But most importantly, videos and images should be of very high quality.