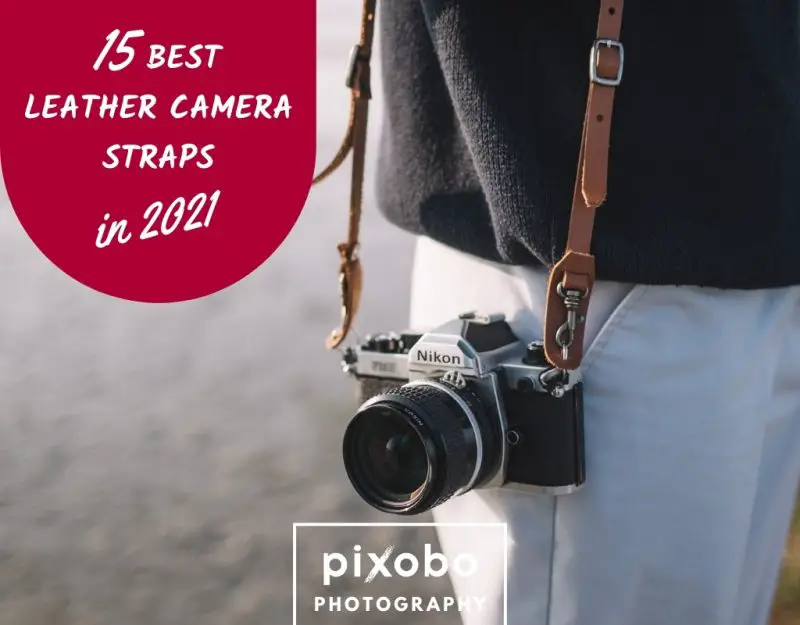 While photography sounds fun as hell, it can sometimes be exhausting. I mean, carrying around your camera and carefully using it so you don't accidentally break your expensive lens…the struggle is real! However, only the true photographers know the importance of high-quality leather camera strap.
Leather camera straps are excellent if you want to give your arms a rest. Sure, you can buy a simple wrist strap, but here, we are talking about the ones intended for a shoulder (and a few wrist straps, too). You can't put your huge camera around your wrist unless your wrists are really thick.
In some cases, you can get your leather camera strap with your camera, but Nikon and Canon aren't that generous. Such a shame; they have some of the greatest cameras on the Earth!
If you, however, need to buy a perfect leather camera strap, we have some ideas for you…oh, a lot of them! Also at the end let's check what you should look out for.
The list of best leather camera straps in 2022:
1. ONA Presidio Leather Camera Strap
2. HoldFast Gear Money Maker Two-Camera Harness
3. Herringbone Heritage Leather Camera Strap
5. Heavy Leather NYC Classic Leather Camera Strap
6. Movo Vintage Leather Sling Strap
7. Eric Kim Henry Leather Strap
8. Inspire in Time Camera Neck Strap
9. bStill Leather Camera Strap
10. Bluecell Leather Camera Strap
11. Foto&Tech Leather Camera Strap
12. Zeffiro Leather Camera Strap
13. Cam-In Leather Camera Strap
14. CEARI Premium Nylon Camera Strap
---
Top 15 Best Leather Camera Straps in 2022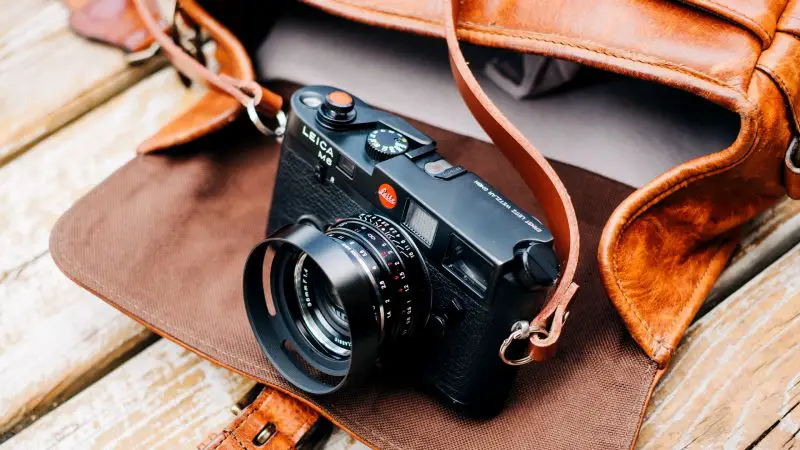 ---
1. ONA Presidio Leather Camera Strap
When I think about my perfect leather camera strap, I always think about this one. ONA is a company that's been with us for quite some time and has perfected their crafting technology. I had zero doubt that this one will fit my needs. Oh, where should we start?
I think it's important to mention that this is a handcrafted strap, that's crafted with a lot of love and attention to details. From first glance, we can see the premium leather and when we touch it, the feeling is priceless! Not only that, but ONA included some premium canvas, just to mix things up.
If you're worried about durability, you'll be glad to hear that this one can carry up to 6 pounds of weight. 6 pounds equal around 2.7 kilograms, meaning that you'll be able to carry a pretty big lens attached to your camera. Quite frankly, this leather strap is intended mostly for professionals, hence buying it for your tiny little camera won't do you any special favor.
Since this is a neck strap, ONA included a neoprene-padded neckline to prevent the strap from cutting into your skin. This grants a comfortable, prolonged use, great for time-consuming photo sessions. When it comes to length, the strap can extend from 19.5 inches to 23.5 inches – decent enough!
Pros
Build quality is excellent.
The strap feels premium to the touch.
Comfortable Neoprene-padded neckline.
Cons
A bit pricey.
Maybe too long for some users.
Check out the current price for ONA Presidio Leather Camera Strap on Amazon.
---
2. HoldFast Gear MoneyMaker Two-Camera Harness
Closing in on our list, we have another professional camera strap that aims to fulfill your every wish. Of course, HoldFast Gear MoneyMaker is here to provide you with a lot of space for your cameras. That's right; this one can hold two cameras simultaneously!
I know some of you guys can't even afford a single camera, but hey, this one is hands down impressive. The harness has an "X" shape across the back, and at the front, the cameras go parallel to your hips.
Obviously, this one is for those who must carry two cameras around. Being a strap for two cameras, this one is pretty solid, yet soft. With its low rigidity, comfort is almost guaranteed, even with prolonged use.
Another thing that I like about this product is that I can walk around and not touch any of my cameras. With its hands-free use, you can walk your dog and carry your babies (cameras) around. Aside from being too expensive, I don't see a reason not to like it!
Pros
Can carry two cameras.
Hands-free use.
Low rigidity.
Cons
Check out the current price for HoldFast Gear MoneyMaker Two-Camera Harness on Amazon.
---
3. Herringbone Heritage Leather Camera Strap
Herringbone Heritage managed to craft an exquisite hand strap. I mean, it's simply amazing to include a soft leather that's more comfortable than your girlfriend's hug at this price.
Thankfully, this hand strap looks and feels premium. Despite its affordable price, we still have a lot of features here, the first being increased ergonomics and amazing tenderness.
Another great thing about it is the build quality. I noticed that that the stitching's been done well and the overall feeling while using it was great. When you put your hand here, it'll feel like a natural thing, which is great for prolonged use and professional photographers. Speaking of professional photography, this one is stellar.
While this hand strap is compatible with a vast majority of models, there are still some models that can give you some trouble. For example, A7S II or Nikon D800's buttons can be blocked by the strap, giving you a hard time using them. If you happen to own some of these models, I suggest you skip this one. Otherwise, it's a great bang for your buck.
Pros
The soft leather feels amazing.
Affordable price
Cons
Incompatible with some cameras.
Check out the current price for Herringbone Heritage Leather Camera Strap on Amazon.
---
4. Makemoves Leather Strap
This leather strap from Makemoves is made for those who enjoy photography as a hobby. That being said, a professional or professional wannabe will probably need to skip this one.
The first reason for this is it's relatively thin. Sure, it's premium leather, but you can't expect it to handle your professional camera that well. If you try, however, you'll get some of the straps cut into your neck skin since it doesn't have any padding there.
As much as I appreciate the shoulder pads, I couldn't help but feel unsatisfied with the exclusion of neck padding. Nonetheless, this vegetable-tanned leather is going to give you some comfortable time, have no doubt about that. Made for medium-sized and small cameras, this strap's low rigidity will provide enough boost for a point-and-shoot photo snapping.
All in all, if you don't care about the minimalistic look, decreased durability, and limited use, I would say this is a great deal.
Pros
Premium soft vegetable-tanned leather.
Hefty price.
Great for medium-sized and small cameras.
Cons
The strap is a bit thinner.
No neck padding.
Only for cameras with round lugs.
Check out the current price for Makemoves Leather Strap on Amazon.
---
5. Heavy Leather NYC Classic Leather Camera Strap
Heavy Leather is a company that really knows how to make some HEAVY leather. It may not be heavier than death metal, but this is the closest thing we've got so far. Made from the purest cowhide on the planet, this one is thick as Kim Kardashian's butt, yet doesn't have any kind of plastic in it! The thickest part of the strap goes around your neck, touching your shoulders and reaching slightly under your torso.
The bottom part of the strap is also made of leather and includes attachments that can easily connect with your camera's strap lugs. For those worried about this connection between the two, I can say it's as firm as a well-done steak. There are also quick-release clasps that allow you to easily change your gear as you go.
This feature is great if you want to quickly change between the two cameras since you can't carry two of them simultaneously with this strap. Luckily, Heavy Leather NYC thought about every photographer's struggle. While this isn't the longest strap on our list, the length is adjustable and very flexible, so I can't really complain about that.
Pros
Great use of cowhide.
Able to carry a lot of weight.
Flexible length.
Quick-release clasps are excellent.
Cons
It could be a little cheaper.
Check out the current price for Heavy Leather NYC Classic Leather Camera Strap on Amazon.
---
6. Movo Vintage Leather Sling Strap
Movo Vintage Leather Sling Strap is a bit different product than some of the mentioned. As its name suggests, it's a sling strap that uses a sling hook fastener to connect to your camera. It's the upper part of the camera that has a little hole where the hook fastener can connect. By doing this, you grant your camera a bit more freedom, which is great for taking photos from complex angles and positions without having to remove the strap.
As for the build quality and thickness, one word can perfectly encapsulate my feelings – overwhelming! This one is very, very thick and offers some sturdiness, to make sure your camera doesn't fall off. Another premium feature is neoprene padding.
Oh, yeah, finally some neoprene added here! Having said that, the strap is extremely comfortable around your neck and shoulders.
With its shoulder sling design and quick release clip feature, you can't say anything bad about this product. And if we take a look at its weight of 5.6 ounces, it packs quite amazing capabilities.
Pros
Very thick and durable.
Neoprene padding is a welcome addition.
Comfortable for prolonged use.
Cons
Hard to get by at the moment.
Check out the current price for Movo Vintage Leather Sling Strap on Amazon.
---
7. Eric Kim Henry Leather Strap
Eric Kim isn't a company, but indeed a legendary photographer who designed his own leather strap. But, what's so special about this strap?
Aside from being designed by a great street photographer, this strap pucks a punch, especially for the money. With its length of 36 to 44 inches, I would say this one is pretty long, isn't it? That's the first thing you'll mention, too!
My only complaint would be the overall thickness or the lack of it. Nevertheless, Eric Kim managed to include some padding around the neck, alongside flexible end for added convenience. As it's made for street photography, it doesn't boast that shiny, eye-catching design, but rather a rustic, minimalistic design.
If you're a street photographer and want a great strap for occasional photoshoots, this one is amazing.
Pros
Padded design at a low price.
Street photography oriented.
Premium-grade leather.
Cons
Not-so-impressive design.
Lack of thickness.
Check out the current price for Eric Kim Henry Leather Strap on Amazon.
---
8. Inspire in Time Camera Neck Strap
Inspire in Time Camera Neck Strap is one of those straps that you simply know it's going to be great, simply by looking at it. Now, this is some cool craftsmanship right there! If we take a deeper glance at it, we can see that this isn't an ordinary leather, but a combination of two types of leather.
Indeed, it feels solid, yet tender to the touch, which is a feeling I can't exactly describe. When you take a look at its bottom part, you'll see that it's easy to attach and detach.
I know it's always boring when you waste your time detaching your strap instead of just doing it in a few seconds. When it comes to build quality itself, I can't lie… I'm more than impressed. This strap will serve you great for both small and huge cameras, making it a great investment for professional photographers.
For those concerned about the metal parts, it's great to know that the strap doesn't have many of them. You don't have to be worried about some metal parts scratching or damaging your camera, which is great to know.
Pros
Made of 2 types of leathers, for increased durability.
Easy to attach and detach.
Great for a wide variety of cameras.
Cons
Not so comfortable after prolonged use.
Check out the current price for Inspire in Time Camera Strap on Amazon.
---
9. bStill Leather Camera Strap
bStill Leather Camera Strap is a less-fancy strap but does its job amazingly well. Available in Camel and Dark Brown color, this camera strap looks nice, especially for its modest price. For this price, you might think that this isn't genuine leather, but you'll be dead wrong! Still managed to stick in some extra genuine leather for your refined taste! Let's begin with its adjustability.
It's fairly adjustable and can go all the way from 40 inches to 45 inches, which is a decent length. The best thing about its flexibility is that both men and women can enjoy this strap since men are a bit taller and women are… well, a bit shorter. While the strap is a bit thicker around the neck area, there isn't any kind of padding, making it uncomfortable for excessive use, yikes!
On the brighter side, there's a lot of tiny details that make this leather strap a bit more special. One of those details is the leather inlet that prevents your camera from scratching against the strap's metal parts.
All in all, this strap is for less-demanding users that prioritize function over aesthetics. And it's fairly cheap, too!
Pros
Amazing value for the money.
High-quality leather at a good price.
The leather inlet is a clever decision.
Easy to use.
Cons
It's on the thinner side.
Very flexible.
Check out the current price for bStill Leather Camera Strap on Amazon.
---
10. Bluecell Leather Camera Strap
If you are an amateur photographer or you do photography just for fun, you aren't going to spend a shitload of money on a leather camera strap. In that case, you can buy a camera strap that costs less than a dime… literally!
Bluecell Leather Camera strap didn't reinvent the wheel, but it came pretty close to it, with its affordable price and great price-to-performance ratio. This leather strap is actually the most affordable product on our list!
Now, what do we have here? Well, I'm not gonna lie – it doesn't look that premium. However, its gentle brown color and strong black color at the bottom side look fairly decent. While there is some leather here and there, I can't say its quality is mind-blowing. On the other side, the whole strap is covered with nylon, making it weatherproof and somewhat lightweight.
Being a lightweight strap, don't expect it to carry an enormous amount of weight. This strap is made for those with shallow pockets and not-so-big cameras. My only complaint is the build quality, as this is obviously not made of true leather. On the brighter side, a pack of cigarettes will cost you more than this, so yeah… that's a steal deal, my friends!
Pros
Nylon grants additional durability and is weatherproof.
Great value for the money.
Lightweight and comfortable to use.
Decent aesthetics.
Cons
Not for bigger cameras.
No true leather.
Questionable durability over time.
Check out the current price for Bluecell Leather Camera Strap on Amazon.
---
11. Foto&Tech Leather Camera Strap
On our list, we have another affordable camera strap for you. Of course, it's a Foto&Tech Leather Camera Strap. This company has been into photography for years, knowing exactly what photographers need. Photographer's struggle is sometimes real and spending a lot of money on a fancy camera strap isn't always an option. In that case, this shoulder strap might ring some bells amongst our readers.
While not exactly leather strap, this one has some leather in it, with the rest of the strap being made of fabric. Before you scroll down to the next product, let me just say that this one is amazing! The chocolate brown color looks gentle and adds that retro feeling to it; I love it! Oh, and this one comes with some padding on it, thank God! The first great feature is the neck padding, which I always praise. I hate it when there isn't neck padding as it can cause some discomfort.
The shoulder pads are also here, yet I wasn't that satisfied with it. And to be honest, I don't really see the point of them being here. Nonetheless, the strap is comfortable, soft, and generally feels nice to use. As for the camera compatibility, the manufacturer says it's for compact cameras, so I'm going to take their word for granted. Being 39 inches long, this one is pretty short, so if you are very tall, you'll probably want to steer away from it.
Pros
Beautiful chocolate brown color and retro design.
Padded design for increased comfort.
Since it's affordable, it's great for amateur photographers.
Solid stitching.
Cons
There's not much leather on the strap.
39 inches is a bit short.
Check out the current price for Foto&Tech Leather Camera Strap on Amazon.
---
12. Zeffiro Leather Camera Strap
Speaking of that vintage look, Zeffiro Leather Camera Strap nailed it! I mean, how can you not like this baby?! It's thin, it's beautiful and comes in three different color variants; brown, waxy black, and black. While the black one isn't so impressive and definitely ditches that retro look, the brown one is my absolute favorite. For those who don't know, Zeffiro uses the finest Italian leather to show off their impressive craftsmanship on every product.
This one is no exception. The true Italian leather will caress your soul every time you touch it and to be honest, the straps look quite durable. However, Zeffiro says that this strap is for small or medium-sized cameras, which greatly surprised me. Since Italians always pay additional attention to details, a tiny protective leather pad that comes with a metal ring puts a smile on my face. It prevents your camera from getting scratched by a metal ring that connects to the sides.
A genuine, vegetable-tanned Italian leather and eye-catching design are the main highlights of this product. All in all, Zeffiro Leather Camera Strap would probably suit a vast majority of photographers, including some professionals. And its length of 43 inches is just right!
Pros
Attractive vintage look.
Amazing Italian leather-based craftsmanship.
Affordable price.
Cons
Thin design.
Not suitable for large DSLR cameras.
Check out the current price for Zeffiro Leather Camera Strap on Amazon.
---
13. Cam-In Leather Camera Strap
Cam-In Leather Camera Strap is a product that I've felt in love with at a first glance. The reason is simple – a stunning black color! If you are inclined towards a darker look, this camera strap is a must-buy! It comes with a high-quality cowhide and the whole strap is smooth, with a great premium feeling. The metal parts are reduced to a minimum, with only rings for connecting with your camera being made of metal. Despite this, it's a great camera strap for heavy metal lovers!
When it comes to the quality of this particular cowhide, we can say it's stellar. Cowhide is known to be of high quality, especially a vegetable-tanned one. This one is…well decent. The main issue here is the width of this strap and it's only 12 mm or 1.2 cm. Converted to inches, it's merely a half of an inch. With this in mind, the manufacturers state that the strap is only for small and medium-sized cameras, which is fine by me.
If you're okay with 39 inches of length and a bit thinner strap, I think this one is a great buy. It's not exactly the most durable strap for the price, but its aesthetics are going to make up for it.
Pros
Stylish, modern look.
Affordable price.
Cowhide is very quality.
Protective leather pad.
Cons
It's very thin and a bit short.
Not suitable for bigger cameras.
Not everyone likes black color.
Check out the current price for Cam-In Leather Camera Strap on Amazon.
---
14. CEARI Premium Nylon Camera Strap
This elastic strap comes with a combination of nylon and leather, which has been put to good use here. While providing it with decent aesthetics and eye-catching look, another great feature of nylon is that it's weatherproof. Since we're talking about PU leather here (not real leather), the whole strap is lightweight, making it fairly comfortable to use. And lightweight always means less durable, which is, unfortunately, the case here. Nonetheless, the strap is great for smaller cameras.
Moving on, we can see that the upper portion of the strap isn't made of any kind of leather. Instead, it looks like it's made of fabric, but it isn't so smooth. Furthermore, there isn't any neck padding, which can give you a hard time during prolonged use.
On the brighter side, the strap is very elastic, thanks to its PU leather and a bit of nylon, making it far more flexible than some straps at the same price.
CEARI Premium Nylon Camera strap is aimed towards users that want a strap with low-rigidity, solid durability, and aesthetics at an affordable price. You really can't ask for more.
Pros
Weatherproof characteristics.
Very flexible and lightweight.
Low rigidity grants additional comfort and ergonomics.
Cons
Check out the current price for CEARI Premium Nylon Camera Strap on Amazon.
---
15. Roberu Camera Strap
The last, but not the least, we have a perfectly-balanced Roberu Camera Strap. This one looks pretty awesome, lying just between that modern and stylish retro look. I mean, you can't look at it and don't have a grin of satisfaction. This strap also comes in several different color variants and these are brown, black, red, navy, and green. The green one looks a bit odd, and with its dark accents, it looks like a military strap. My personal favorite is brown.
Now, a bit about the build quality. Roberu Camera Strap is made of original tanned leather with a touch of calf leather for a shoulder pad. While the shoulder pad feels extra nice, I didn't notice any neck pads here.
However, I was pleasantly surprised that my neck didn't suffer after a few-hour wedding photoshoot. This one is also a bit more rigid than I would like, but still, you can't say it's unbearable. The quality still speaks for itself.
Aside from high-quality camera straps, Roberu also makes amazing ring belts and phone cases, which you might want to check out. This company has been one of my favorites for a long time and not without a reason.
Pros
Calf leather offers amazing quality.
The strap looks elegant.
It's suitable even for bigger cameras, although not the biggest ones.
Cons
Way too expensive.
Higher rigidity than other camera straps.
Check out the current price for Roberu Camera Strap on Amazon.
---
Things to Look Out For
Before diving deeper into product reviews, let's first take a look at what's important to know before starting your purchase.
Buying a camera strap isn't as simple as it looks. There are tons of features that can greatly differentiate one camera strap from another. To get a better understanding of these factors, we'll give you a quick buyer's guide when it comes to buying your perfect leather camera strap.
---
Material and Build Quality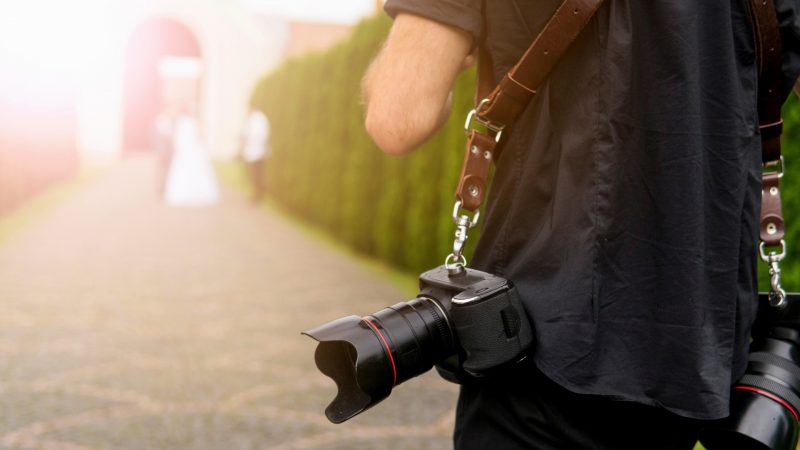 Since we're talking about the leather camera straps, the main material should be leather. However, there are tons of camera straps that successfully combine several materials like leather, metal, foam, fabric, and similar. This shouldn't discourage you from buying a particular strap, though. Many quality straps include cowhide or calf leather as their primary material. In my opinion, this is the best leather you can find out there and these camera straps are sometimes more expensive.
There also nylon camera straps that usually go along with PU leather. PU leather isn't a true leather, meaning that durability and build quality aren't exactly the best. The build quality depends on many factors, including material and dimensions. Speaking of dimensions, this is the next important factor when buying a camera strap.
---
The sheer length and width are two very important factors for a leather camera strap. On average, they can range anywhere from 39 inches to around 46 inches in length. While 39 inches is still considered rather short, 46 inches is a decent length for a tall person. Thankfully, many of those can be fine-tuned to adequately suit your needs.
When it comes to the width, you should opt for a wider strap if you want to carry a tad bigger and heavier camera. If the strap is wider than 1 inch, it's considered pretty good and durable. Thinner straps are great for smaller and medium-sized cameras but don't expect them to be ultra-durable and strong.
---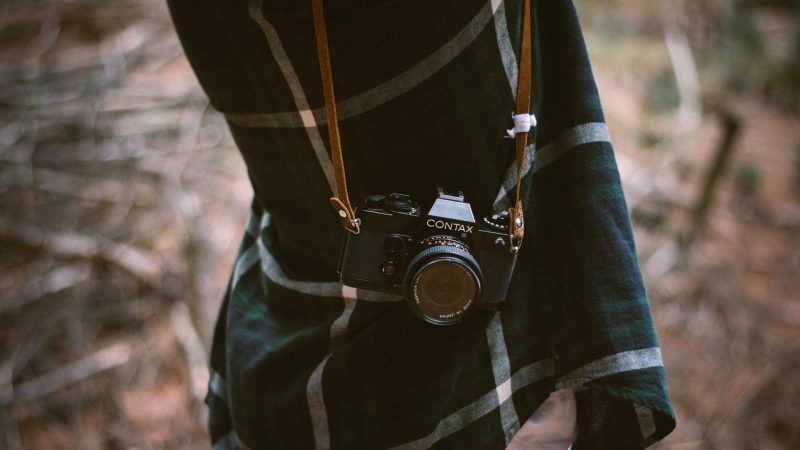 Flexibility is when a certain strap can adapt to the user's needs quickly. This means that the length of the strap can be adjusted and in some cases, the strap could be flexible. Flexible straps are usually made of PU leather and nylon, but these are less quality than true leather straps. When it comes to adjusting the length, it should be easy and hassle-free. The user should be able to adapt the strap to his own needs in just a couple of seconds.
---
Not every strap is for every camera. That's why buying a camera strap isn't as easy as buying toothpaste. Some straps are compatible only with round camera lugs, while some are compatible with almost every camera model out there. Aside from that, the compatibility can be associated with the strap's thickness. If it's very thin, you can't grab your gigantic DSLR camera and just slap it there.
To prevent buying a wrong camera strap, it's best to inform yourself on the manufacturer's website to see if your camera is compatible with the strap. This is compulsory if you want to make a good purchase.
---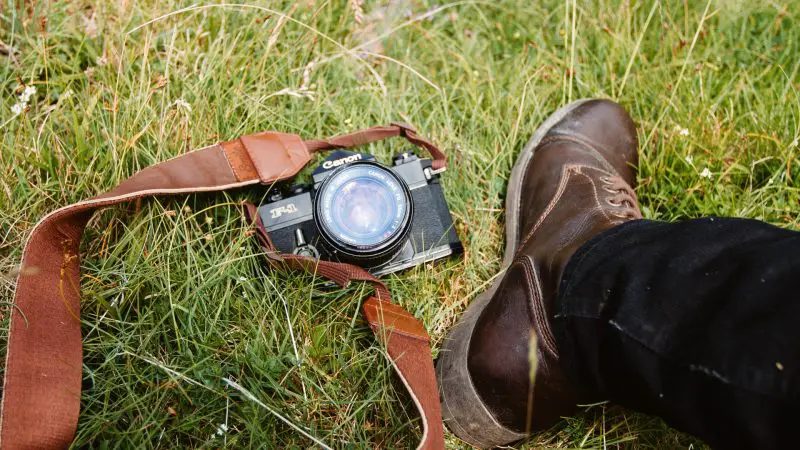 Well, this one is something I can't help you with. For me, aesthetics aren't that important as build quality, for example. However, if you love having a pretty camera strap, you can consider this as an important factor.
Aesthetics can vary from many different styles and colors, and there are tons of different camera straps out there. The most important is that you like it.
---
So, which is your favorite leather camera strap? As we can see, the camera straps can vary in size, length, and build quality greatly. The most important thing is to carefully choose your strap and try to make the most out of it. To make things easier, you can now choose from various different price tags, for added convenience.
If you are an amateur photographer and still don't have any expensive gear, you can save your cash by buying a cheaper camera strap. Luckily, there are tons of them under thirty bucks, giving you a wide variety of camera straps.
Or, if you plan on buying a robust camera setup for your photography work, it's mandatory that you buy a bigger and sturdier camera strap. Giving extra money to your gear is always a smart thing in photography so don't be afraid.
Have you chosen your perfect leather camera strap? If so, strap yourself and go get some pretty photos.