If you feel like taking your mirrorless camera experience to the next level, you will never run out of choices. But before jumping on the bandwagon, here are a few things to ask yourself first. Do I use the full potential of my current camera? What features do I need? How much is my budget?
Camera manufacturers are now switching from DSLRs to mirrorless cameras. This means we can expect more innovations in the coming years, and prices can only go lower. If you must buy now, choose only those that meet your needs. Here are our top 11 picks as the best mid-range mirrorless cameras in 2023 to help you.
11 Best Mid-Range Mirrorless Cameras in 2023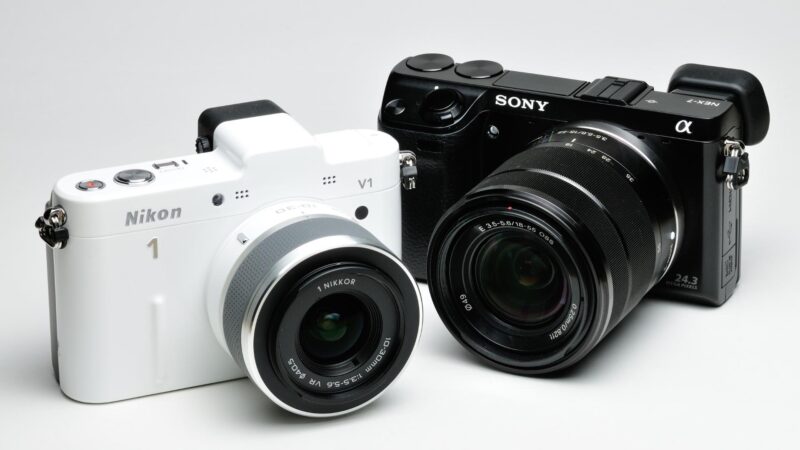 1. Panasonic Lumix S5
Sale
Panasonic LUMIX S5 Full Frame Mirrorless Camera,...
A LIGHTWEIGHT, POWERFUL HYBRID CAMERA FOR VIBRANT STILL PHOTOGRAPHY AND CINEMATIC VIDEO: Realize your creative vision with extraordinary 4K 60p, 10-bit video, FHD 180fps Slow Motion option as well as 4:3 Anamorphic support.
DETAILED PHOTO AND VIDEO THAT WILL DELIGHT ENTHUSIASTS AND EXPERTS ALIKE: Capture content in impressive high quality with 96MP High Resolution mode, Dual Native ISO to minimize noise in high sensitivity and V-Log/V-Gamut  with 14 plus stop dynamic range.
IMPROVED, HIGH-PRECISION AUTOFOCUS AND POWERFUL IMAGE STABILIZATION: Improved autofocus includes detection of the head as well as eyes, face and body, to capture subjects with ease and precision. 5-axis Dual I.S. 2 enables 6.5-stop slower shutter speed.
Released in September 2020, the Panasonic Lumix S5 is probably the best mid-range full-frame mirrorless camera for vloggers and videographers. Photographers will also love it, though. As the fourth model in the S series, this incredibly small but powerful camera is the company's response to complaints over the huge S1 and S1R models. 
Like the Lumix S1, the S5 has a 24.2MP full-frame CMOS sensor with Dual Native ISO technology, 5-axis in-body image stabilization (IBIS), a native ISO rating of ISO 100-51200, which expands to ISO 50-204800 and can shoot 4K/ 60p with a 1.5x crop. They also use an LCD touchscreen but with different sizes and resolutions. 
The S5 has a 3.0-inch 1.84M-dot LCD touchscreen but is fully articulating. On the other hand, the S1 uses a 3.2-inch, 2.1M-dot tilting LCD touchscreen. The S5 also uses a lower resolution 2.36M-dot OLED electronic viewfinder against the 5.76M dots in the S1. It has a maximum burst shooting speed of 7fps instead of 9fps. Both models are weather-sealed, though.
With body dimensions of 3.8 x 5.2 x 3.2 inches against the 5.9 x 4.3 x 3.8 inches of the S1, the S5 is significantly smaller. Hence, it is also about 300 grams lighter at 714 grams. Its battery life is great at 470 with the EVF and 440 shots using the LCD. As expected, both of them have built-in Wi-Fi and Bluetooth. Yet, the S5 is a better model.
2. Sony a7 IV
Sale
Sony Alpha 7 IV Full-frame Mirrorless...
33MP full-frame Exmor R back-illuminated CMOS sensor.Operating temperature : 0 to 40 °C (32 to 104 °F), Rated input : 100 - 240 V , 50/60 Hz, 0.2 A.
8x more powerful, next generation BIONZ XR image processing engine
Up to 4K 60p 10-bit 4:2:2 w/ full pixel readout in all recording formats
The Sony a7 IV is a mid-range mirrorless camera released in December 2021 to replace the a7 III. This became very popular during its release. As expected, the a7 IV has more advanced features than its entry-level predecessor. Although it comes with a $500 price increase during its release, you will realize it is worth the cost.
The sensor is the main difference between the Sony a7 III and the a7 IV. Both of them use an Exmor R BSI CMOS full-frame sensor. However, the latter has a better 32.7MP resolution instead of 24.2MP and offers extra sharpness since it has no low-pass filter. Its BiONZ XR image processor is also 8x more powerful than the BIONZ X of the a7 III.
The a7 IV is also equipped with a 0.5-inch 3.69M-dot Quad-VGA electronic viewfinder. This is about 1.6x higher in resolution than the 2,35M-dot XGA electronic viewfinder of the a7 III. The siblings have the same 3.0-inch LCD touchscreen, but the a7 IV's LCD is fully articulated with 1,036,800 dots, and the a7 III's LCD tilts only 921,600 dots.
Both have the same ISO sensitivity at ISO 100-51,200, expandable to ISO 50-204,800, have a shutter speed range of 1/8000-30 sec, and can shoot 4K/30p. The newer version has a slightly lower battery life, though. But all things considered, the a7 IV is certainly better than the a7 III. It is one of Sony's best mid-range mirrorless cameras.
3. Canon EOS R6
Canon EOS R6 Full-Frame Mirrorless Camera with 4K...
High Image Quality featuring a New 20 Megapixel Full-frame CMOS Sensor.
DIGIC X Image Processor with an ISO range of 100-102400; Expandable to 204800.
High-speed continuous shooting of up to 12 fps with Mechanical Shutter and up to 20 fps electronic (silent) shutter.
The Canon EOS R6 was announced in July 2020, along with the EOS R5. But while both mid-range full-time mirrorless cameras are aimed at intermediate photographers and have a lot of similarities, they have different purposes. The EOS R6 is ideal for shooting fast action, while the EOS R5 is better for architecture, landscapes, and studios. 
Both use a Digic X image processor, 1053-pt Hybrid PDAF system, and power-efficient 5-axis in-body image stabilization (IBIS) that can provide up to 8 stops of Shake Correction. They also offer a maximum shutter speed of 1/8000 seconds. Also, it has burst speeds of 12fps and 20fps with the mechanical and electronic shutter, respectively.
Unlike the EOS R5, the EOS R6 sports a smaller 20.1 MP full-frame Dual Pixel CMOS sensor, a smaller 3.0-inch 1,62M-dot fully-articulated LCD touchscreen, and a lower resolution 3.69M-dot OLED electronic viewfinder with 0.76x magnification. Hence, it has a higher ISO rating at ISO 100-102,400 and a low-light sensitivity of -6.5 to 20 EV.
The EOS R5 is Canon's first mirrorless camera that can shoot 8K DCI video, while the EOS R6 can shoot 4K UHD video at 60p. The latter has a slightly better battery life at 360 shots, is lighter at 598 grams (body only), and is much cheaper than the EOS R5. Indeed, the EOS R6 is travel-friendly and is a great low-resolution vlogging camera. 
4. Sony a6600
Sale
Sony Alpha A6600 Mirrorless Camera
World's fastest AF at 0 02 sec with real-time AF and Object tracking
24 2MP APS-C Exmor sensor with front end LSI and ISO up to 102 400
Wide 425-phase/425-contrast detection AF points over 84% of sensor
Released in September 2019, the Sony a6600 is a mid-range mirrorless camera but is slightly geared towards being a professional. This flagship camera has many similar features to its predecessor, the a6500. Although the upgrade is minimal, these tweaks are very important if you aim for a better experience in fast-action photography.
Like the a6500, the a6600 uses a Bionz X image processor, 24.2MP Exmor CMOS APS-C sensor, 2.36M dot OLED electronic viewfinder with 0.71x magnification, and a 3.0-inch 921.6k-dot tilting LCD touchscreen. But then, the LCD of the a6600 has a wider bending angle of 180˚ up and 74˚ down. The a6500 can only bend 90˚ up and 45˚ down.
Both cameras can shoot 4k video at 30p, have reliable 5-axis in-body image stabilization (IBIS), and a fast Hybrid AF system with 425 phase-detection autofocus points. Yet, the a6600 has 425 contrast-detect AF points, as compared to only 169 contrast-detect AF points of the a6500. This means that the a6600 covers around 84% of the entire image.
The a6600 has a slightly larger native ISO range of ISO 100-32000, expandable: ISO 50-102400. In addition, it uses a big battery rated at a super-impressive 810 shots. More importantly, it is Sony's first APS-C camera to feature Real-time Eye AF for video recording. However, there is only one card slot. Still, the A6600 is ideal for vloggers.
5. Sony a6300
Sony Alpha a6300 Mirrorless Camera:...
Faster Autofocus: Shoot up to 11fps with 425 phase detection auto focus points and 0.05 sec AF speed
Incredible Photography: Advanced 24.2 MP Exmore CMOS sensor expands sensitivity and minimizes noise
Electronic Viewfinder: Cameras feature a high resolution XGA OLED Tru-Finder for enhanced viewing
The Sony a6300 was released in March 2016 as a mid-range mirrorless camera. However, it did not replace the a6100 since the latter is more than 3 years younger. Instead, this interchangeable lens camera is an upgraded version of the entry-level a6000. Interestingly, the a6300 also has similar features to its successor, the a6500.
These three mirrorless cameras have the same Bionz X image processor, 24.3MP APS-C Exmor CMOS sensor, a 3.0-inch 921k-dot tilting LCD, and have an ISO sensitivity of ISO 100-25600, which is expandable to 51200. The a6000 and a6300 don't have a touchscreen. However, they both have a maximum continuous shooting speed of 11 fps, like the a6500.
Like the a6500, the a6300 uses a Hybrid AF system with 169 contrast and 425 phase-detection points and a high-resolution 2.36M-dot OLED electronic viewfinder. Also, it offers a shutter speed of 1/4000-30 seconds. But like the a6000, the a6300 has no 5-axis in-body image stabilization (IBIS). Nevertheless, it can shoot 4K/30fps and Full HD/120fps.
The a6300 has a battery life rated 400 shots when using the LCD and is considered lightweight at 404 grams. It also has a built-in flash, as well as Wi-Fi and Bluetooth. In short, the a6300 is better than the a6100. It may not be as advanced as the a6500, though. But surely, this much cheaper mirrorless camera is a great tool for semi-pro vloggers.
6. Fujifilm X-S10
Sale
Fujifilm X-S10 Mirrorless Camera Body - Black
It's All About How It Feels: X-S10 has been designed to provide on-the-go photographers with maximum control. Its deep handgrip affords solid, confident handling with any kind of lens attached, while the intuitive controls ensure effortless operation, no matter what camera system you are used to. When you also consider the 180° vari-angle LCD touchscreen and up to 20fps uncropped continuous shooting, with X-S10 you will be ready to unleash Fujifilm's acclaimed color science for any and every photo opportunity.
Making State-of-the-Art Simple: Designed to be simple and minimalist on the outside, X-S10 still enjoys Fujifilm's renowned image-making technology at its heart. With the state-of-the-art X-Trans CMOS 4 sensor and X-Processor 4 combination, it is easy to create astounding results. The 26.1 megapixel back-side illuminated sensor offers a wide dynamic range and incredible image quality, while the quad-core CPU not only provides precision autofocus at speeds of up to 0.02 seconds and in light levels as low as -6EV, but also superfast stills and video processing to keep up with your creative needs.
Putting Stability in Your Hands: To document the most amazing moments, you need to be in the right place at the right time, but the greater lengths you go to in search of the perfect angle, the higher the risk of a shaky camera ruining it all. That's why X-S10 features a five-axis in-body image stabilization (IBIS) system that gives you the freedom to go handheld and get right to the heart of the action. The five stops of image stabilization will help keep your images sharp and your video steady no matter what conditions you are faced with.
The Fujifilm X-S10 is aimed at beginners and experienced photographers who want to upgrade their knowledge and experience. Announced in October 2020, this mid-range interchangeable-lens mirrorless camera has no predecessor. Nevertheless, it shares some key features with the X-T4 and X-T30. But of course, there are some improvements.
Like the X-T4, X-T30, and X-T30 II, the X-S10 is powered by Quad Core X Processor 4. It also has the same 26.1MP APS-C BSI-CMOS sensor and a hybrid AF system (phase and contrast detection). Depending on your settings, they all allow you to choose from 117 or 425 AF points and cover 99% of the sensor area.
Like the X-T30 and X-T30 II, the X-S10 uses a 0.39-in 2.36M-dot OLED electronic viewfinder with a 0.62x magnification. This is smaller than the 0.5-in 3.69M-dot OLED EVF with a 0.75x magnification of the X-T4. The X-T4 and X-S10 sport a 3-inch fully articulating LCD touchscreen, but the latter has 1.04M dots only instead of 1.62M dots.
The X-S10 offers an ISO rating of ISO 160-12,800, expandable to ISO 80-51,200. This 465-gram ergonomic mirrorless camera can also shoot DCI 4K/30p with no crop. Most importantly, it has 5-axis in-body image stabilization (IBIS), smaller than the X-T4. Overall, the X-S10 is a no-brainer recommendation for vloggers and videographers.
7. Fujifilm X-T30 II
Fujifilm X-T30 II Body - Black
Assured Image Quality X-T30 II uses Fujifilm's fourth-generation X-Trans CMOS 4 back-illuminated sensor, designed to minimize noise, while also extending sensitivity to ISO 160. The unique structure of the X-Trans color filter array also minimizes moiré and false colors, without the need for an optical low pass filter – ensuring the best possible image quality, packed with detail and vibrant, true-to-life color.
Incredible Focusing in All Conditions Never miss a moment, thanks to the X-Processor 4 quad-core CPU inside X-T30 II. It offers fast, accurate autofocusing in as little as 0.02 secs on any subject, but significant enhancements have been made to the original X-T30's ability to track moving subjects, optimizing autofocus for both stills and its powerful 4K/30p video capabilities. Low light focusing performance has also been expanded from the original X-T30 model, down to -7EV (with XF50mmF1.0 R WR attached) for even greater versatility.
Advanced Video and Imaging Controls A truly versatile imaging device, X-T30 II offers the ability to record 4K video at 30 frames-per- second, or 240fps at 1080p, to create 10x super slow-motion effects. Filmmakers needing extreme color fidelity can record 10-bit, 4:2:2 color through the camera's HDMI port, F-Log internally, or video using any one of X-T30 II's 18 Film Simulation modes. Alongside these, X-T30 II makes it easy to define your own distinctive visual style on still images ­– offering in-camera control over film grain texture, color depth, clarity, sharpness, and highlight and shadow tones.
The Fujifilm X-T30 II was announced in September 2021 during the X Summit in Japan. Though this mid-range mirrorless camera replaces the X-T30, the upgrade is not much. Placing them side by side may confuse you. But if you are ready to level up from being a beginner, this X-T30 II can be an excellent choice.
The X-T30 and the X-T30 II have a lot of things in common. This includes the Quad Core X Processor 4, 26.1MP APS-C BSI-CMOS sensor,4, 0.39-in 2.36M-dot OLED viewfinder with 0.62x magnification, a 425-point Hybrid AF system, a native sensitivity range of ISO 160-12800 (expands to ISO 80 to 51200), and built-in Wi-Fi and Bluetooth.
Both mirrorless cameras have a 3-inch tilt-type LCD touchscreen, but the X-T30 II has 1.68M dots compared to only 1.04M dots for the X-T30. They can also shoot 4K DCI / UHD video at 30fps but with a 1.18x crop and have 8.0fps continuous shooting. But then, the X-T30 II has a better low-light rating of -7EV instead of -3EV.
The X-T30 II offers improved Face Detection AF, Face Select function, and two new film simulation modes (Classic Neg and Eterna Bleach Bypass) for the upgrade. It also has longer recording times in Movie mode. Also, it can shoot Full HD 1080p/240p and has a slightly longer battery life at 380 shots. With that, the X-T30 II is ideal for travel photography.
8. Panasonic Lumix DMC-GX85
Sale
Panasonic LUMIX GX85 4K Digital Camera, 12-32mm...
Fine Detail Performance: 16 megapixel Micro Four Thirds sensor with no low pass filter resulting in a near 10 percent boost in fine detail resolving power over existing 16 megapixel Micro Four Thirds sensors
Mirrorless Interchangeable Lens Camera Kit: With 2 super compact lenses 12 32mm F3.5 5.6 and 45150mm F4.0 5.6, shoot lighter and faster with the modern hybrid photography performance of a mirrorless camera and nearly half the bulk of most DSLRs
Class Leading Dual Image Stabilization: In body 5 axis dual image stabilization works in both photo and motion picture recording—including 4K video—to produce clear handheld shots even in low light conditions. Battery AC Adaptor (Input 110 - 240V AC) (Included, connect with USB cable). Battery life (CIPA standard) Approx. 290 images (rear monitor), 270 images (LVF) with H FS12032
The Panasonic Lumix DMC-GX85 was launched in April 2016 and is the first Panasonic mirrorless camera with no low pass filter. Also called the DMC-GX80 outside of North America, this mid-range Micro Four-Thirds mirrorless camera has a compact design but is a very strong performer. Interestingly, beginners can also appreciate its key features.
Powered by an advanced Venus Engine image processor, the DMC-GX85 shares key features with its older siblings, the Lumix DMC-GX7 and GX8. The GX uses a 3.0-inch 1.04M-dot tilting LCD touchscreen and a 16MP Four Thirds CMOS sensor. It also has the same 2.76M-dot sequential LCD EVF with 0.7x magnification but not tilted. 
Both offer the same native sensitivity range of ISO 200-25600, the GX85 can be boosted to ISO 100 instead of ISO125. But unlike the GX7, the GX85 is not weather-sealed and has no mic and headphone ports. Compared to the GX8, it offers the same 49-point AF system, 6-fps burst rate, and 4K video capability.
Nonetheless, the DMC-GX85 won against its siblings for having a 5-axis image stabilization system. On the contrary, it loses battery life, only rated at 290 shots. The GX7 and GX8 have 320 and 330 shots, respectively. But overall, the GX85 has impressive figures and produces high-quality images and videos.
Sale
Nikon Z 6II | Versatile full-frame mirrorless...
Mirrorless versatility on a whole new level. 24.5MP BSI resolution that excels in low light. 14 FPS suitable for fast action. 4K UHD Video performance at its best.
Full frame. Full pixel readout. Full featured 4K UHD Video. Top of the line video performance with 4K UHD 60p using full pixel readout and a host of outstanding features for serious videographers. Subject acquisition with speed and precision. 3.5x more buffer capacity than the original Z 6. Faster continuous shooting. Improved AF performance and functionality.
Dual card slots (CFexpress/XQD plus UHS-II SD). Flexibility and peace of mind when shooting important moments or on assignment, such as wedding and event photography. Comfortable. Durable. Intuitive. Z 6II's exterior and interior have been thoughtfully designed to be handled and used with max comfort and ease of operation.
The Nikon Z6 II was launched in October 2020 as a successor to the Z6. Being aimed at intermediate users, this full-frame interchangeable-lens camera has a lot of serious upgrades and cutting-edge features. This mid-range mirrorless camera is reasonably priced but is known for being flexible in various still and video situations.
Like its predecessor, the Z6 II sports a 24.5MP full-frame BSI-CMOS sensor with a Low-Pass filter, 5-axis in-body image stabilization (IBIS), and a 3.69M-dot QVGA EVF with a 0.8x magnification. But then, this second-generation Z6 offers less blackout when taking a shot, an improved 60fps refresh rate, and a Dual Expeed 6 image processor.
Both the Z6 and Z6 II use 3.2.-inch 2.1M-dot tilting LCD touchscreen, a 273-point Hybrid PDAF system, and offer a native ISO sensitivity range of ISO 100-51,200. But for more accurate focus in very dark conditions, the Z6 II offers a low-light sensitivity range of -4.5 to 19 EV instead of -3.5 to +19 EV. It also has an additional slot for a UHS-II SD card.
On top of that, the Z6 II can shoot 4K up to 60 fps (instead of 30 fps) but with a 1.5x crop. Users can also enjoy the Eye AFin Wide Area AF and video, a 14-fps faster maximum continuous shooting speed, and a wider shutter speed range of 1/8000 to 900 seconds. The battery life is also reasonable at 34 shots. To sum it up, the Z6 II is a great option.
10. Nikon Z50
Sale
Nikon Z 50 with Wide-Angle Zoom Lens | Compact...
Compact, lightweight and durably constructed mirrorless camera
First DX-format mirrorless camera to use a large 55 millimeter lens mount, offering advantages in high image quality and low light performance
20.9 MP sensor with robust 4K UHD video features
Launched in October 2018, the Nikon Z50 is a mid-range mirrorless camera for beginners. Although it shares some features of the older Z6 and Z7, the Z50 is more comparable to the entry-level Nikon Z Fc, released in 2021. The Z50 is Nikon's first mirrorless camera to use an (unstabilized) APS-C sensor. 
Like the Nikon Z Fc, the Z50 has a 20.9MP APS-C CMOS sensor with a 1.5x crop factor. This interchangeable-lens camera also uses the same Expeed 6 image processor, a 2.36M-dot OLED viewfinder, and offers a native sensitivity range of ISO 100-51,200, expandable to 100-204,800. It also sports a 200-point Hybrid PDAF system.
Z50 and Z Fc have an LCD touchscreen with 1.04M dots, but the former has a 3.2-inch LCD that can be tilted up by 90° or down by 180°. The Z Fc has a smaller 3.0-inch LCD but is fully articulated. These two mirrorless cameras can shoot 4k/30p with a 1.0x crop factor, with battery life rated at 300 shots and 75 minutes of video recording.
The Z50 is also Nikon's first Z-mount camera to use a built-in flash. Generally speaking, the user interface and ergonomics are very competitive. But moving the focus point can be tricky due to the lack of a joystick. The image quality is superb, which is great for travel photography. Aside from that, the price is a steal for intermediate photographers.
11. Fujifilm X-T4
Sale
Fujifilm X-T4 Mirrorless Camera Body - Black
Putting stability in your hands: A huge part of creating great photos or videos is making sure you are in the right place at the right time – and that often means making handheld images to get to the heart of the action. X-T4's state-of-the-art, five-axis In-Body Image Stabilization (IBIS) provides up to 6.5 stops of image stabilization to make sure that, even in the midst of all the excitement, your images remain steady and sharp. Combine this with the new four-axis digital image stabilizer, and you have lots of room to maneuver.
Performance you can rely on: For any serious image maker, having a tool that can be relied upon to perform flawlessly whenever it is required is extremely important. For this reason, X-T4 features a newly developed mechanical shutter that is the fastest and most robust in the history of the X series. Not only can it make images at 15 frames per second, but it is also rated for 300,000 actuations 2. When you combine this with its larger capacity battery that is capable of up to 600 frames per charge 2, X-T4 has the power and the durability to give you the peace of mind that you'll never miss the perfect opportunity.
Find the best angle for your story: When chasing the perfect image, versatility is key, so the last thing you want is to be hampered by awkward angles. The 1.62 million pixel vari-angle touchscreen LCD featured on X-T4 can be adjusted to make it visible from a wide range of positions. This not only gives you a high-quality monitor to frame with, but also provides quick and simple controls when you need them most. On the flip side, there are times when you need to minimize the light and distractions that a screen can create. That's why X-T4's LCD has been designed to easily fold away so it is completely hidden from view, leaving the updated 3.69 million pixel/100fps electronic viewfinder to help you focus on the moment at hand.
The newest high-end photo and video APS-C mirrorless camera from Fujifilm is the X-T4. It enhances the X-already T3's impressive capabilities by adding in-body stabilization, quicker shooting, better autofocus, and a bigger battery.
The X-specifications T4's and price support Fujifilm's claim that it is not a replacement for the X-T3, but rather a sister device. It is a 26MP camera with a 20 fps top speed and a maximum 60p 4K capture resolution.
One of the modifications that enable the X-T4 to shoot at 15 frames per second is a redesigned shutter mechanism. The redesigned mechanism has better dampening and is rated to endure 300,000 cycles, twice as long as the X-T2 shutter.
The X-T4 offers 8 or 10-bit full-width oversampled UHD or DCI 4K at up to 30p and 60p with a crop, which is quite similar to the X-fundamental T3's video specifications. It gains the ability to record 1080 video at up to 240 frames per second, which may then be produced at any resolution between 23.98 and 59.97p for a 1/10 to 1/4 slowdown.