If you're looking to upgrade your digital photography experience, consider mid-range DSLR cameras. While some major camera manufacturers have stopped producing DSLRs, there are still plenty of reliable options to choose from. In fact, many of these cameras have become more affordable due to their age.
Selecting the right mid-range DSLR camera can be overwhelming, especially since older models may have outdated features. However, with thorough research, you'll find that many professional photographers still use them as backup cameras. Below is a list of the best mid-range DSLRs from Canon, Nikon, Sony, and Pentax for 2023.
12 Best Mid-Range DSLR 2023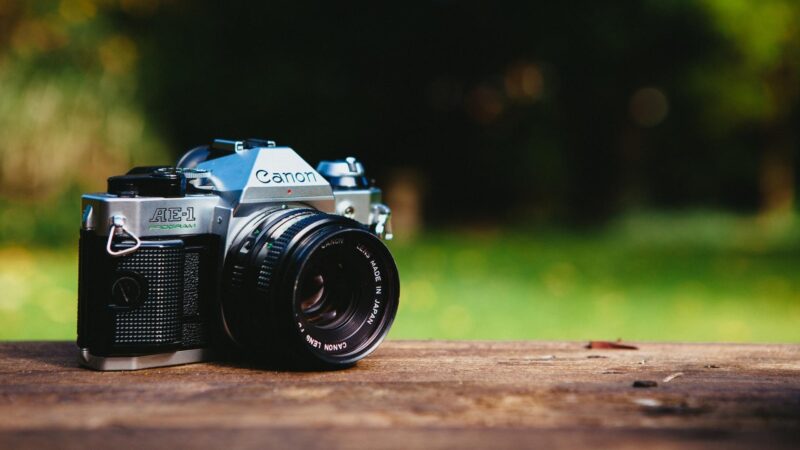 1. Nikon D7500
Sale
Nikon D7500 20.9MP DSLR Camera with AF-S DX NIKKOR...
Class leading image quality, ISO range, image processing and metering equivalent to the award winning D500
Large 3.2" 922K dot, tilting LCD screen with touch functionality
51 point AF system with 15 cross type sensors and group area AF paired with up to 8 fps continuous shooting capability
The Nikon D7500, announced in April 2017, looks very similar to its predecessor, the D7200. However, this mid-range DSLR camera boasts more advanced features, although some have been omitted and some retained. It's worth noting that the D7500 has some drawbacks that you should be aware of.
Compared to the D7200, the D7500 features the same APS-C DX-format sensor but with a lower resolution of 20.9MP instead of 24MP. Both cameras have a 3.2-inch diagonal TFT-LCD, but the D7500 has a lower resolution of 922,000 dots. The D7500, however, features a tilting LCD touchscreen rather than a conventional panel.
Both the D7500 and D7200 use a 51-point AF system, 15 of which are cross-type. However, the D7500 has a faster continuous shooting speed of 8 fps. It also offers a more sensitive ISO range, from ISO 100-51,200, which can be expanded to 1,640,000. Furthermore, this impressive DSLR camera can shoot 4K video at 30 fps.
The D7500 has built-in Wifi and Bluetooth connectivity but lacks NFC. It's also lighter at 640 grams, 35 grams lighter than the D7200, but with the same body dimensions. This DSLR camera features an ergonomically improved design with a deeper and better grip. The battery life is good for around 950 shots, which is impressive. Overall, the D7500 is well-suited for advanced DSLR camera users.
2. Canon EOS 80D
Canon Digital SLR Camera Body [EOS 80D] with 24.2...
The EOS 80D camera's Intelligent Viewfinder helps bring the thrill of SLR photography with each use
The Intelligent Viewfinder displays AF points and AF mode, has a grid display, a horizontal electronic level, plus numerous other points of information
For next level AF operation, the EOS 80D camera has a wide area, 45 point, all cross type AF system with low luminance performance to EV 3 and 4 types of AF area selection modes
The Canon EOS 80D, released in March 2016, is a mid-range DSLR camera that replaced the three-year younger EOS 70D. The 80D boasts more advanced features that semi-pro and enthusiast photographers will appreciate, and it is also the second Canon camera to feature Dual Pixel AF (DPAF) technology, following the 70D.
Like the 70D, the EOS 80D sports an APS-C CMOS sensor, but with a higher resolution of 24 megapixels compared to 20. The impressive DSLR camera also features a 45-point hybrid AF system with all points being cross-type, whereas the 70D only offers 19 points. Additionally, it is equipped with a well-designed 3.0″ fully articulated touchscreen.
The 80D's viewfinder autofocus works great in still subjects and live view, particularly in low-light conditions. This weather-sealed DSLR body uses an optical pentaprism viewfinder, which is more durable than the pentamirror but also heavier. Although the AF is significantly good with fast-moving subjects, it may not be the best.
Weighing 730 grams, the EOS 80D may be challenging to hold firm if you have small hands. It also lacks 4K video capability and Bluetooth connectivity. However, the battery life is very impressive at 960 shots. No wonder this well-built DSLR camera is still an excellent choice for still photography if you want to upgrade your skills.
3. Canon EOS 77D
Sale
The Canon EOS 77D was launched on Valentine's Day in 2017 alongside the entry-level EOS Rebel T7i. Known as the EOS 9000D and EOS 770D outside the US, this mid-range DSLR camera replaced the Rebel T6s and is designed specifically for advanced amateur photographers. It shares some similar features with the Rebel T7i.
Both the EOS 77D and Rebel T7i have the same Digic 7 image processor, 24.2-MP APS-C CMOS sensor, 45-point dual-pixel AF system, and a shutter speed of 30-1/4000 sec. They can also shoot video at 1080/60p, although unfortunately, they lack 4K video capability. The EOS 77D also has a 6fps burst shooting, which is slightly slower than the Rebel T7i.
However, unlike the Rebel T7i, the EOS 77D features a top-plate LCD, an Autofocus On button, and dual control dials. This well-rounded DSLR is also the first to use an optical pentamirror viewfinder, which is relatively small. The 3.0-inch vari-angle fully-articulated touchscreen can rotate up to 270 degrees, making it ideal for vlogging and taking selfies.
The battery life of the EOS 77D is only around 600 shots, which can be a bit frustrating. Despite not being fully weather-sealed, this 540-gram higher-end DSLR camera has well-designed menus, is easy to use, and produces high-quality images. It also has built-in NFC, Bluetooth, and Wi-Fi connectivity, making it an excellent choice.
4. Canon EOS Rebel T6s
Canon EOS Rebel T6s Digital SLR (Body Only)
242 Megapixel CMOS (APS-C) sensor, ISO 100–12800 (expandable to H: 25600)
EOS Full HD Movie mode helps capture brilliant results in MP4 format
High-speed continuous shooting up to 50 fps allows you to capture fast action
The Canon Rebel T6s is considered a mid-range DSLR, despite being similar to the entry-level Canon Rebel T6i. Both were announced simultaneously in February 2015, but the Rebel T6s has more advanced features and a better layout than the Rebel T6i. It is also known as the EOS 760D and 8000D outside the US.
Both cameras share the same Digic 6 image processor, 24.2MP APS-C CMOS sensor, 3.0-inch fully articulating touchscreen LCD with 1,040,000 dots, and optical viewfinder. They also feature the same 19-point phase detection AF system, 5 fps continuous shooting, and a battery life of around 440 shots, which is quite short.
However, the Rebel T6s is a more advanced DSLR and features an info LCD on the top of the body, a Quick Control dial at the rear of the body, a locking mode dial, and a Servo AF in both Live View and video mode. Once selected, the camera allows continuous autofocus during shooting bursts. These are all firsts in the Rebel series.
The best feature of the Rebel T6s is the ability to record high dynamic range (HDR) movies in real-time, which is not available on the Rebel T6i. With the same body size as the Rebel T6i, the Rebel T6s is only 10 grams heavier. If you are considering upgrading your DSLR experience, the Canon Rebel T6s is definitely worth considering.
5. Sony A77II
The Sony A77II, released in June 2014, is a mid-range camera that replaces Sony's Alpha 77 flagship model. Despite being several years old, the A77II still has many impressive features and performance capabilities. It's worth noting that Sony prefers to call this camera an SLT (Single Lens Translucent) camera rather than a DSLR camera.
The SLT technology utilizes a fixed semi-transparent lens instead of a moving mirror mechanism like a DSLR camera. SLT cameras have faster shooting capabilities and reduced shaking. However, since DSLR cameras have automatic ISO and shutter speed adjustments, they are still better for low-light photography. The Sony A77II also utilizes an electronic viewfinder instead of an optical viewfinder.
Both the Alpha a77 and Sony A77II use a 24MP APS-C CMOS sensor, with the latter using a newer version. They both have a 2.4m dot OLED TruFinder, triple-hinged articulating LCD screen, but no touchscreen. The maximum shooting rate is 12 fps, which may not be suitable for fast action photography. Nonetheless, the image quality is excellent.
Unfortunately, the Sony A77II does not support 4k video unless you connect it to a compatible TV. The highest video resolution is 1920 x 1080 at 60p. The camera is easy to connect to Wi-Fi but does not have GPS. Weighing in at 647 grams, this camera may take some time to learn if you're used to Nikon or Canon DSLRs. Nonetheless, the Sony A77II is still a reliable camera for amateur photographers.
6. Pentax K-3 II
Pentax K-3II Pentax DSLR (Body Only)
24 effective mega-pixels in an APS-C sized CMOS sensor with ISO range of 100-51200.Resolution:24.35 Megapixels
Built-in GPS with Astro Tracer Function for Astro photography with built in compass function
Pixel Shift Resolution by in body shake reduction function for razor sharp images with excellent detail and color reproduction
The Pentax K-3 II is a mid-range DSLR camera that can be considered semi-professional. It was released in April 2015, and it shares many features with its predecessor, the flagship Pentax K-3, which is only 1.5 years younger. However, the Pentax K-3 II has some noteworthy new features that can compete with Nikon and Canon cameras.
First, the Pentax K-3 II is the first Pentax camera to use Pixel Shift Resolution. This feature enables the camera to capture four separate shots of the same subject and combine them into one high-definition image. However, you will need a tripod to stabilize the camera to achieve the best image quality properly.
Unlike its predecessor, the Pentax K-3 II has a built-in GPS module, although neither model has Wi-Fi connectivity. Both cameras have the same 24.1 MP APS-C CMOS sensor, optical pentaprism viewfinder, and 3.20-inch fixed-type LCD without touchscreen capability. They also lack an anti-alias filter and 4k video capability.
The Pentax K-3 and Pentax K-3 II also share a Shake Reduction mechanism, but the K-3 II has 4.5 shutter stops instead of 3.5. The cameras have the same body weight of 800 grams and dimensions, but the K-3 II has a longer battery life of 720 shots compared to 650. Most importantly, the Pentax K-3 II is cheaper than most mid-range DSLR cameras.
7. Sony ZV-1
Sale
Sony ZV-1 Digital Camera for Content Creators,...
20.1MP stacked back illuminated 1" Exmor RS CMOS sensor w/ DRAM. Large aperture 24-70mm1 F1.8-2.8 ZEISS Vario-Sonnar T lens.Bluetooth : Yes (Bluetooth Standard Ver. 4.1 (2.4 GHz band)). Operating Temperature : 0 degrees C. - +40 degrees C. / 32 degrees F. - 104 degrees F.
Fast Hybrid Autofocus and Real Time Eye Autofocus and Real-time Autofocus tracking.
Side flip-out 3.0" LCD screen that also tilts up and down for easier to compose selfie shots
The Sony ZV-1 is a digital camera that was specifically designed for vloggers and video content creators who want to take their work to the next level. Released in May 2020, this compact point-and-shoot camera is ideal for those who want to save money and energy by not having to change lenses but still want high image quality.
Despite its compact size, the Sony ZV-1 has a 1-inch image sensor, which is almost the size of the sensors in today's smartphones. It features a 20MP BSI CMOS sensor, 24-70mm F1.8-2.8 zoom lens, and a 3.0-inch, 921k-dot fully articulating LCD touchscreen display. The camera has a shutter speed range of 30-1/2000 sec. and a maximum continuous shooting rate of 24fps. The Sony ZV-1 also has 4k video capability at up to 30 fps or can record HD movies at 960 fps in high-frame-rate mode.
The camera is equipped with a unique 3-capsule directional microphone, allowing you to record clear audio in the middle of a noisy crowd. However, the Sony ZV-1 lacks a viewfinder, and the battery life is only around 45 minutes of video recording time or 260 shots per charge. Despite this, the Sony ZV-1 is an excellent choice for semi-professional vloggers who want a compact and versatile camera.
8. Canon EOS 6D Mark II
Canon EOS 6D Mark II Digital SLR Camera Body –...
26.2 Megapixel full frame CMOS sensor
Optical viewfinder with a 45 point all cross type AF system. Compatible lenses: Canon EF lenses (excluding EF S and EF M lenses)
Dual Pixel CMOS AF with phase detection & Full HD 60p
The Canon EOS 6D Mark II, released in June 2017, is an upgraded mid-range DSLR camera that offers many improvements over its predecessor, the EOS 6D. Designed for enthusiasts and semi-professional photographers, this full-frame digital camera features a 26.2MP CMOS image sensor with Dual Pixel CMOS AF, and a fully-articulated 3-inch LCD touchscreen.
The camera's DIGIC 7 image processor allows for a high-speed continuous shooting of up to 6.5 fps, which is faster than the EOS 6D. The 6D Mark II also has a native sensitivity range of ISO 100–40000, which is expandable to 102,400, and a higher magnification optical viewfinder at 0.72x. Additionally, the camera has 45 cross-type AF points, making it very versatile.
However, the 6D Mark II does not support 4K video and lacks a headphone port, built-in flash, and USB 3.0 port. On the other hand, the camera has NFC, Wi-Fi, and Bluetooth connectivity, and its body is weather-sealed. With a battery life of 1200 shots per battery charge, this camera is a great option for amateur photographers who want to upgrade their equipment.
9. Nikon D750
Sale
Nikon D750 FX-format Digital SLR Camera Body
Full frame 243 megapixel CMOS image sensor and expeed 4 image processor
Full HD 60/50/30/25/24p video
Built in Wi-Fi connectivity and compatibility with the WT 5a plus UT 1 communication unit
The Nikon D750 is a highly advanced DSLR camera that was launched in September 2014. Despite its age, this mid-range camera has impressive features that can even place it in the professional category. The good news is that Nikon has significantly reduced its price to more than half of its initial MSRP of $2,300 (body only).
Regarding features, the Nikon D750 sits between the D610 and D810. This full-frame DSLR camera uses the same 24MP CMOS sensor as the D610. It also has the same 150,000 shutter count, a maximum shutter speed of 1/4000 sec, and two SD slots. The processor was upgraded from Expeed-3 to Expeed-4 to improve image quality.
Compared to the D810, the D750 has the same 51 AF points with 15 all-cross-type, but features the better Multi-CAM 3500 II. Both cameras have a 91k-pixel RGB sensor, a maximum video resolution of 1080/60p, and aperture control in video and live view. The D750 is the first Nikon FX-format DSLR to use a tilting LCD screen.
The D750 has the best battery life of the three cameras, with 1230 shots, and is also the lightest at 755 grams. The maximum frame rate is the fastest at 6.5 fps. The major downsides are being unable to record 4k video and the lack of a touchscreen. Overall, this robust D750 is very dependable, easy to use, and has a relaxed grip.
10. Pentax K-S2
Pentax K-S2 20MP DSLR Kit w/ 18-50mm WR (Black)
20 MP AA filter less APS C CMOS Sensor w/ISO Speeds up to 51200
In camera Wi Fi with dedicated Wi Fi connect button/dedicated "selfie" mode
Large High Resolution 3 inch variable angle swing out LCD Monitor (921K Dots)
Ricoh announced the Pentax K-S2 in February 2015 and earned a TIPA award as the Best Digital SLR Advanced that same year. Dubbed the world's smallest weather-sealed DSLR, this mid-range camera has external dimensions of 91 x 123 x 73 mm. As a year older than the Pentax K-S1 (not its predecessor), it has some similar key features.
Historically, the K-S2 is the first Pentax digital camera to feature a 3.0-inch vari-angle LCD screen and WiFi connectivity. Like the K-S1, it also uses a 20MP APS-C CMOS sensor, optical pentaprism viewfinder, and sensor-shift image stabilization. Equipped with the same PRIME M II processor, the K-S2 has an ISO range of ISO 100 – 51200.  
Weighing 678 grams, the K-S2 is 120 grams heavier than the K-S1. Fortunately, it has a shutter button in front, so you can easily frame a selfie without dropping your precious camera. There are also two control dials at the back for the shutter speed and aperture. The camera body is splash and dust-proof, but unfortunately, there is no touchscreen.
You can record full HD video at 1080/30p but not 4k video. Continuous autofocus in movie mode is also not possible. The battery life is quite short at 410 shots per charge. In short, this ultra-thin Pentax K-S2 is not the best DSLR camera for videography. On the other hand, it can be a very solid option for other DSLRs regarding image quality.
11. Canon EOS M6 Mark II
Sale
Canon Mirrorless Camera [EOS M6 Mark II] (Body)...
High image quality with 32.5 Megapixel CMOS (APS-C) sensor
High-speed continuous shooting of up to 14 fps with AF/AE tracking
Dual Pixel CMOS AF with 5, 481 manually selectable AF positions*, and eye AF Servo support
The Canon EOS M6 II is a mid-range mirrorless camera with an APS-C sensor of 32.5MP that caters to enthusiasts. It shares a similar physical design to the first M6, but with speed and feature improvements. Its rear display is a 3-inch touch-enabled LCD with a 1,040k-dot resolution that can tilt up, down, or face-front.
One of its notable improvements is its Dual Pixel AF technology which is vastly improved over its predecessor. The focusing point may be scaled down for fine focusing and covers a large portion of the sensor, including the full height and 88% of its width.
The camera can shoot up to 14fps in Hi+ mode with a maximum capture speed of 7fps at Hi and 3fps at Low. It also tracks targets accurately even when moving at high speed.
Videographers might find the M6 II attractive as it captures 4K footage at up to 30p, and future firmware is expected to offer 24p. Its 4K is uncropped, and it also provides a 1080/120p option without autofocus. Additionally, it has a fully automatic "HDR video" mode that records two frames (a short and a standard exposure) for each output frame, resulting in a 1080/30p video from a 1080/60p capture.
12. Canon EOS 90D
The Canon EOS 90D is a mid-range DSLR camera that follows the 80D after 3.5 years. Similar to the EOS M6 Mark II, this camera uses a newly developed 32.5 Megapixel APS-C CMOS sensor. Its base ISO range is 100-25,600, with a maximum sensitivity of 51,200. The 90D has a new sensor that provides excellent raw picture quality, strong live view autofocus, and 4K video recording capability.
The 90D employs Dual Pixel CMOS focusing technology, which is similar to other modern Canon models. Despite lacking the 30 fps Raw burst mode of the EOS M6 Mark II, the camera is still a speedy device.
The 90D has almost all the features a sports and wildlife camera might need. Shooting with autofocus is possible at 10 fps using the optical viewfinder, and at 11 fps with a focus lock. If you prefer live view shooting, the camera can do so with a fully mechanical shutter and autofocus at 7 fps.
The Canon EOS 90D has the highest-resolution chip in its class, a 32.5MP APS-C sensor. Image quality is significantly better in all respects than its 24MP predecessor, and its raw IQ is on par with the top APS-C competition, whether mirrorless or DSLR. The 90D's JPEG color files are well-liked, but its high ISO noise reduction can blur away details.