As a beginner in photography, you would want a digital camera that is easy to use and has the key features you need. You may have already heard that mirrorless cameras are getting more popular than DSLR cameras. Aside from using advanced technology, they are mostly smaller and lighter than their DSLR counterparts.
As the name implies, mirrorless cameras don't use reflex mirrors like DSLR cameras. This means that they have a faster shutter speed. They also have a slightly better autofocus system and simpler controls but have lower battery life. To better understand and have some choices, here are our Top 10 best mirrorless cameras in 2023.
11 Best Entry-Level Mirrorless Cameras in 2023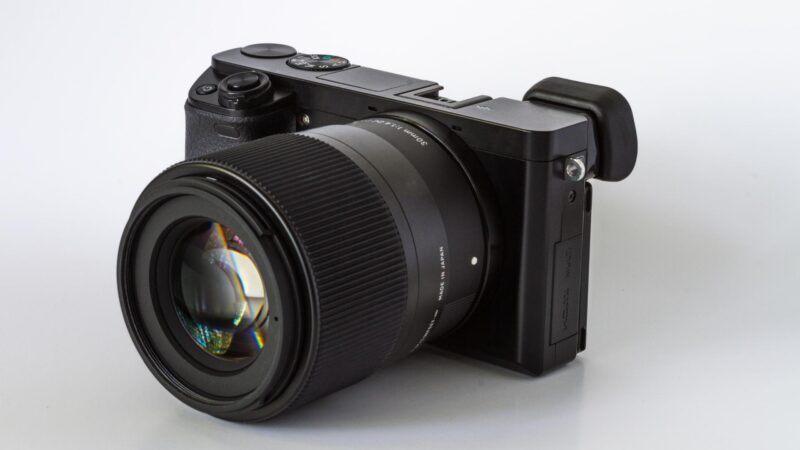 1. Canon EOS RP
Canon EOS RP Full Frame Mirrorless Vlogging...
Lightest, smallest full-frame EOS camera
RF mount compatible with RF lenses and EF/EF-S lenses with optional mount adapter
High image quality with 26.2 Megapixel Full-frame CMOS Sensor and DIGIC 8 Image processor
The Canon EOS RP is the cheapest full-frame mirrorless camera during its launch in March 2019. At that time, it was a huge success not only because of the price but also for its key features. This compact, lightweight, interchangeable lens camera has no direct competitor and predecessor and could be the best mirrorless camera for newbies. 
Like the Canon EOS 6D II, the EOS RP uses a 26.2MP CMOS sensor, a 3.0-inch 1.04m-dot vari-angle LCD touchscreen, and a shutter speed range of 30-1/4000 sec. It is powered by a newer DIGIC 8 image processor instead of the DIGIC 7. This 485-gram mirrorless camera also has a built-in 0.39-inch 2.3M-dot OLED viewfinder.
The EOS RP has the same native range of ISO 100-40,000 – expandable from ISO 50 to 102,400, and a Dual Pixel CMOS AF system. However, it failed with a lower 4 fps continuous shooting compared to the 6.5fps of the 6D II. Like the EOS M50, the EOS RP can shoot 4k/24p UHD video with a 1.7x crop and no in-body image stabilization. 
Sadly, the EOS RP does not have mic and headphone jacks. The battery life is rated at 250 shots, which is relatively low. But since the EOS RP is not intended for power users, this may not be a huge disadvantage. Yes, this compact camera has some unfortunate limitations. But then, it is an ideal investment for beginners in photography.
2. Fujifilm X-T200
Fujifilm X-T200 Mirrorless Camera Body - Silver
X-T200 is equipped with a vari-angle 3.5-inch/ 16:9 Aspect Ratio widescreen LCD touch-screen can be opened and closed between 0 to 180 degrees and rotated between -90 to +180 degree. It also provides intuitive and responsive control over the camera's features and functionality and can be used to adjust a variety of settings, like brightness, background blur, Film Simulation effects, and image aspect ratios.
The use of on-sensor phase detection pixels across the sensor and an improved prediction algorithm means focus can be achieved quickly and in a variety of imaging environments. The updated Face/ Eye Detection AF makes focusing on individuals or groups of people quickly and easily. This is even possible when the camera's LCD monitor is flipped out and is used to make a selfie. Automated functions, like Main Subject Recognition, allow the camera to be set to recognize and track a main subject within the frame. Combined with a burst mode of 8fps, important moments with the right people will surely be easier to frame, focus, and immortalize.
Fujifilm's legacy in color science has given it legendary status among image-makers across the world. During its 85 years in the industry, it has been responsible for some of the most iconic photographic films in history and this exceptional knowledge has been poured into the 11 digital Film Simulation modes installed into X-T200. Images made with these film simulations carry the look and feel of the actual films that inspired them, which are a great building block to sparking creative imaging making. In addition, 20 Advanced Filters, which includes the new Clear Filter, give even more creative possibilities to image-makers as they seek to express themselves artistically.
The Fujifilm X-T200 is an interchangeable lens camera intended for beginners on a budget. This entry-level mirrorless camera was launched in January 2020 and is a much better version of its predecessor, the X-T100. However, the X-T200 also shares many features with the Fujifilm X-A7 and can be categorized as a mid-range camera.
Like the X-T100 and the X-A7, the X-T200 also uses the same 24.2 MP APS-C CMOS sensor. But then, the X-T200 utilizes copper wiring instead of aluminum, resulting in 3.5x faster data processing. They also have the same native ISO range of 200 to 12,800. But the X-A7 is expandable to only 25600, while the other two are up to 51,200.
All of them can shoot 4k video, but the X-T100 is only up to 15p, while the X-A7 and the X-T200 are up to 30p. Meanwhile, the X-T100 and the X-T200 use the same 0.39-inch 2,360K-dot OLED electronic viewfinder, but the X-A7 has none. But then, the X-T200 has the best 3.5-inch LCD touchscreen that rotates from -90 to +180 degrees.
The X-A7 and the X-T200 use a hybrid AF system with 425 phase-detect points, while the X-T100 only has 91 AF points. But among the three, the X-T200 has the fastest continuous shooting speed at 8 fps instead of only 6 fps. Like the X-T100, it also has a low battery life of 270 shots. But other than that, the X-T200 is the winner.
3. Panasonic LUMIX G100
Sale
Panasonic LUMIX G100 Mirrorless Camera,...
A Real Camera for Real Life: Trust your memories to a camera, not a phone. The exceptional performance and portability of the LUMIX G100 lets you capture fleeting moments in crystal-clear 4K photo and video
Easily Transfer, Edit and Share: Intuitive, lightweight camera integrates seamlessly with smartphones to share photos easily with family, and on Instagram and other platforms
Use as a Webcam: Easily connect the G100 to your computer so that your web calls, livestreams, interviews, and media all look crisp, bright, and professional
The Panasonic LUMIX G100 was announced in June 2020 and might be thought to have replaced the LUMIX G90/95, but it's not. Instead, this entry-level mirrorless camera is designed for aspiring vloggers and casual video creators. Also called G110 in other regions, the G100 also has some features for beginners in travel photography.
Like other Lumix models, the G100 is powered by a Venus Engine image processor. This interchangeable lens camera has a native sensitivity range of ISO 200 – 25,600 (expands to Low ISO 100), the same as that of the G90/95. It uses a 20.3MP Four Thirds MOS sensor without Low Pass Filter and a 3680k-dot OLED viewfinder.
Furthermore, the LUMIX G100 is the smallest mirrorless camera with a 3.0-inch fully articulating rear LCD touchscreen with 1,840k dots. It also uses 5-axis hybrid image stabilization (IBIS) and can shoot 4k video at 30p. The G100 is also the first camera to incorporate Nokia's very impressive speech processing OZO Audio technology. 
With a compact size of 116 x 83 x 54 mm, the G100 weighs only 412 grams, including the lens. As expected, it also has intelligent face detection, a hands-free automatic shutter mode, Bluetooth and Wi-Fi connectivity, and can be used as a webcam. Battery life is low, though only at 270 shots. But other than that, the G100 is ideal for beginners.
4. Sony α6000
Sale
Sony Alpha a6000 Mirrorless Digital Camera 24.3 MP...
24 MP APS-C CMOS sensor ISO 100-25600 and Focus Sensitivity Range: EV 0 to EV 20 (at ISO 100 equivalent with F28 lens attached)
Operating temperature: 32-104°F / 0-40°C.Hybrid AF with 179-point focal plane phase-detection and 25 contrast detect points Built-in Wi-Fi and NFC
Up to 11 FPS continuous shooting, Compatible OS:Windows Vista SP2-8, Windows 7 SP1, Windows 8, Windows 81, Mac OS X (v106-v109)
Launched in February 2014, the Sony α6000 is an interchangeable lens camera and is probably the best mirrorless camera for beginners due to its incredible features. Also called the Sony Alpha, this versatile camera combined the features of its predecessors, the NEX-6 and NEX-7. Despite its age, the Sony α6000 can also please professionals.
Dubbed as the "world's fastest autofocus" during its initial release, the Sony α6000 can lock in on a subject in just 0.06 seconds. This is due to its Hybrid AF system that offers 179 phase-detect and 25 contrast-detect AF points. This entry-level mirrorless camera is powered by the more advanced Bionz X image processor than the NEX-6.
Like the NEX-7, the Sony α6000 is equipped with the same sharp 24.3 MP APS-C CMOS sensor. It also has the same ISO rating as the NEX-6 at ISO 100- 25600 but can be expanded to ISO 100-51200. The NEX-7 is only at ISO 100-16000. Nonetheless, they all have the same 3-inch tilting LCD with a 921k-dot resolution.
The Sony a6000 also sports an OLED viewfinder with 1,440K dots and has 11fps continuous shooting. Battery life is rated at 360 shots. Sadly, it has no image stabilization (IBIS), no touchscreen, is not weather-sealed, and cannot record 4k video. But with all the pros, Sony said it is the best-selling mirrorless camera ever.
5. Nikon Z fc
Sale
Nikon Z fc with Special Edition Prime Lens |...
Superb image quality: 20.9 MP DX CMOS sensor paired with EXPEED 6 processing engine
Vlogger Ready: 4K UHD, Flip out Vari-angle LCD, full time AF with eye detection, built-in stereo microphone, external microphone jack, live stream and web conference compatible
Heritage Design: Classic tactile design with analog controls for shutter speed, ISO and exposure compensation
The Nikon Z fc mirrorless camera is not a direct successor to any Nikon camera. Instead, this entry-level interchangeable lens camera has a classic design similar to the iconic Nikon FM2, released in 1982. This retro-styled camera has similar features to the Nikon Z50 but with amazing improvements. 
Announced in June 2021, the Nikon Z fc uses the same 20.9MP APS-C CMOS sensor with no Low-Pass Filter as the Z50. They are equipped with Expeed 6 image processor, a 2.36M-dot OLED viewfinder, and a 200-point Hybrid PDAF system. They also offer the same ISO range at ISO 100-51,200, expandable to 100-204,800.
Aside from the design, the main difference between the Z fc and Z50 is the LCD. The Z fc sports a fully-articulated LCD screen, while the Z50 has a tilting LCD. Both LCDs are touchscreens with 1.04M dots, but the Z fc has a smaller size of 3.0 inches instead of 3.2. Both can shoot 4k/30p (1.0x crop factor), and their battery life is only 300 shots.
Nevertheless, the Nikon Z fc has added a full-time 'Eye Autofocus' in wide-area and video modes. The shutter speed range is wider at 1/4000-900 sec instead of up to 30 seconds. The low-light AF detection is also slightly better at -4.2 to +19.3 EV compared to -4 to +19 EV. But then, the Nikon Z fc is a sure winner with its design.
6. Nikon Z5
Nikon Z 5 | Our most compact full-frame mirrorless...
24.3MP Full-Frame Mirrorless Camera | Nikon's most compact, lightweight full-frame interchangeable lens Z series camera
Outstanding Image Quality | Sharp, lifelike details, vibrant colors and great low-light performance
4K/30p and 1080/60p Video Recording | Crisp, smooth videos with shallow depth of field; USB power delivery; HDMI output
The Nikon Z5 is an entry-level interchangeable-lens mirrorless camera launched in July 2020. Note that this full-frame camera is not a successor of the Z6, which was launched in August 2018. Instead, it is a younger sibling. But although they have a lot of things in common, the Nikon Z6 has some more advanced features while the Z5 is much cheaper.
First, the Nikon Z5 and Z6 share the same Expeed 6 image processor, a 3.69M-dot OLED viewfinder, a 273-point hybrid AF system, and have a native sensitivity range of ISO 100-51,200. Both of them are weather-sealed and use the same 24.3 MP CMOS sensor. However, the Z5 sports the FX-format sensor, while the Z6 uses the BSI variant. 
Interestingly, they are also equipped with the same 3.2-inch tilting LCD touchscreen. But then, the Z5 has a much lower LCD resolution at 1,040k dots compared to the 2,100k dots of the Z6. It also has a lower low-light sensitivity range of -2 to +19 EV compared to the -3.5 to +19 EV range on the Z6. Both of them have built-in Wi-Fi and Bluetooth.
The Nikon Z5 and Z6 can shoot 4k/30p, but the Z5 is 1.7x heavily cropped. The Z6 also has a faster continuous shooting speed at 4.5 fps instead of 12 fps. Ultimately, the Z6 is slightly better than the Z5 but is cheaper. But for beginners like you, the budget may come as a priority. After all, the Z5 has enough features to learn from. 
7. Canon EOS M50 Mark II
Sale
Also called the EOS Kiss M2 in Japan, the Canon EOS M50 Mark II replaced the EOS M50 in October 2020. Yet, this entry-level mirrorless is more comparable to the EOS M200 because of its similar key features. Although this M50 Mark II is nearly identical to its predecessor (especially in physical looks), it has only slight improvements.
Like the EOS M50, the M50 Mark II uses the same Digic 8 image processor, 24.1MP APS-C sensor with Dual Pixel CMOS AF, a 3.0-inch fully-articulating LCD touchscreen, a native sensitivity range of ISO 100-25600 (expandable to 51200), a 2.36-million dot electronic viewfinder, and offers a maximum continuous shooting speed of 10.0 fps.
Both mirrorless cameras shoot 4K UHD video at 24p, but the latter has a bigger crop factor of 1.6x instead of 1.5x. They also have Eye Detection autofocus, but the eye-tracking for the M50 works in Servo AF mode and both stills and videos. Compared to the M200, the M50 II has an electronic viewfinder and image stabilization.
The M50 Mark II has built-in Wi-Fi, Bluetooth, and a Movie Self Timer option, making it great for vloggers who go into live streaming. You can also use it as a webcam. The only main disadvantage is its low battery life at 300 shots, which is still better than the M50 and M200. Overall, this M50 Mark II is great for beginners who don't require 4K.
8. Canon EOS M200
Sale
Launched in September 2019, the Canon EOS M200 is a digital mirrorless camera designed for beginners and smartphone upgraders. This interchangeable lens camera has easy-to-use new features that even experienced photographers can appreciate. Yet, this compact camera has some similarities with its predecessor, the EOS M100. 
Like the M100, the M200 features the same 24.2MP APS-C CMOS sensor with great Dual Pixel Autofocus, a 3.0-inch tilting LCD touchscreen interface with 1.04 million dots, and a full native ISO range of 100-25600, and 6.1-fps high-speed continuous shooting (One-Shot AF). Its shutter speed range is also from 30 seconds to 1/4000s.
For the additional features, the M200 is equipped with the improved Digic 8 image processor, Eye Detection AF, 143 AF points to choose from, and a better AF working range of -4 to 18 EV. This entry-level mirrorless camera has built-in Bluetooth and Wi-Fi but no built-in viewfinder. It can also shoot 4k UHD video at 24p but with a 1.7x crop.
The M200 has a slightly better battery life at 295 shots per charge or 410 shots in Eco Mode. This is not the best for a mirrorless camera, though. With all of its features and limitations, this lightweight M200 may not be the best entry-level camera for sports and fast action but it is great for travel photography. Yet, the price is also unbelievably cheap.
9. Olympus OM-D E-M10 Mark IV
OM SYSTEM OLYMPUS E-M10 Mark IV Black Micro Four...
20 MP Live MOS Sensor
Always-on connection and background connection via Bluetooth & OI Share Smartphone app
Flip-down monitor and dedicated Selfie mode. Selfie mode automatically turns on when monitor is flipped down
The Olympus OM-D E-M10 Mark IV was launched in September 2020 as a successor to the E-M10 Mark III. This entry-level mirrorless camera has some common features with its predecessor and the PEN E-PL10. It has also some exciting firsts in an Olympus interchangeable-lens camera. But still, the E-M10 Mark IV also has some small flaws.
First, the E-M10 model series is the cheapest and only one of the three categories in the OM-D series. The E-M10 Mark IV is the first E-M10 model to use a 20MP Four Thirds Live CMOS sensor. Also, this fourth E-M10 is the first OM-D to use a 3.0-inch, 1.03M-dot, 180-degree flip-down LCD touchscreen, which the E-PL10 also uses.
Like the E-M10 Mark III, the E-M10 IV also features the same TruePic VIII processor, a 2.36M-dot OLED viewfinder, a 121-point contrast-detect AF system, built-in flash, and can shoot 4K video at 30p. Both have the same native ISO sensitivity range of ISO 200-25600, which can be expanded from ISO LOW (approx. 100) to 25600.
Both mirrorless cameras have Wi-Fi connectivity, but the E-M10 IV has Bluetooth and a USB charging port. It is also a bit lighter and has a slightly longer battery life at 360 shots per charge. Sadly, the E-M10 Mark IV has no mic port and is not ideal for action and sports. But overall, it is still better than the E-M10 Mark III and PEN E-PL10. 
10. Olympus PEN E-PL10
OM SYSTEM OLYMPUS PEN E-PL10 Black
Simple, chic design with a clean, sophisticated look and leather texture finish
Built-In Wi-Fi & Bluetooth for remote shooting and transferring photos to smartphone wirelessly. Photos can be shared as soon as they are taken using OI Share Version 4. 3.
Graphical User Interface includes Intuitive Scene Modes
Released in October 2019, the Olympus PEN E-PL10 replaced the E-PL9 without a major difference. In short, this beginner-friendly micro-four-thirds camera has almost the same core features as its predecessor. In case you are unaware, micro four thirds (MFT) is the first digital mirrorless system started by Olympus and Panasonic.
Compared with the E-PL9, the E-PL10 uses the same TruePic VIII image processor, 15.9 MP Four Thirds sensor, ISO 200-6,400 (expands to ISO 100 – 25,600), 8.6 fps maximum burst shooting, and can shoot 4K video at 30fps. They use a 3.0-inch, 180-degree tilting LCD touchscreen with 1040k dots and have no viewfinder. 
Moreover, both mirrorless cameras have the same body dimensions and weigh 380 grams, have a 121-point contrast-detection AF system, and Wi-Fi and Bluetooth connectivity. But for easier selfies and video recording, the E-PL10 has a flip-down LCD instead of a flip-up. It also has a new Fine Tune 5 option for easier application of so-called Art Filters.
Both entry-level interchangeable lens cameras only have a battery life of 350 shots and lack USB charging. Nonetheless, the quality of both the image and video is very good. To sum it up, the E-PL10 is a bit better than the E-PL9, but the price increase may not be reasonable for the minor upgrade. In that case, choosing the E-PL9 can also be an option.
11. Fujifilm X-T30 II
Fujifilm X-T30 II XF18-55mm Kit - Black
Assured Image Quality X-T30 II uses Fujifilm's fourth-generation X-Trans CMOS 4 back-illuminated sensor, designed to minimize noise, while also extending sensitivity to ISO 160. The unique structure of the X-Trans color filter array also minimizes moiré and false colors, without the need for an optical low pass filter – ensuring the best possible image quality, packed with detail and vibrant, true-to-life color.
Incredible Focusing in All Conditions Never miss a moment, thanks to the X-Processor 4 quad-core CPU inside X-T30 II. It offers fast, accurate autofocusing in as little as 0.02 secs on any subject, but significant enhancements have been made to the original X-T30's ability to track moving subjects, optimizing autofocus for both stills and its powerful 4K/30p video capabilities. Low light focusing performance has also been expanded from the original X-T30 model, down to -7EV (with XF50mmF1.0 R WR attached) for even greater versatility.
Advanced Video and Imaging Controls A truly versatile imaging device, X-T30 II offers the ability to record 4K video at 30 frames-per- second, or 240fps at 1080p, to create 10x super slow-motion effects. Filmmakers needing extreme color fidelity can record 10-bit, 4:2:2 color through the camera's HDMI port, F-Log internally, or video using any one of X-T30 II's 18 Film Simulation modes. Alongside these, X-T30 II makes it easy to define your own distinctive visual style on still images ­– offering in-camera control over film grain texture, color depth, clarity, sharpness, and highlight and shadow tones.
The X-T30 II, unveiled in October 2021, measured 3.3 by 4.7 by 1.1 inches (HWD) without a lens. It has a 26.1 megapixel APS-C sensor inside. 
The mechanical shutter of the X-T30 II allows it to shoot continuously at a rate of 8 fps. If you choose to use the electronic shutter, you can choose to record at 20 or 30 fps with a 1.25x crop.
Moreover, it boasts a fully silent electronic shutter that offers a far faster top shutter speed of 1/32,000th second. This eliminates the need to mount a glass ND filter or use an external flash and lights while shooting wide-open with fast aperture lenses in the brightest of lighting conditions.
The X-T30 II may capture uncropped 4K video. While full HD capture can shoot up to 240p for a 6x slow motion effect, the maximum frame rate for 4K is 30p. However, the lack of in-body stabilization makes hand-held filming far less steady and does not support 10-bit capture, Log modes, or all-intra compression.