As a photographer, being able to capture stunning shots wherever you are is a top priority. But to consistently produce high-quality work, having the right photography gear is essential. That's why finding the perfect camera bag is crucial for any photographer.
However, with so many options available, choosing the right camera bag can be overwhelming. From size and storage capacity to shape and weight, there are numerous factors to consider. Ultimately, the type of camera bag that's best for you depends on how much photography gear you need to carry with you.
In this article, we'll explore the different types of camera bags available and provide a clear understanding of each bag's purpose. By the end, you'll have the information you need to choose the perfect camera bag to suit your needs.
Factors to Consider When Purchasing a Camera Bag
1. Size
Think about the equipment that will fit in your camera bag. You must clearly disregard the smaller items if you want your backpack to fit two camera bodies. If you have DSLR cameras, which are often larger than mirrorless cameras, this applies twice as much.
2. Extra Features
Camera bags are useful for more than simply keeping cameras. Some camera bags feature straps on the exterior that can hold a tripod. Some people pick a camera bag with many little pockets since they may be used to store food in addition to equipment like filters, SD cards, batteries, and shutter release cables.
3. Styles
Camera bags come in a variety of styles designed for a variety of functions, including working photographers and landscape and wildlife photographers. Different styles will be discussed later on.
4. Access
Find a camera back with at least side access if you need to get to your camera fast. By doing this, you may remove your camera without taking the bag off your shoulders or back.
On the other hand, it's possible that you would want to travel with more security. Consider a camera bag with top access only if such is the situation. Camera backpacks that unzip from the back are much safer because they can't be opened while you're wearing them by opportunistic criminals.
5. Build Quality and Weight
If you want your camera bag to safeguard your photographic equipment, you should only choose the highest-quality models. If you want a bag that will fit your particular camera and lenses, look for one that has a robust outer layer made of ballistic nylon that also provides water resistance. The interior should have high-quality Velcro dividers that can be changed and rearranged in your bag.
7 Different Types of Photography Camera Bags
Camera Pouches and Holsters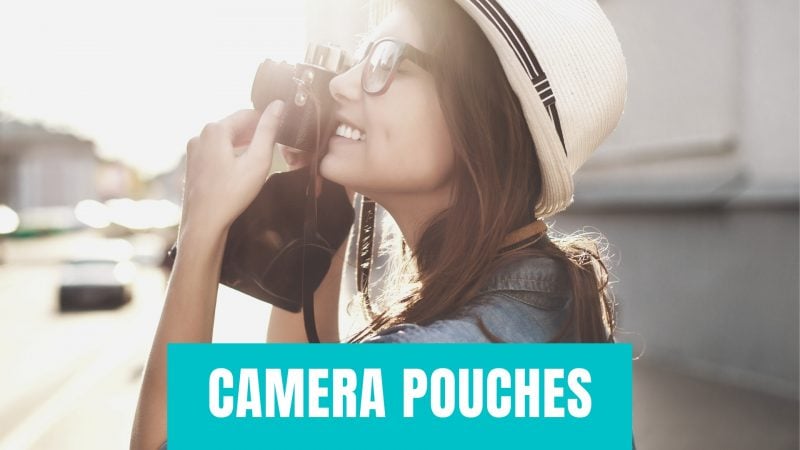 For those who only have one DLSR camera and lens, a camera pouch or holster may be sufficient. These two types of bags are very similar in nature.
Camera pouches are compact and can sometimes accommodate a full-sized DSLR, but not much additional equipment. Typically, camera pouches have enough space for one DSLR camera and one lens, with small compartments at the front that can hold a microSD card or smartphone.
Camera pouches are designed to be carried on a single shoulder, which limits their capacity for larger loads. The camera holster, on the other hand, is a slightly larger version of the camera pouch. Holsters usually have one or two additional compartments, but typically only one compartment under the flap.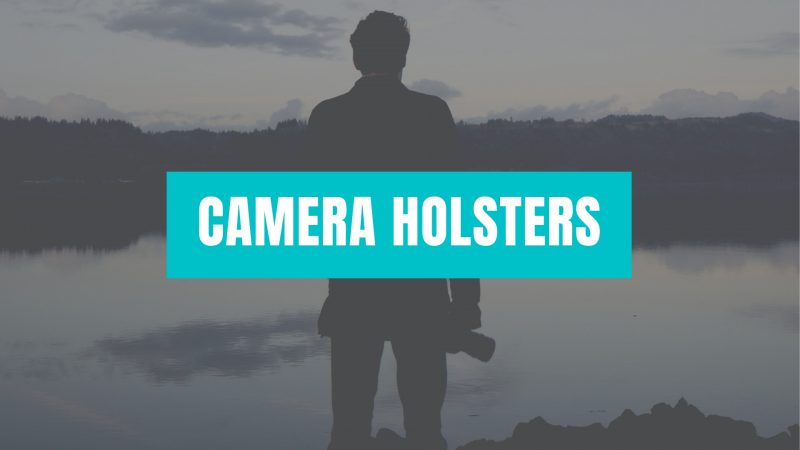 The primary advantage of camera holsters is that they allow you to quickly and easily draw your camera, take a photo, and stow it away again in a matter of seconds. They are comfortable to carry around and are not bulky or cumbersome.
If your storage needs are minimal and you only need to carry a single camera, pouches and holsters are an excellent choice. It's worth noting that holsters typically offer slightly more storage space than pouches and may include one or two additional compartments.
If you want to buy a camera pouch for yourself, read our detailed article about camera pouches and check out our recommendations. We also have an in-depth article and recommendations about camera holsters.
Camera Waist Belts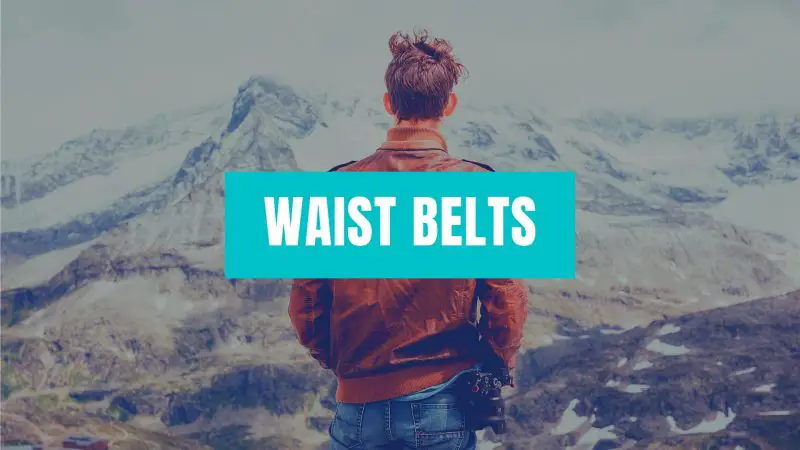 When it comes to capacity, waist belts are vastly different from each other, yet we can approximately say that they're similar to pouches and holsters. The reason for this is that there are waist belts that let you stack different pouches and holsters on top of them, making them very versatile and flexible. 
As its name says, waist belts are worn around your waist and they usually come with a storage that isn't able to pack a full-sized DSLR camera and tons of gear. While some more expensive waist belts can do that, we don't think it's comfortable to carry the belt like that. Coupled with other accessories, a waist belt can wear out quickly when it is overloaded with photography gear.
Waist belts are great for photographers with mirrorless or P&S cameras that don't care much about exchanging lenses, tripods, etc. An average mirrorless camera can easily go with a waist belt and a smaller 50mm lens can be packed here. If you decide to go with the more expensive waist belts, a DSLR can be packed, especially if you hook an additional pouch to the belt. This will give you an advantage in storage size. 
Beware that most waist belts come with pre-existing pouches that aren't that big. In some cases, waist belts aren't able to pack as much gear as the pouch can but also, in some cases, it can out-mass the pouch.
Here is our detailed article about camera waist belts. We have some recommendations that will surely meet your needs in your search for the perfect camera waist belt.
Shoulder Camera Bags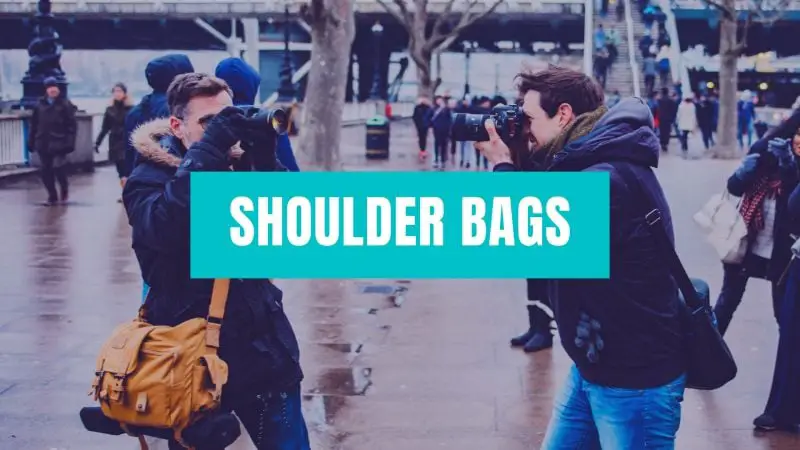 Shoulder bags, also known as messenger bags, strike a balance between style and capacity, making them a popular choice among photographers. These bags typically offer enough space to carry a full-sized DSLR with multiple lenses, making them practical and convenient.
For photographers who need to carry both a laptop and camera gear, a shoulder bag is an ideal solution. High-end shoulder bags can even accommodate a DSLR, several lenses, and a 17-inch laptop.
In addition to ample storage space, shoulder bags often feature additional compartments for accessories such as SD cards and portable flashes. Many also come with a tripod slot, making it easy to attach a medium-sized tripod.
However, it's worth noting that stylish shoulder bags can be quite expensive. If you don't require a shoulder bag, it may not be worth the investment. But for photographers who are constantly on the go and need to keep all of their gear with them, a shoulder bag is a must-have accessory.
Sling Camera Bags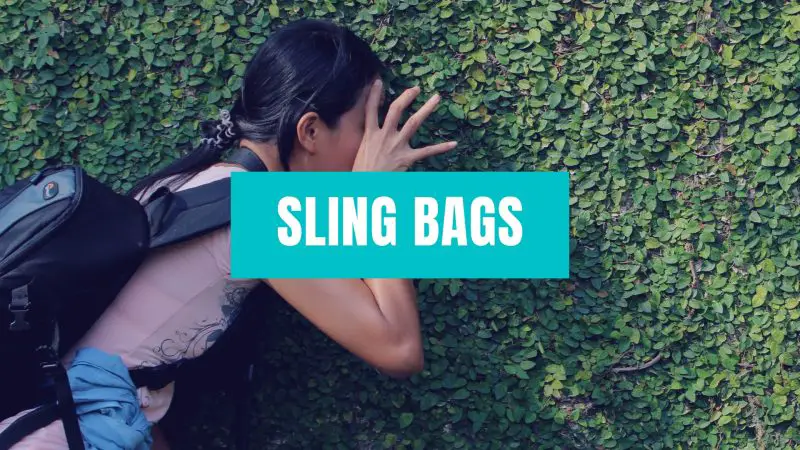 Sling bags are similar to shoulder bags, but with some key differences. The most noticeable difference is how they are worn. Shoulder bags are worn on the same side of the shoulder as the bag, while sling bags are worn on the opposite side. This allows sling bags to pack slightly more than a typical shoulder bag and in some cases, the storage capacity is equal.
Sling bags combine the flexibility of a shoulder bag with the storage capacity of a backpack. Additional compartments can sometimes accommodate a laptop or tablet, allowing you to stay connected and edit photos on the go. The main advantage of sling bags is their ease of use – they can be easily swung around to access your camera without any hassle.
Sling bags are particularly popular for travel and event photography as they allow for greater flexibility and ease of movement.
For those interested in camera sling bags, we have an article that can help you with your decision-making process of choosing the right camera bag.
Camera Backpacks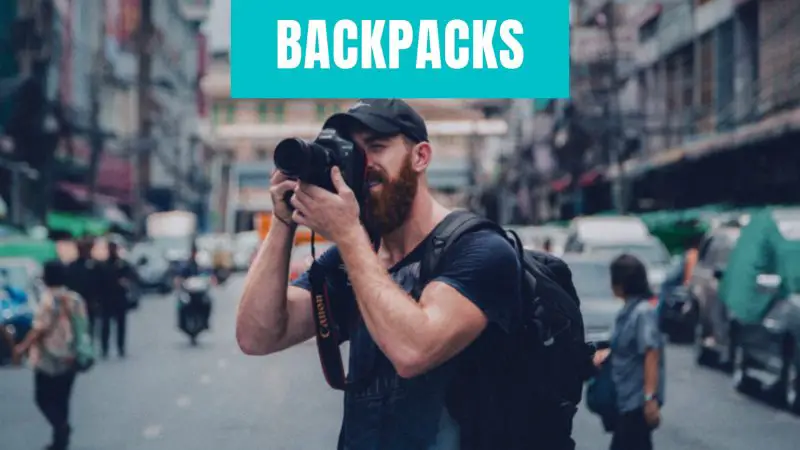 A camera backpack is unbeatable when it comes to portability while maintaining a very large storage capacity. Despite being so huge and able to carry that much gear, a backpack is very comfortable to wear, as you wear it on both of your shoulders. This reduces and even completely removes the stress from your shoulders, regardless of the amount of your photography gear. 
An average camera backpack can store two or more cameras, more than 4 lenses, a laptop, tablet, and has additional compartments for small or big camera accessories. Some more expensive and robust camera backpacks will allow you to pack both laptop and a tablet, for increased versatility.
Design-wise, backpacks aren't very beautiful, like some of the shoulder bags for example. However, they offer superior storage sizes to every camera bag we've mentioned, except roller bags.
If you love spending your time in nature and shooting landscapes, then a backpack is a great option. It will allow you to store even food inside. Those who don't need this kind of flexibility should steer clear of backpacks.
If you don't have a couple of cameras, lenses, and tripods, then the camera backpack isn't for you. The bigger the storage, the bigger the possibilities when on foot. For those who have problems with their shoulders, a backpack is surely going to help, thus we think that it's great for that purpose. 
We have a special camera backpack guide. Take a look and you might find the right camera backpack for your photography gear.
Camera Roller Bags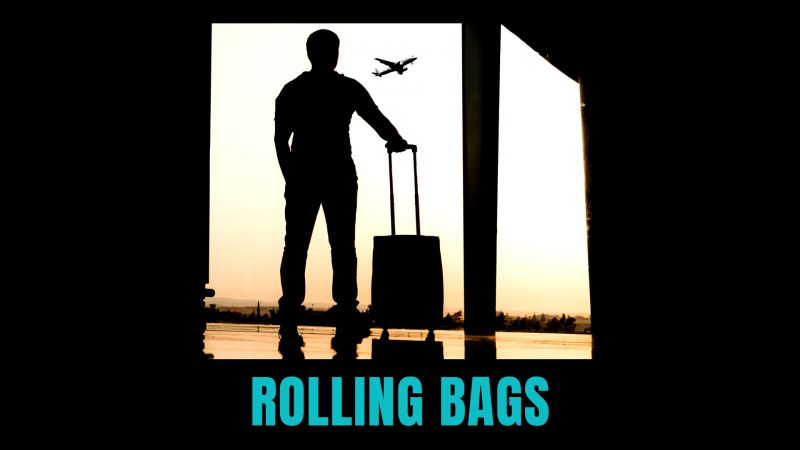 The camera roller bags are unmatched when it comes to the sheer storage size. It can easily pack all the stuff you need for your vacation, regardless of the duration. They are made to pack more than three cameras, more than six or seven lenses, and a tripod or two, and they have numerous additional compartments. This means that you can stuff in some drinks, food, and even some clothing for your trip. 
A camera roller bag is typically very expensive. Furthermore, typically roller camera bags are very heavy. In some cases, we're talking about five or seven kilograms! If you add the desired amount of stuff in there and fill it to its maximum, a total weight can go over 10 or even 12 kilograms.
A travel photographer who does his business outside of his native country should always have one of these. This is the primary purpose of a roller bag and if you need really big storage, you'll have to go for one of these big boys.
For those interested in roller bags, we have an in-depth guide for them. We picked out the best roller bags for every budget and explained what you should look for when buying a roller bag.