As a landscape photographer, I always look for the best mirrorless camera for my professional needs. I prefer a camera with a full-frame sensor for its superior image quality. In-body image stabilization (IBIS) is a must-have feature for capturing sharp, steady images in low-light conditions.
Whether a professional photographer or videographer, you want the best mirrorless camera available if photography is your business. But then, to decide what is best for you, you have to identify the features you need. This may include sensor size and type, autofocus performance, speed, in-body image stabilization (IBIS), light sensitivity, photo and video capabilities, body size, and weight.
With many famous brands now ditching DSLRs, the choices for mirrorless cameras are becoming wider, with prices getting lower. Although technology is changing fast, you should not be tempted by the latest features you don't need. Therefore, here are the 13 best mirrorless cameras from Nikon, Canon, Panasonic, Fujifilm, and Olympus.
13 Best Professional Mirrorless Cameras in 2023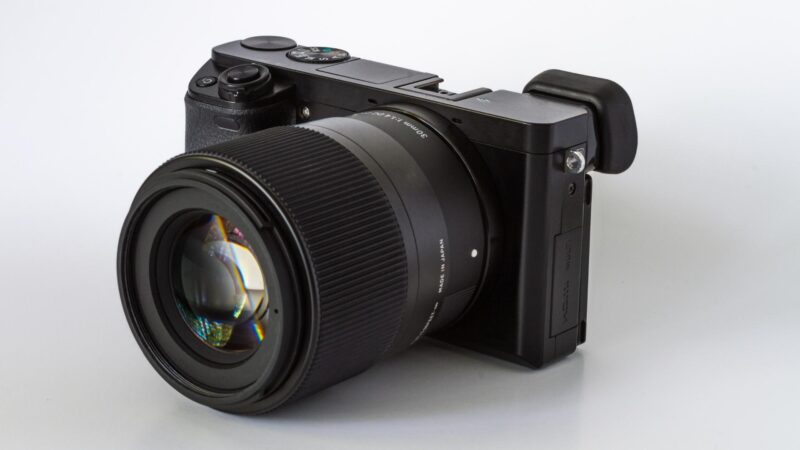 1. Nikon Z 9
Nikon Z 9 | Flagship Professional Full-Frame...
45.7MP Stacked CMOS sensor and EXPEED 7 image processing. Fast powerful AF that can keep up with the fastest subjects and frame rates.
Subject detection uses deep learning to automatically detect and track people, cats, dogs, birds, cars, motorcycles, bicycles, trains and planes in still and video with no menu changes.
Capture 45.7MP stills at 20 or 30 fps; 120 fps stills at 11MP, all with full AF and AE, and no viewfinder blackout. 8K/30p video capture in-camera for over 2 hours recording time. 4K 120p slow motion video capture.
Announced in October 2021, the Nikon Z 9 is a full-frame mirrorless camera with many reasons to be the best professional mirrorless camera in 2023. It won the Camera of the Year and Readers awards during Japan's Camera Grand Prix 2022. This action camera is also the top-selling professional mirrorless camera in the first quarter of 2022.
Like the Nikon Z7 and Z7 II, the Z9 sports a 45.7MP full-frame BSI CMOS sensor, the best part is that it uses stacked sensor technology. Here, the max shooting speed increases, the rolling shutter effects are minimized, and the sensor is blackout-free. Surprisingly, this is Nikon's first flagship pro-level camera without a mechanical shutter.
At the same time, the Z 9 is the first Nikon Z camera with 8K capability. This high-end mirrorless camera can shoot 8k video at 30p, 8K (RAW) at 60p, and 4K at 120p. It is also equipped with an Expeed 7 image processor, a 3.2-inch 2.1M dot-dual tilt LCD touchscreen, Synchro VR, and reintroduced the 3D Tracking autofocus system.
The battery life is rated at 700 to 770 shots per charge, which is very good in its status. The Z 9 combines the best DSLR and video cameras in one powerful mirrorless camera, which is why it is my working camera at the moment. It has a gigantic body and is quite heavy at 1,340 grams, but a few extra grams is worth it. Despite being sold at a high price, it is still cheaper than most competitors.
2. Canon EOS R5
Canon EOS R5 Full-Frame Mirrorless Camera - 8K...
High Image Quality featuring a New 45 Megapixel Full-frame CMOS Sensor..Working Temperature Range : 32–104°F / 0–+40°C, Working Humidity Range 85% or less
DIGIC X Image Processor with an ISO range of 100-51200; Expandable to 102400x1.
High-speed continuous shooting of up to 12 fps with Mechanical Shutter and up to 20 fps electronic (silent) shutter.
Announced in July 2020 along with the EOS R6, the Canon EOS R5 is a mid-range-to-professional full-time mirrorless camera. But despite the sequence in the model number and some similarities, the EOS R5 is not a predecessor of the EOS R6. Instead, these two mirrorless cameras are aimed at different types of professional photography.
The EOS R5 is Canon's first mirrorless camera that can shoot 8K video (up to 30p). Both can shoot 4k, but the EOS R5 is up to 120p, while the EOS R6 is only up to 60p. They also have 5-axis in-body image stabilization (IBIS), a 1053-pt Hybrid PDAF system, and a maximum shutter speed of 1/8000 seconds.
They are equipped with the same Digic X image processor, but the EOS R5 has a higher resolution, 45.0 MP full-frame Dual Pixel CMOS sensor, and a better 5.76M-dot OLED EVF but with the same 0.76x magnification. It also has a larger 3.2-inch fully-articulated LCD touchscreen with a higher resolution of 2.1M dots instead 1.62M dots.
However, the EOS R5 has a lower ISO rating at ISO 100- 51,200 instead of 102,400. It also has a slightly poor battery life at 320 shots and is a bit heavier at 650 grams (body only). It is unfair to say that one is better than the other in all aspects. But for sure, the EOS R5 is excellent for professional studio and landscape photography.
3. Fujifilm X-H2S
Fujifilm X-H2S Mirrorless Camera Body - Black
X-H2S is the first X Series camera to feature the 26.1-megapixel, X-Trans 5 stacked back-illuminated sensor. The unique X-Trans color filter array that minimizes moiré and false colors, placing the sensor's circuitry on a separate layer from the pixels delivers outstanding image quality thanks to expanded low light capabilities and up to 14-stops of dynamic range. The new X-Processor 5, offers lightning-fast performance for the most demanding situations. Capable of handling vast amounts of data, X-Processor 5 delivers next-level performance enhancements in video and stills processing capabilities and intelligent autofocus functionality that's 3x faster than Fujifilm's preceding X-T4 model.
Powerful video features make X-H2S a go-to device – both for hybrid image makers and dedicated motion professionals. Up to 90 minutes of footage can be internally recorded with a single battery, at a wide range of resolutions and frame rates up to 6.2K/30P in Open Gate 3:2, 4K/120P, and Full HD/240P. This delivers unparalleled flexibility within the X Series lineup. Additionally, the ability to record 10-bit 4:2:2 Apple ProRes footage internally to CFexpress Type B memory cards offers incredible post-production flexibility, while the X-Trans 5 sensor's 14-stop dynamic range optimizes the level of image detail across a uniquely wide exposure range.
The autofocusing system in X-H2S is not only quick, but also highly advanced. Capable of working in light levels down to -7EV and keeping up with both fast and erratically moving subjects, it now features Subject Detection autofocus, utilizing AI to deliver an unmatched autofocus performance. Previous X Series models offer Face and Eye Detection AF, X-H2S's Subject Detection AF broadens the range of identifiable subjects to further enhance focusing accuracy. The new system can identify and track cars, planes, trains, motorcyclists, birds, horses, dogs, cats and more. Furthermore, face and eye detection capabilities have been expanded to pick up hairlines, glasses, and face coverings.
The Fujifilm X-H2S replaced the not-so-popular X-H1 in July 2022 and has new and better features. This professional mirrorless camera has powerful video capabilities, a more sophisticated AF system, faster shooting speeds, and other massive upgrades compared to its predecessor. But as expected, it is much more expensive at launch.
Unlike the X-H1, which uses a 24MP backside-illuminated X-Trans CMOS III APS-C sensor, the X-H2S sports an incredibly faster 26.16MP backside-illuminated stacked X-trans CMOS 5 HS sensor. It also has a more powerful X-Processor 5 image processor and a more detailed 0.5-inch 5.76-M dot OLED EVF at 0.8x magnification.
The X-H2S also has a 3.0-inch 1.62M-dot vari-angle LCD touchscreen instead of titling. It has the same ISO sensitivity range of ISO 160-12,800 (expandable to ISO 80 to ISO 51,200) as the X-H1. Both have 5-axis in-body image stabilization (IBIS), but the X-H2S has a maximum of 7 shutter stops instead of 5.5.
More importantly, the X-H2S can shoot at 6.2K/30p without crop and DCI 4K/120p with a 1.29x crop factor. It offers 425 phase-detection AF points, 15fps continuous shooting via mechanical shutter, and 40fps continuous shooting via electronic shutter, totally blackout-free. Despite being pricey, the X-H2S is an ideal option for professionals.
4. Fujifilm X-T4
Sale
Fujifilm X-T4 Mirrorless Digital Camera XF16-80mm...
Putting Stability in Your Hands: A huge part of creating great photos or videos is making sure you are in the right place at the right time – and that often means making handheld images to get to the heart of the action. X-T4's state-of-the-art, five-axis In-Body Image Stabilization (IBIS) provides up to 6.5 stops of image stabilization to make sure that, even in the midst of all the excitement, your images remain steady and sharp. Combine this with the new four-axis Digital Image Stabilizer, and you have lots of room to maneuver.
Performance You Can Rely On: For any serious image maker, having a tool that can be relied upon to perform flawlessly whenever it is required is extremely important. For this reason, X-T4 features a newly developed mechanical shutter that is the fastest and most robust in the history of the X Series. Not only can it make images at 15 frames per second, but it is also rated for 300,000 actuations2. When you combine this with it's larger capacity battery that is capable of up to 600 frames per charge2, X-T4 has the power and the durability to give you the peace of mind that you'll never miss the perfect opportunity.
Find the Best Angle for Your Story: When chasing the perfect image, versatility is key, so the last thing you want is to be hampered by awkward angles. The 1.62 million pixel vari-angle touchscreen LCD featured on X-T4 can be adjusted to make it visible from a wide range of positions. This not only gives you a high-quality monitor to frame with, but also provides quick and simple controls when you need them most. On the flip side, there are times when you need to minimize the light and distractions that a screen can create. That's why X-T4's LCD has been designed to easily fold away so it is completely hidden from view, leaving the updated 3.69 million pixel/100fps electronic viewfinder to help you focus on the moment at hand.
Announced in February 2020, the Fujifilm X-T4 is a professional mirrorless camera that is not a direct replacement for the X-T3 but a sister model. The X-T3 II, released in September 2021, is the successor to the X-T3. On the other hand, the X-T4 has some notable similarities with the X-H1, which is two years older. 
First, the X-T4 and X-H1 have the same 0.5-inch 3.69M-dot OLED electronic viewfinder at 0.75x magnification and two UHS-II memory card slots. The X-T3 and X-T3 II use a smaller 2.36M-dot OLED EVF with 0.62x magnification. Meanwhile, the X-T4 has a more versatile, higher-resolution, 1.62M-dot vari-angle LCD touchscreen.
Unlike the X-H1, the X-T4 and the two X-T3s use the 4x faster Quad Core X Processor 4 image processor and a better 26.1MP APS-C X-Trans BSI CMOS 4 sensor. These three models also offer the same ISO rating of ISO 160-12800 (expands to ISO 80-51200. The X-T4 has 5-axis in-body image stabilization (IBIS) at 6.5EV correction.
With the X-T4, you can also enjoy 4k/60p with no crop, 20fps shooting when using the electronic shutter without any crop, and 30fps at 1.25x crop and 15 fps continuous shooting speed when using the mechanical shutter. Sad to say, there is no built-in flash. But with all the amazing features, the X-T4 is the best APS-C mirrorless camera today.
5. Panasonic Lumix DC-GH6
Panasonic LUMIX GH6, 25.2MP Mirrorless Micro Four...
Higher Resolution and Bit Rates than Ever Before: 25MP Sensor and Venus Engine with 100MP Hand-Held High Resolution Shot; 5.7K 60p, 4K 120p 10-bit video and all recording modes are no time limit
Incredible Image Quality and Versatility: Internal recording in Apple ProRes 422 HQ and 422 to deliver high image quality at low compression; Pre-installed V-Log/V-Gamut and plus13-stops of dynamic range with Dynamic Range Boost
Unbelievably Stable, Even in Low Light: Powerful 5-axis Dual I.S. 2 provides up to 7.5-stops of correction; Full-HD High frame rate video at 300fps (12.5x) slow motion
Released in March 2022, the Panasonic Lumix DC-GH6 is not a direct replacement for the DC-GH5 and DC-GH5 II but sits on top of them. Aimed for vloggers and professional videographers, this Micro Four Thirds mirrorless camera offers many video features. It is the most powerful camera in the Lumix G series.
Unlike the DC-GH5 and GH5 II, which use a 20.3MP CMOS sensor, the DC-GH6 sports a new 25.2MP CMOS sensor with no AA filter. It is the first Micro Four Thirds camera with a resolution higher than 20 megapixels and has the highest resolution. It has a 5-axis in-body image stabilization (IBIS) but is rated at a higher 7.5 stops instead of 6.5.
Powered by a new Venus Engine processor that doubles the speed, the GH6 can shoot 5.8K anamorphic at up to 30p, 5.7K/4.4K anamorphic, or DCI/UHD 4K at up to 60p, as well as 4K at 120p. The native ISO rating is ISO 100-12800 but goes down to ISO 50. To avoid overheating during extended use, a forced-fan cooling system is added.
Unlike other GH models, the GH6 has no battery grip. The battery life is only 330 shots, but you can still use the camera while charging it via the USB C port. The image quality is good enough, but the more detailed 4k video is superb. Panasonic pushed its limits regarding video capabilities, making the GH6 a highly-dependable video camera.
6. Sony a9 II
Sony a9 II Mirrorless Camera: 24.2MP Full Frame...
SONY ALPHA A9 II: Compact professional cameras mastered for sports photography and photojournalism
SUPERIOR SPEED: Fastest 35mm full-frame 24. 2MP stacked Exmore RS CMOS sensor with integrated memory
FASTER AUTO FOCUS: Up to 20fps at full resolution with 60 AF/AE tracking calculations per second
Announced in October 2019, the Sony a9 II replaced the Sony a9, dubbed a true professional mirrorless camera. Having exemplary features, the original version went head-to-head with its competitors. Now with some similar features and enhancements, the Sony a9 II is one of the best professional mirrorless cameras ever.
Like the Sony a9, the Sony a9 II employs a 24.2MP Exmor RS BSI stacked CMOS sensor, a 3-inch 1.44M-dot rear LCD touchscreen, and a 0.5-inch 3.69M-dot OLED viewfinder at 0.78x magnification and with a framerate of 120 fps. Both cameras feature 5-axis in-body stabilization (IBIS), but the A9 II has a small 0.5Ev upgrade of 5.5Ev.
These professional mirrorless cameras have the same ISO sensitivity (mechanical shutter) rating of ISO 100-51200, which can be extended to ISO 100-204800, Real-Time tracking, a Hybrid AF system (693 phase and 425 contrast-detection AF points), 20fps continuous shooting with AF/AE tracking, and a blackout-free live view shooting.
A BIONZ X image processor powers both, but the Sony a9 II uses the enhanced version. It also has Eye AF for video, 10fps continuous shooting speed for the mechanical shutter instead of 5 fps, and supports two UHS-II card slots instead of one. Overall, the upgrade is not that exciting but is a great welcome for professionals.
7. Olympus OM-D E-M1 Mark III
OLYMPUS OM-D E-M1 Mark III Black Camera Body
Multi-selector (Joystick) for quick selection of the AF area while looking through viewfinder
Dust proof/Slash proof/Freeze proof magnesium alloy weather sealed construction
50MP handheld high resolution shot
Released in February 2020, the Olympus OM-D E-M1 Mark III is the successor of the E-M1 Mark II. Although both are professional mirrorless cameras, the E-M1 Mark III has a lot of impressive firmware updates. Interestingly, this high-end camera also inherited features from the E-M1X, a 1-year older professional mirrorless camera.
To begin with, these three mirrorless cameras have the same 20.4MP Four Thirds Live CMOS sensor, 3.0-inch 1.037M-dot vari-angle LCD touchscreen, 121-pt Hybrid AF system, 5-axis in-body image stabilization system (IBIS), and ISO 200-5600 (expands to ISO 64). The 2.36M-dot EVF E-M1 Mark II and III have a 1.48x magnification.
The E-M1 Mark II is the first Olympus mirrorless camera to shoot 4K video at up to 30p, which both the E-M1X and E-M1 Mark III also have. Nonetheless, the E-M1 Mark III is powered by an upgraded TruePic IX image processor. On the other hand, the E-M1X uses two TruePic VIII processors instead of only one processor for the E-M1 Mark II. 
Unlike the E-M1 Mark II, which has two UHS-II card slots, the E-M1 Mark III has one only. Among the three, the E-M1 Mark III has the lowest battery life at 420 shots but is only 20 shots lower than the E-M1 Mark II. It is also only 6 grams heavier at 580 grams with a battery. Weighing all factors, the E-M1 Mark III is better and cheaper than the Mark II.
8. Nikon Z7 II"/]
Nikon Z 7II | Ultra-high Resolution Full-Frame...
Every little detail matters. 45.7MP. Powerful AF performance. NIKKOR Z lenses. Intuitive functionality. The most sophisticated tool for high resolution imaging.
Subject acquisition with speed and precision. 3.3x more buffer capacity than the original Z 7. Faster continuous shooting. Improved AF performance and functionality.
Dual card slots (CFexpress/XQD and UHS-II SD). Flexibility and peace of mind when shooting important moments or on assignment, such as wedding and event photography. Comfortable. Durable. Intuitive. Z 7II's exterior and interior have been thoughtfully designed to be handled and used with max comfort and ease of operation.
The Nikon Z7 II replaced the Z7 in October 2020 and was released with the Z6 II. This full-frame professional mirrorless camera has subtle upgrades from its predecessor but is still worth mentioning. It also has similar features to the Z6 II, but the latter is more comparable with its predecessor, the Z6. With that, let's focus more on Z7 and Z7 II.
The Z7 and Z7 II share the same 45.7MP full-frame BSI CMOS sensor with no low-pass filter, 3.2-inch tilting LCD touchscreen with 2.10M dots, 493-point Hybrid PDAF system, and 3.6M-dot QVGA electronic viewfinder with a 0.8x magnification. But with the Z7 II, the viewfinder blackout times have been greatly reduced while shooting in bursts.
Both mirrorless cameras have 5-axis in-body image stabilization (IBIS), a wide native ISO sensitivity of ISO 64-25,600, expandable to ISO 32-102,400, and Wifi and Bluetooth connectivity. Meanwhile, the main difference between them is the overall performance. The Z7 II is powered by two Expeed 6 image processors instead of one. 
The Z7 II is also the company's first high-end mirrorless camera with 2 card slots (CF Express and UHS-II SD cards) instead of one. Instead of only 4K/30p, this upgraded version can now shoot 4K/60p but with a 1.08x crop factor. Its EVF LCD also has a reduced viewfinder blackout. Hence, the Z7 II is indeed a great tool for professionals.
9. Panasonic Lumix S1H
Sale
PANASONIC LUMIX S1H Digital Mirrorless Video...
Newly designed full frame sensor – 24 2MP full-frame MOS sensor offers a wide dynamic range and sharp natural expression at high sensitivity settings
6K 10-BIT VIDEO – Includes full-area 3 2 6K24p C4K(4 096 x 2 160) and anamorphic modes
Dual native ISO – offers the advantages of very high sensitivity for low-light shoots while suppressing noise levels allowing the camera to switch from a standard sensitivity to a higher sensitivity with almost no noise degradation
Released in October 2019, the Panasonic Lumix S1H is a Netflix-approved mirrorless camera aimed at professional videographers and cinematographers. However, note that it is not the same as the Lumix BS1H, released two years later. But then, these two full-frame cameras have some key similarities and very obvious differences.
The main difference is that the BS1H has no LCD, viewfinder, or in-body image stabilization (IBIS). On the other hand, the Lumix S1H is equipped with a 3.2-inch 2.33M-dot fully articulated LCD touchscreen, 5.7M-dot electronic viewfinder with 0.78x magnification, and 5-axis in-body image stabilization (IBIS) at 6.5 stops.
The S1H and BS1H use the same Venus Engine image processor and 24.2MP full-frame CMOS sensor. They offer 225 contrast-detection AF points, a Dual Native ISO system, and ISO 100-51200, expandable to ISO 50-204800. Both offer open-gate (3:2) 6K video at up to 24p, 5.4K at up to 30p, and 4K at up to 60p.
Both mirrorless cameras have built-in Wi-Fi and a cooling fan, so you can use them unlimitedly without overheating. The S1H has a battery life of 400 shots and around 2 hours of video recording and weighs around 1 kilogram. Despite many limitations in autofocus performance, the S1H is a great choice for filmmakers.
10. Fujifilm GFX50S II
Announced in September 2021, the Fujifilm GFX50S II is so far the latest of the GFX model series. This medium-format professional mirrorless camera replaced the GFX50S but has a lot of similarities with its more expensive sibling, the GFX100S. It is so far the cheapest among the medium-format Fujifilm cameras. Yet, it is a modern refresh. 
Like the GFX50S, the GFX50S II uses a 51MP medium-format CMOS sensor, a 3.20-inch 2.36M-dot 3-way tilt LCD touchscreen, and a native sensitivity range of ISO 100-12,800, which is expandable to ISO 50-102,400. As expected, the GFX50S II does not shoot 4K video as the GFX100S. Instead, it is limited to full HD video at up to 30p.
Like the GFX 100S, the GFX 50S II has a fixed built-in 3.69M-dot OLED electronic viewfinder at 0.77x magnification, Pixel Shift Multi-Shot mode (at 200MP instead of 400MP), and 5-axis In-body image stabilization (IBIS) but is 0.5 stop increase at 6.5EV correction. They measure 150 x 104 x 87mm and weigh 900 grams. 
Powered by X-Processor 4 image processor, the GFX50S II allows you to charge via a USB-C connection. Despite having no vertical battery grip option, it has a flat-shaped Focus Lever to help reduce physical discomfort even after using the camera for a long time continuously. But with all these great features, the price is still unbelievably low.
11. Sony α7 IV
Sony Alpha 7 IV Full-frame Mirrorless...
33MP full-frame Exmor R back-illuminated CMOS sensor
8x more powerful, next generation BIONZ XR image processing engine
Up to 4K 60p 10-bit 4:2:2 w/ full pixel readout in all recording formats
The Sony a7 IV, which replaced the Sony a7 III in 2018, is the latest version of the company's well-liked Alpha 7 mirrorless camera. It offers several great improvements, such as a redesigned menu system with touch navigation, additional dials and customization choices, and a more durable build quality.
The Sony a7 IV is a fantastic landscape camera. A remarkable level of detail is captured by its 33-megapixel full-frame sensor, which also produces clear and beautiful images from the camera.
The a7 IV significantly advances the situation by introducing 10-bit capture, which increases the processing flexibility of Log video and permits complete Hybrid Log Gamma (HLG) capture for playing on HDR TVs. With a crop to APS-C/Super 35 proportions, it can now shoot in 4K/60p for slow-motion or action photography. 
The 3.68 million-dot OLED panel on the a7 IV has a 0.78x viewfinder magnifier. Its screens are comparable to those of rivals like Canon and Nikon. The viewfinder features a Hi readout, 120fps option that is better suited for action shooting, while it refreshes at a steady 60fps in its Standard mode.
12. Fujifilm X-S10
Fujifilm X-S10 Mirrorless Camera Body - Black
It's All About How It Feels: X-S10 has been designed to provide on-the-go photographers with maximum control. Its deep handgrip affords solid, confident handling with any kind of lens attached, while the intuitive controls ensure effortless operation, no matter what camera system you are used to. When you also consider the 180° vari-angle LCD touchscreen and up to 20fps uncropped continuous shooting, with X-S10 you will be ready to unleash Fujifilm's acclaimed color science for any and every photo opportunity.
Making State-of-the-Art Simple: Designed to be simple and minimalist on the outside, X-S10 still enjoys Fujifilm's renowned image-making technology at its heart. With the state-of-the-art X-Trans CMOS 4 sensor and X-Processor 4 combination, it is easy to create astounding results. The 26.1 megapixel back-side illuminated sensor offers a wide dynamic range and incredible image quality, while the quad-core CPU not only provides precision autofocus at speeds of up to 0.02 seconds and in light levels as low as -6EV, but also superfast stills and video processing to keep up with your creative needs.
Putting Stability in Your Hands: To document the most amazing moments, you need to be in the right place at the right time, but the greater lengths you go to in search of the perfect angle, the higher the risk of a shaky camera ruining it all. That's why X-S10 features a five-axis in-body image stabilization (IBIS) system that gives you the freedom to go handheld and get right to the heart of the action. The five stops of image stabilization will help keep your images sharp and your video steady no matter what conditions you are faced with.
One of the greatest compact and mid-range mirrorless cameras available is the Fujifilm X-S10. For studio video, the Fujifilm X-S10 excels. Although it can only record 8-bit 4:2:0 color video internally, you can use an external recorder to benefit from its ability to output 10-bit 4:2:2 color video over its HDMI connector.
Fujifilm's current camera line offers a consistent user experience regarding autofocus performance. With nearly all of its surface covered by contrast and phase detection spots, it has an advantage for monitoring moving objects. The electronic viewfinder (EVF) has a 2.36M-dot resolution, a 0.62x magnification, a refresh rate of 100 frames per second, and an integrated eye sensor.
Although you could detect some noise when shooting in poorly lit conditions, it produces excellent image quality and takes reasonably clear, detailed video in both 4k and FHD. It can shoot high-speed FHD video at 120 fps and 240 fps, just like the X-T4. However, it can only play back the clip in 10x, 8x, 4x, or 2x slow motion. This video cannot be played again at high speed, and sound cannot be recorded in this mode.
13. Nikon Z 50
Nikon Z 50 with Two Lenses | Compact mirrorless...
Compact, lightweight and durably constructed mirrorless camera
First DX-format mirrorless camera to use a large 55 millimeter lens mount, offering advantages in high image quality and lowlight performance.
20.9 MP sensor with robust 4K UHD video features
The Nikon Z 50 is an APS-C sensor, a first-generation Z-mount mirrorless camera. According to the company, the camera is made to appeal to a generation of consumers who don't view themselves as photographers. The Nikon Z 50 has many appealing features and was released on October 2019, along with two tiny DX lenses made exclusively for the camera.
With complete autofocus and auto exposure, it can shoot at 11 fps continuously, faster than many pro-level DSLRs and on par with the Z6 and Z7. Moreover, having a native ISO range of ISO100-51,200 at up to -4EV, it performs incredibly well in low light.
It provides a clear view of the screen with little visible distortion and a 1.02x magnification ratio comparable to 0.68x full-frame. The eye-point is a bit short at 20mm, making it challenging for certain people wearing glasses to view the far edges of the screen.
On the other hand, it has a feature-rich video camera that captures attractive video. It can record 1080p video at 120p or 4K UHD video at 30p. The Z50 features several video options, including focus peaking and zebra warnings to help determine exposure. There are several color profiles, including a Flat profile, but no Log option exists.