Okay, I think we all know what a camera backpack is, right? It's an absolute classic among photographers as it has the biggest capacity, alongside rolling cases, which packs the biggest storage out there. Where shoulder bags force you to carry them on a single shoulder, the photography backpacks can be carried on both shoulders, thus eliminating the strain on your shoulder muscles and spine. As for the capacity, a backpack is a true champion!
It can pack a full-sized DSLR, a couple of lenses, photography gear, accessories, and even a laptop! The backpack is a great solution for travel photographers but also for those who are in need of a couple of different lenses every photo session.
Here is our full list of the best photography backpacks for those who are in a hurry:
6. Caselogic Kontrast Pro-DSLR Backpack
---
Review: 6 Best Photography Camera Backpacks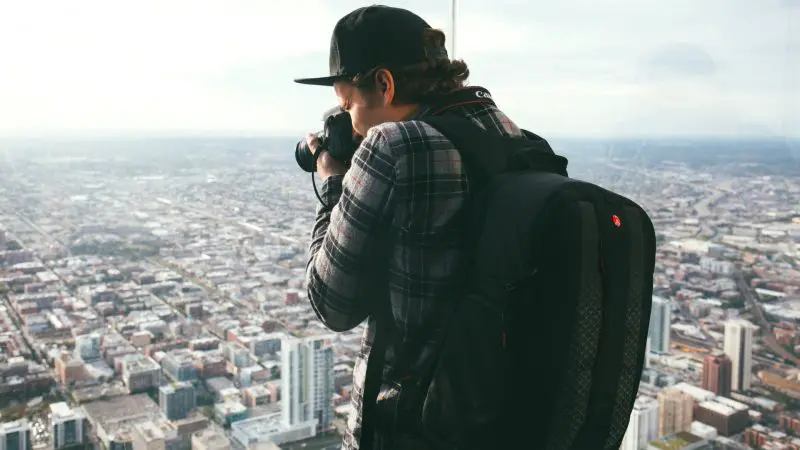 ---
1. Lowepro Whistler BP 450 AW
Lowepro Whistler BP 450 AW. XL Pro Grade Outdoor...
WHISTLER BP 450 AW. Born on the side of a mountain, our Whistler pack delivers amazing performance for wilderness photographers and adventurers who carry an equal measure of camera, video and functional outdoor gear.
WHAT IT HOLDS. This adventure pack holds a Pro DSLR (such as Nikon D4S or Canon 1DX) Up to 3 lenses: 58mm f/1.4, 24-70mm f/2.8, 24mm f/1.4, flash (such as SB910), GoPro(R) or similar form factor action video camera, functional outdoor gear, and personal items.
EQUIPPED FOR THE EXTREME. This pack is made of high-performance materials, offers extreme organization, and the technology to comfortably carry the gear you need into any environment. It includes ActivZone, Max Fit, and SlipLock technologies.
When it comes to the camera bags, Lowepro is almost one of the best manufacturers out there. This time, we present you their Whistler BP 450 AW backpack – a robust and heavy piece of a camera backpack. To be honest, the only downside of this backpack might be its enormous weight of 3.3 kg.
However, this mass comes with benefits. Instead, you get a space for your big DSLR and there is space for 6 lenses/accessories. That's a pretty good feature if you ask me. On top of that, the compartments are adjustable, which means that you can adjust them however you want to suit your needs at a particular moment. If you want to remove the inner compartment, you can also do so! In that case, you can use the backpack for another purpose – for example, camping.
One thing that bothers us is the lack of a laptop/tablet compartment. I mean, sure, you can put a laptop in the main compartment but then your DSLR will not enjoy its space. And if you decide to put a lens on top of all that, your equipment might get damaged. Still, this backpack is just amazing for its build quality.
Check out the current price for Lowepro Whistler BP 450 AW on Amazon.
---
2. Thule Aspect DSLR Backpack
Thule Aspect DSLR Camera Bag Backpack, Black
Customizable, padded storage protects a DSLR camera plus a DJI Mavic Pro (or drones up to 260mm x 240mm x 130mm) and a variety of equipment and accessories
Protects up to a 15.6 inch laptop plus an iPad in back compartment
Store your personal gear in the spacious compartment with multiple pockets
If you don't want to spend a lot of money and still get a good deal, this is a great backpack for you. Thule Aspect DSLR Backpack comes with a weight of 1.4 kg, which isn't that heavy. On top of that, it offers a compartment for a 15.6-inch laptop, making it far more versatile than some more expensive backpacks out there. As for the camera, you can fit in your DSLR and it allows you to put in two more lenses inside. Not the best storage we've seen, but nevertheless, great for the price.
The stretch pocket is also here and it's enough to fit in your micro SD cards and various accessories. The interesting feature of this backpack is its top compartment where you can fit a drone. Yes, a drone! This will further increase your flexibility when it comes to photography.
The downside is that you can store only one DSLR inside. Arguably, this isn't a big problem since most of you don't have a couple of DSLRs. But, if you're a professional photographer or have a couple of DSLRs, then this backpack might be a bottleneck.
Check out the current price for Thule Aspect DSLR Backpack on Amazon.
---
3. Lowepro ProTactic 450 AW
Lowepro ProTactic 450 AW Camera Backpack -...
Fits 1-2 Pro DSLRs, one with up to 70-200mm f/2.8 lens attached, 8 lenses/speed lights, 15" laptop, tripod and accessories. The ProTactic 450 AW also fits the DJI Mavic Pro drone
Never miss a critical mission thanks four access points: the molded, turret-loading top, quick-grab from both sides, and full, back entry for set-up and security
Create limitless set-ups with a robust, Slip Lock compatible strap system. Internal Dimensions: 31.8 x 19.8 x 44 cm (12.52 x 7.80 x 17.32 in) External Dimensions: 34.8 x 27 x 48.8 cm (13.70 x 10.63 x 19.21 in). Weight: 2.6 kg (5.72 lbs)
Yet another backpack from Lowepro – ProTactic 450 AW. No, it's not the same one we've mentioned a minute ago. This is a more affordable backpack and although it's slightly lighter, it's still a beast with its 2.6 kg of weight. Nevertheless, it's able to withstand a solid amount of photography gear. Let's begin by saying that you can put in 2 full-size DSLRs and up to 8 lenses/accessories. That's an impressive feature, isn't it?
To make things easier for the user, ProTactic 450 AW gives multiple access points. Whether it's from the side of from the top, the access is always easy.  Unlike its more expensive brother, this one allows you to carry a 15-inch laptop or tablet, and comes with a tripod attachment, with one additional compartment for accessories like SD card, for example.
Lowepro ProTactic 450 AW ticks all the boxes, yet it's fairly bulky and heavy. I would say that's not a problem since you can pack all your photography gear in here. As always, some compromises need to be made and that applies to every product you buy.
Check out the current price for Lowepro ProTactic 450 AW on Amazon.
---
4. InCase DSLR Pro Pack
InCase DSLR Pro Pack comes in a fairly compact size that lets you pack a lot more than it seems. The design is quite simple and if you're a minimalist, just as I am, you'll love it. There isn't a ton of details but a clear black color that covers every compartment. Speaking of compartments, you'll find several of them inside.
The backpack is huge on the inside, giving you the space for one full-size DSLR camera, as well as four lenses. Yes, even the telephoto lenses are compatible! On the flap itself, we have two more compartments for tiny accessories and on the outside, we have a compartment for a 15-inch laptop. Alternatively, you can put a quite huge tablet there.
The weight of this backpack is around 1.5 kg, which isn't a lot, compared to some backpacks that can easily overload your back. Design-wise, we have to mention that there isn't any kind of protection from the rain. It's not weatherproof, meaning that you'll have to watch your photography gear not to get wet while it's raining. The tripod storage is also provided, yet it doesn't feel very comfortable. It's rather clunky and narrow, as it requires a tripod leg to be threaded through the tripod loops. Very complicated and definitely not necessary. For the price, this backpack is a solid buy, given its pros and cons.
Check out the current price for InCase DSLR Pro Pack on Amazon.
---
5. Vanguard Alta SKY 45D
Sale
Vanguard Alta Sky 45D Camera Backpack for Sony,...
Multi-access quick-action - full rear opening, side and top access and separate opening to individual, spacious lower compartment. Includes total coverage rain cover, sturdy divider kit and multi-connection straps. Clutter free - stowable connector straps
Ultimate versatility - 100% gear to 100% personal and anywhere in between. Adapts to perfectly fit photo gear, video gear, drones and gimbals (larger drones attach externally), laptop, tripod, and personal essentials
Well organized – numerous dedicated pockets, organizers and connectors for all essentials and stay hydrated - large water bottle side pockets.
Vanguard Alta SKY 45D looks and feels quite futuristic. The design is much more complex than on InCase DSLR Pro Pack due to its numerous compartments located on the front of the backpack instead of inside. With no drastic difference in terms of storage, we don't see why this gigantic backpack weighs 2.2 kg. Inside, you can store a full-size DSLR, four lenses, and even a tripod. On the front, we have a laptop compartment and once again, it's suitable for 13-inches laptop, whereas we had 15-inch laptop compatibility in the previous backpack. Instead of a laptop, you can store your tablet here. It will fit much better and will not make the backpack look clunky.
The enormous weight of the backpack is followed by the amazing build quality. This one will sustain every kind of condition. Whether it's heavy rain or wind, this beast will carry your photography gear intact. Given that it has access from the front, top, and sides, it's very easy to use and you'll be able to access your photography gear in no time.
The main letdown is its weight, which once again, can even be a good side if you don't mind carrying a bit heavier backpack. Furthermore, the price can also repel potential buyers. It's not the most expensive backpack but having in mind its average storage offerings as well as its weight, many of you will think before buying it.
Check out the current price for Vanguard Alta SKY 45D on Amazon.
---
6. Caselogic Kontrast Pro-DSLR Backpack
Case Logic KDB-101 Kontrast Pro-DSLR Backpack...
Customizable storage protects a Pro DSLR camera with attached lens, a DJI Mavic Pro (or drones up to 320mm x 280mm x 140mm) and a variety of accessories
Water-resistant DuraBase offers protection and stability from the ground up
Innovative hammock system suspends camera body for superior impact protection
Finally, we have Caselogic Kontrast Pro-DSLR backpack – one of the cheapest backpacks on our list. The backpack looks really nice, with the black color encapsulating the vast majority of space, except for the zippers, where we have a nice green color. The weight of 1.77 kg will make sure that you don't break your back while carrying it.
Speaking of weight, it's important to mention the storage, which is the highlight of the product. With up to 6 lenses supported, you're going to have your whole photography studio inside this bad boy! Of course, a full-size DSLR can be packed and there are a few more compartments. One compartment for the 15-inch laptop, tripod storage, and tablet compartment.
Being able to carry both your laptop and tablet is really a nice feature to have. The tripod compartment, on the other hand, is located on the left side. As the tripod connects to the hinge on the right, it will be outside of the backpack, meaning it's not protected from rain – and neither is the backpack! Sorry, but this backpack isn't waterproof, which is a shame. If it was waterproof, it would be a perfect deal at this price. There's also no padded hip belt, which can make it slightly uncomfortable in prolonged use. Despite its flaws, we think that this is the BEST cheap backpack for photographers.
Check out the current price for Caselogic Kontrast Pro-DSLR Backpack on Amazon.
---
Things to Look For in a Backpack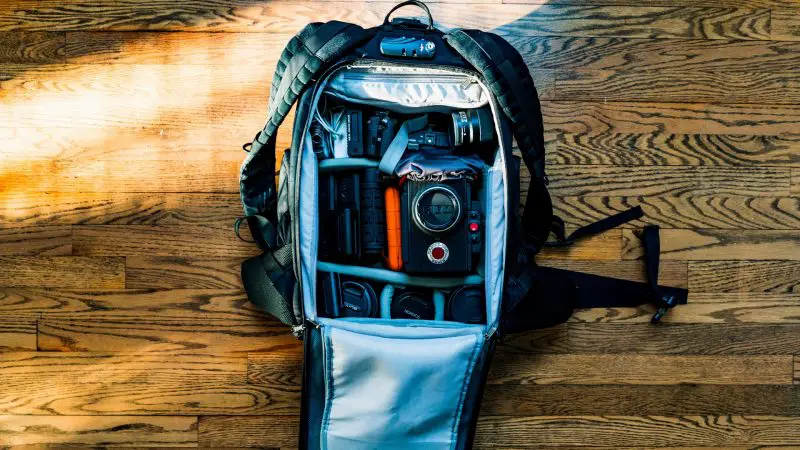 ---
Logically, you want the backpack with a lot of storage inside. Yet, you don't want it to be too heavy, right? In that case, choosing the backpack with a fine balance between weight and storage size is a must. Look for backpacks that can pack a full-sized DSLR and a couple of lenses. If you need to carry around the laptop, always pick the backpack with the largest possible laptop compartment.
---
Padding is very important if you plan on carrying the backpack for extended periods of time. The padding on the shoulders or padded hip belts are great for saving your back but many backpacks don't have it. If you have a problem with your back or shoulders, you shouldn't miss out on this feature!
---
Can it be accessed from the top? Or perhaps, from the front? If so, then it's a great backpack. Ideally, you want to have access from three sides – front, sides, and the top. This will make the access a lot easier and in some cases, you won't even have to get the backpack off your shoulders.
---
Build quality in backpacks usually refers to being waterproof. Waterproof backpacks are a bit more expensive but they will offer you the best protection you can get. Also, look for the quality of the materials used. The fabric shouldn't be easy to tear and additional layers of rubber and plastic are always welcome.
---
If you need lots of storage capacity while maintaining mobility then buying a camera backpack is a good idea but there are also 7 different types of camera bags to choose from if you are not sure about this one. We made an in-depth guide on how to choose a camera bag that can certainly help with your decision. Our guide will help you navigate and understand different types of camera bags on the market and after going through it you will have a clearer image of what is the best choice for you.
Related: 6 Best Camera Sling Bags for Photographers to Buy