Waist belts increase the versatility over camera pouches. You've probably seen waist belts. It's sort of a belt with two front pockets for your camera and accessories, and it also has a couple of pockets to the sides. A typical waist belt can carry two small cameras or one camera, accessories, and then you have 4 pockets left – on the right and the left side. The side pockets won't fit a camera but you can store your lenses there, especially if we're talking about a smaller 50mm lenses.
So, a camera, an SD card, cables, and two lenses should be able to fit into your waist belt.
Compared to the camera pouch, it's more lavish and is great for those who want to be versatile whenever it's needed.
Here is our list of the 4 best camera waist belts for photographers:
---
1. Lowepro S&F Deluxe Technical Belt
2. Andoer DSLR Camera Waist Belt Strap
3. Powerextra Utility Outdoor Waist Strap
4. SPIDERPRO Single Camera Holster System
---
Review: 4 Best Photography Camera Waist Belts for Photographers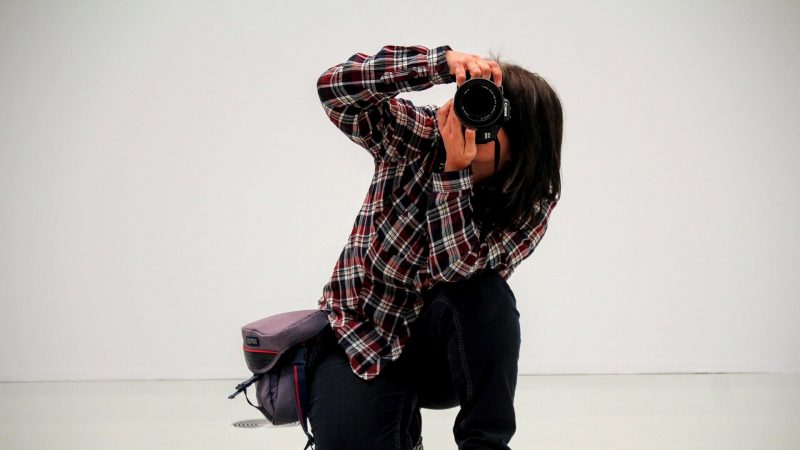 ---
1. Lowepro S&F Deluxe Technical Belt
Lowepro S&F Deluxe Technical Belt S/M for...
S/M fits waist sizes 32-53 in./80-130 cm
This ergonomic and flexible belt includes multiple SlipLock tabs for attaching any S&F or SlipLock compatible case.
Compatible with an S&F vest or harness
Lowepro S&F Deluxe Technical Belt is a versatile waist belt that does its function very well. Aside from being an ordinary belt in which you can carry your gear, it's also compatible with a harness, for added versatility. You can attach your harness to the belt and carry inside an additional amount of photography gear or anything that you need.
Also, the compatibility expands to an S&F vest, which goes all around your waist and to your back. On the back, you can attach another S&F harness and carry yet another camera or a lens. The great thing about this waist belt is its price.
It's easy to see why Lowepro represents one of the most important manufacturers of camera bags. The quality you get from them is almost always outstanding.
Check out the current price for Lowepro S&F Deluxe Technical Belt on Amazon.
---
2. Andoer DSLR Camera Waist Belt Strap
Andoer DSLR Camera Waist Belt Strap is a great product for those who need to carry two cameras simultaneously. It's a double buckle belt, allowing you to take advantage of the quick-release mechanism, letting you get a hold of your camera quickly so you can start taking photos. Ergonomics-wise, the belt is very comfortable. It won't leave any marks on your waist and since it goes down there, your shoulders and your back will be intact.
Since it's a waist belt, you won't have a problem with its weight. It's very light, yet it can hold 2 medium-sized cameras. If you love mirrorless cameras, for example, this is a perfect belt for that purpose.
Price… well, the price is very good. Although you have camera pouches at this price, which can fit more into them, this belt is meant for those who want their hands to be free when they're not shooting photos.
Check out the current price for Andoer DSLR Camera Waist Belt Strap on Amazon.
---
3. Powerextra Utility Outdoor Waist Strap
Powerextra Multifunction Outdoor Photography...
Made of High density nylon fabric and enhanced plastic, cushion pad inside belt distributes weight perfectly, with comfortable design shaped to fit perfectly around waist for constant use and travel. Your photographic gears are quite safe on it.
Nylon thickening material length: 66cm; nylon webbing on both sides (excluding buckles) length: 29cm, total belt length 124cm (48 in)
Multi-Function Belt : 8xD-shaped rings and 8x trouser loops on the camera belt,which can hang various equipment such as filter bag, camera,camera lens,tripod and so on.It is balancing the weight.
Powerextra Utility Outdoor waist belt is a cheap solution for photographers who like to shoot outdoors. This belt is durable, yet very comfortable to wear. If you're bored with the camera cases, this belt offers you something similar. Instead of pockets in which you can put the camera or the lens, this one allows you to hang them from your belt.
There are four pairs of D-rings that attach to the belt directly and on them, you can tie up the camera or the lens and wear it around. The materials used for this belt is an enhanced polycarbonate (plastic), nylon fabric, and steel. Of course, the D-rings are made of steel, while the belt itself is nylon fabric, and the plastic is used for the buckle.
Speaking of buckles, we can say that this system works really well. It won't slip off if you accidentally press the button, making it a bit safer for your cameras. The great thing about these rings is that they can carry a small bag, lens pouch or tripod. This means that you can now customize the waist belt however you want, increasing the versatility and flexibility of the product. For this low price, you get all you need from the waist belt – and even more!
Check out the current price for Powerextra Utility Outdoor Waist Strap on Amazon.
---
4. SPIDERPRO Single Camera Holster System
No products found.
Despite being called holster, SPIDERPRO waist belt is actually a waist belt and nothing more than that. However, it's a bit different than the other waist belts. Instead of the D-rings and other slots for attachments, the belt comes with a single quick-release mechanism and one plastic buckle for connecting the ends of the belt. The waist belt is quite durable and is able to carry a professional DSLR camera. The camera is being held by the four-piece system that makes it more durable. This component allows you to attach not only the camera but also a tripod, making the belt far more versatile.
If you're worried about the material used for this mechanism, let's remove the doubt. It's a combination of durable stainless steel and aluminum, making it one of the most durable waist belts out there. Let me tell you that not many waist belts can carry a professional DSLR with ease as this waist belt can do.
Check out the current price for SPIDERPRO Single Camera Holster System on Amazon.
---
Things to Look For When Buying a Camera Waist Belt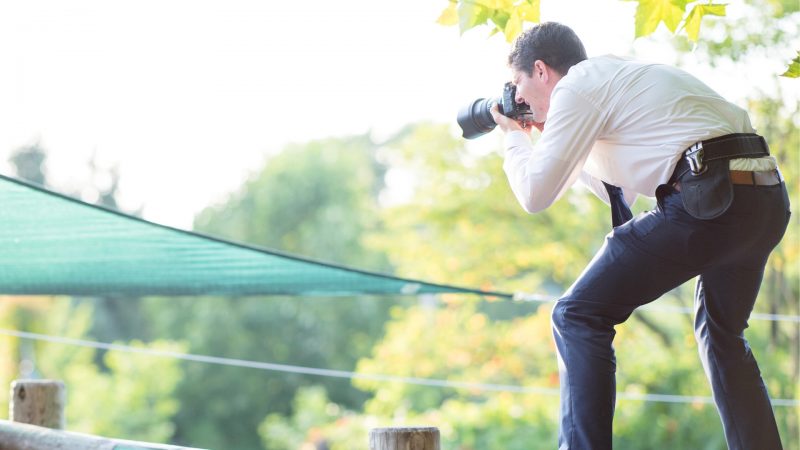 ---
A quality waist belt should have a quality buckle or quick-release system. Since you carry the belt around your waist, you don't have any contact with your hands. If the system isn't stable, the belt can easily disconnect and your camera might break when it hits the ground. Look for extra-safe systems, as well as their material. If we're talking about stainless steel or aluminum, then it's probably a quality buckle.
---
Belt thickness is important for two reasons – comfort and durability. A thicker belt will, in some cases, be more comfortable, depending on its material quality. Durability-wise, if the belt is very thin, it can't hold a bigger load and will wear out over time.
---
Price is very important as you don't want to overpay a waist belt. The difference in prices between waist belts and camera holsters sometimes aren't noticeable, yet holster offers more space for your photography gear.
Related: 6 Best Photography Camera Shoulder Bags to Buy
---
For those who don't want to strain their shoulders or arms, buying a camera waist belt is really a good idea. Just remember that waist belts don't offer a whole lot of storage capacity. There are also 7 different types of camera bags to choose from if you are not sure about going with a camera waist belt. We made an in-depth guide on how to choose a camera bag that can certainly help with your decision. Our guide will help you navigate and understand different types of camera bags on the market and after going through it you will have a clearer image of what is the best choice for you.
Related: 6 Best Camera Sling Bags for Photographers to Buy