During the beginning of the 21st century, Nokia was an undisputed king of cell phones. However, when the first smartphones started emerging, Nokia wasn't at the top anymore and their market share started to go down. Just a couple of years ago, in 2016, to be precise, Nokia was bought by HMD Global, a Finnish mobile company that made Nokia popular once again.
In February of 2019, Nokia released its best smartphone at the moment – Nokia 9 PureView.
The whole tech world was surprised with this release since Nokia doesn't pack one, two or three rear cameras. Instead, Nokia went guns-blazing with their 5 rear cameras and one camera on the front. In total, that's 6 cameras.
But, is Nokia 9 PureView a great smartphone for photographers? Well, let's see.
Nokia 9 PureView: 5 Cameras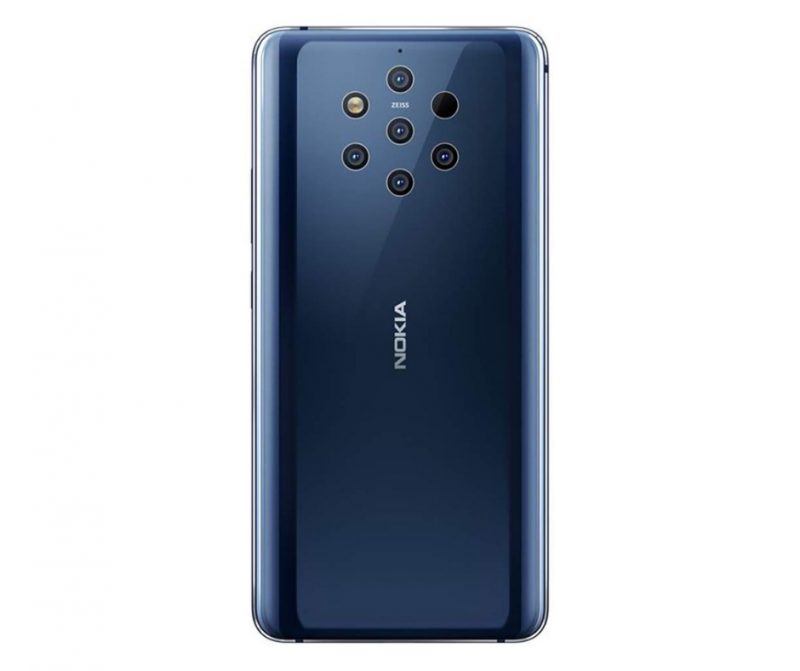 As mentioned before, Nokia 9 comes with a total of 5 cameras. Just for the reference, Google Pixel 3 comes with a single camera that's one of the best at the moment. Google's software processing and night mode are simply outstanding, meaning that the quantity isn't always going to make things better. On Nokia's side, however, we have a total of 60MP to deal with – 5 cameras, each boasting 12MP. Two of these cameras are RGB, while the rest are B/W cameras.
Unfortunately, there aren't ultrawide or telephoto cameras, which we are really disappointed with.
Every single camera packs same specs – f/1.8, 28mm, 1/2.9", and 1.25µm. Since all the cameras are the same, with the only difference being in color reproduction, they work simultaneously when taking photos. This implies that there are one major benefit and one major drawback. Let's start with the good stuff first. Nokia 9 uses all five cameras upon taking the shot. The photos from each of those are then merged and processed in order to get a photo with jaw-dropping dynamic range. These cameras come with TOF (time of flight) sensor, which helps to collect depth data for outstanding bokeh effects.
The downside is that the time required to process a photo is more than a couple of seconds. Usually, when you capture a photo, the photo will appear in your gallery in a fraction of a second. Not here… unfortunately. The companies that worked on this camera are Zeiss and Light. Light is a well-known company that focuses on portable cameras that are able to produce DSLR-like picture quality. The photo quality is surprisingly decent, with great color reproduction and dynamic range.
Related: 5 Reasons Why Some Phone Cameras Are Better Than A DSLR Camera
Nokia 9 PureView, for some reason excluded any kind of optical stabilization, which is a bit of a disappointment. If you're hoping to capture some moving subjects…well, Nokia 9 will disappoint you. On the good note, Nokia gives you both JPEG and RAW formats of the image. Having a RAW image in your phone means that you'll be able to process and edit it much easier, which is great for professional photographers. If you have the patience to wait up to 30 seconds after each shot, the Nokia 9 PureView might be a great choice for you – or deal breaker depends on your preference.
The video quality isn't up to par with the flagship levels. Yes, it's able to record 2160p at 30 fps and all of that, but something isn't right here. Oh, the optical stabilization, yup. Be prepared to have shaky videos unless you have a tripod by yourself. The front 20MP shooter is average at best. Selfies are great for your Instagram account and Skype calls are definitely decent. Honestly, I can't get over the fact that they didn't include OIS in this phone. Its cameras could've been much better, at least in terms of video quality.
As for the photos, this is one of the best cameras out there, if you're not shooting moving subjects.
Related: Do Phone Cameras Distort Your Face?
---
Nokia 9 PureView: Design and Display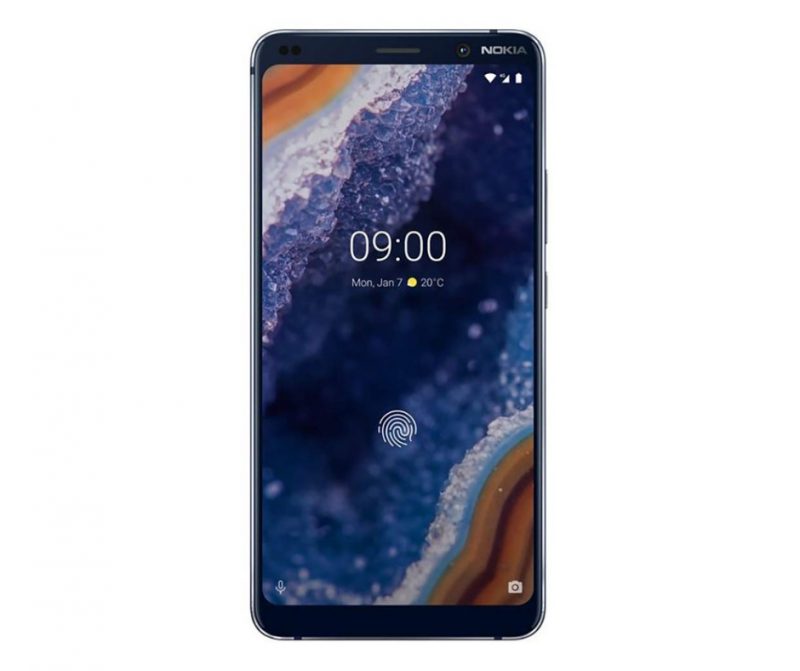 Let's start with the design first. Nokia 9 PureView nailed it here. On the front, we have an 18:9 display with no notch or hole-punch. For 2019, that's a bit odd since many smartphone manufacturers utilize one of these. Hell, even Samsung included a tiny water-drop notch on their new M-series phones. But, I know that many of you hate the infamous notch, so here you go. The bezels are relatively thin on the sides and we have a bit bigger chin on the bottom. On the upper bezel, we have an earpiece, one selfie camera, and that Nokia logo.
The back of the phone is made of glass and houses 5 cameras, as well as a LED flash. Surprisingly, the camera isn't protruded, meaning that the phone will lay flat on the surface. It's such a surprise from Nokia, as many phones with one or two shooters have protruded cameras. You'll also notice that there isn't a fingerprint sensor on the back. Instead, Nokia included an under-display fingerprint sensor, which is also quite surprising. Overall, the design and build quality are very good.
Nokia 9 PureView has a 5.99-inch P-OLED display with the resolution of 2880×1400 pixels. The pixel density of 538 ppi ensures that the sharpness is up to par. The brightness of the screen is excellent and the colors are punchy. That's not strange since we're talking about an OLED display, which is known to have a huge contrast ratio, as well as deep blacks and vibrant colors. It's not on the Samsung's level but hey, it's pretty damn close!
---
Nokia 9 PureView: Hardware and Performance
Nokia 9 PureView - Android 9.0 Pie - 128 GB -...
A revolutionary, next generation camera with an incredible five cameras and Zeiss Optics complete with two color sensors that provide accurate vibrant color images and three panchromatic sensors that allow the array to collect up to 10-times the amount of light resulting in sharp, incredibly atmospheric still shots with blur effects and Google Photos integration alongside rich and vibrant UHD 4K HDR video with spatial audio capture.
Exceptional detail and dynamic range for exceptional photography with control over every element of your image starting with incredible detail and texture from all 5 cameras that automatically adjusts the exposure across the scene or allows for complete control down to the smallest detail with the custom build Pro camera UI. Images can be saved as "raw" DNG format images with unparalleled dynamic range, details and low noise that can be edited directly on your Device with Adobe light room for advanced editing control, retaining the dynamic range that you would ordinarily lose in a jpg.
Built to protect everything that makes it great with a resilient and durable 6000 Series aluminum chassis, that houses a next generation Qualcomm Snapdragon 845 mobile platform and imaging co-processor complete with Qualcomm Bluetooth audio, and integrated Qi wireless charging.
Hardware-wise, Nokia comes with a last-year chipset, Snapdragon 845. Before you all start complaining, let me tell you that this isn't an ordinary 845 but a chipset with a special Light Lux Capacitor that helps this chip with the camera performance. Did Nokia really have to cut back on the hardware? Well, I think not. Snapdragon 845 isn't bad by any means but 855 is definitely better by 25 to 35 percent. The Adreno 630 graphics will ensure that all you hardcore gamers out there can play games like PUBG, Fortnite or Asphalt.
To make things better, the games can be played at the highest settings with no noticeable hiccups, stuttering, and other issues. And the phone isn't too warm while playing games, which is excellent for extended gaming sessions. Nokia comes with 6GB of RAM, which is more than enough for today's standards. While we see some phones from Xiaomi, with 12GB, I still think that's a bit of an overkill. Your PC probably has 8GB of RAM and it still works fine. Just think about 12GB on a phone – that's definitely not needed at the moment.
Memory-wise, you'll be disappointed that there's no SD card slot. But, 128GB of internal storage should be enough, even for those 4K videos at 30fps. There's also a lack of 3.5mm jack and the sound quality isn't exceptional. We have a bottom-facing speaker which you can easily cover with your hands while gaming and that's not a good start for the Nokia 9.
In terms of performance, the Nokia 9 works just fine. Everything is snappy and apps don't take too long to load. With the 6GB of RAM, you'll be able to keep more than a couple of apps open at the same time, without even noticing it. Thanks to its wide (tall) aspect ratio, Nokia 9 supports multitasking which works just fine. The newest OS Android 9.0 Pie makes sure that you have all the latest and greatest features. You can now use gestures if you wish, to take full advantage of that big screen.
Since this is an Android One phone, you can expect frequent security updates within two to three years. Fair enough, if you ask me.
---
Nokia 9 PureView: Battery
Nokia 9's battery is a bit of a disappointment, too. The non-removable Li-Po 3320 mAh battery isn't going to last you more than two days. In fact, this is a one-day phone and if you're a heavy user, don't expect it to last until you go to bed. This huge 1440p display, packed with a beefy chipset, and a beastly camera is simply overwhelming for a battery this small. On the brighter side, Nokia sports a USB type-C 3.0 port, which lets you take advantage of fast charging.
Quick charge 3.0 is supported, with the 18W charger. However, you can get a 4.0 quick charger from a 3rd party seller. Since this is a glass phone, I'm glad that it comes with fast wireless charging. The 10W fast charger should fill this battery in about 3 hours or so. It's not blazing fast but I'm not a wireless-charging guy. I prefer to charge my phone during the night so this feature is almost obsolete for me.
Related: 6 Most Common Phone Camera Mistakes Everyone Does
---
Is This a Good Phone for Photographers?
Nokia offers solid cameras, punchy display, and stunning design. The last-year chipset isn't that bad but we can't help but mention it again, and the fact that Nokia 9 doesn't come with OIS. On top of that, Nokia excluded the SD card slot and 3.5mm jack, which is something that phones like Galaxy S10 have. When OnePlus releases their newest smartphone, I think that Nokia 9 will fall into oblivion since OnePlus phones usually have a bit lower price and pack some serious firepower.
Is Nokia 9 PureView a good phone, then? It definitely is! For this price, we can say that it could offer more in terms of performance and video quality but if you're a real Nokia fan and you have the time to wait 30 seconds between each image processing, then feel free to enjoy this phone.
Related: How To Take Good Photos With Phone
From a photographer's standpoint, Nokia offers a lot, yet it also leaves a lot to be desired, especially in terms of battery.
Check out the current price for Nokia 9 PureView on Amazon.
Also, check out our list of the best smartphone cameras for photography in 2019.