Every year and every Christmas, photographers get very busy shooting some Christmas photos. As Christmas is approaching, everyone's in a hurry to get their professional photos done, and on the other hand, more photographers are getting booked for this special day. If you have booked your own photographer but you don't know what to request from him or maybe you want to take family Christmas photos by yourself, you've come to the right place and right on time before Christmas. In this article, we're going to go over some fresh Christmas photo ideas for 2020 that you can use to create an everlasting Christmas memory. Not every Christmas has to be the same and since you're reading this now, let's make your Christmas of 2020 the most memorable Christmas in your entire life! Let's start!
---
1. Christmas Lights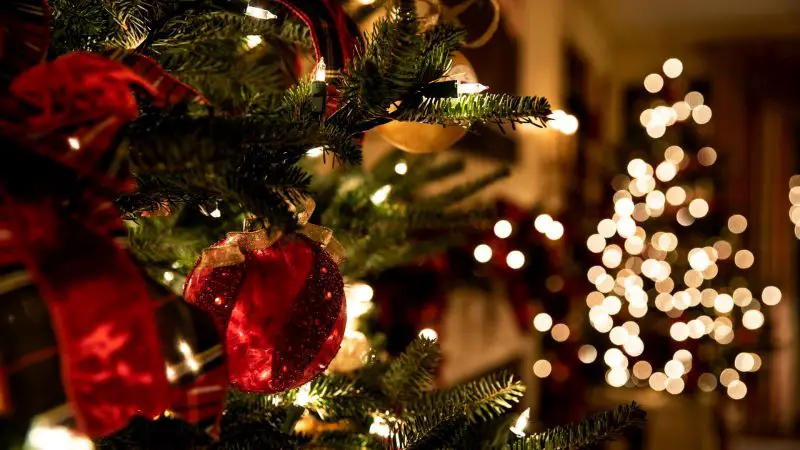 Kicking this list off, we have a great idea for Christmas of 2020. Photographing Christmas lights has been a trend since the very first cameras came out. Even in 2020, photographers still love shooting some Christmas lights. If you think that photographers do it because it's easy, you're dead wrong. Capturing high-quality photos of Christmas lights is one of the most challenging tasks in Christmas photography and requires a very high level of skill. The main point of this photo is to fill it with some props such as a Christmas tree or other objects you find attractive. By combining typical Christmas stuff with some lights, you get an outstanding atmospheric photo that breathes the Christmas spirit even if you look at it during the summer.
Sale
MZD8391 105FT 300LEDs Christmas Lights Outdoor...
60 Days Money Back & 12 Months Free Replacement : Buy with confidence, we provide 60 days money back and 12 month free replacement .
300LED 105ft & Support 4 Sets End To End Connectable: Each Set Comes with 300 Beautiful Warm White Glow Leds On The 99ft Light Strand, You Can Buy 4 Sets To Connect Together, Total 396 Ft, 1200 led Enough To Cover Larger Area.
With Memory Function & 8 Lighting Modes: this stirng light has 8 lighting modes to choose from combination, in waves, sequential, slogs ,chasing/flash, slow fade, twinkle/flash, and steady on. Also, it comes with memory funciton,remember last setting automatically, no need reset every time.
We must admit that you're pretty lucky today because we have a special article regarding photographing Christmas lights that you can read
HERE
. In this article, we explained how to do it, how to utilize your
camera's settings
, and how to use different
photography gear
for this task. It's an interesting read, so we suggest reading it after you finish with this one. Don't take a detour now, we still got more to cover.
---
2. The Dog and the Child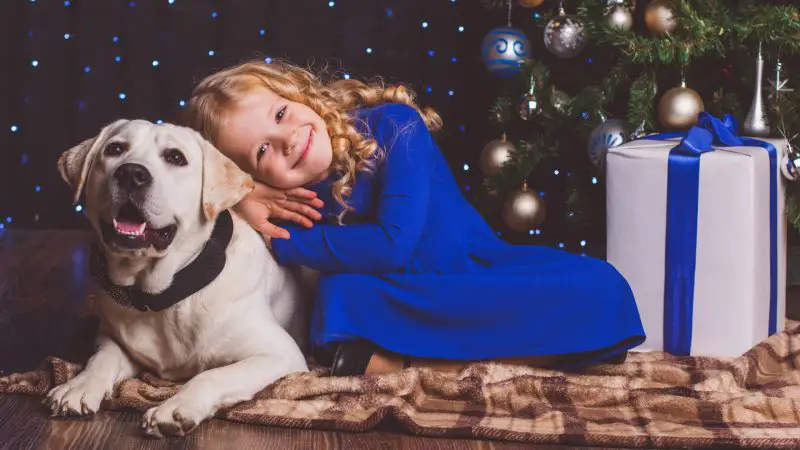 Seeing dogs with children or babies probably makes you melt instantly. Yes, I know that not every human loves animals, but if you have at least an ounce of heart and soul, seeing one big dog with a very small baby is going to trigger something in you. Photographing a big doggo and a baby in front of a Christmas tree makes for some beautiful Christmas scenery. Or perhaps, you could do it outside in the snow, just make sure that your baby doesn't get cold. Either way, this is just a general idea of a heart-melting Christmas photo.
---
3. Lovely Couple and Christmas Lights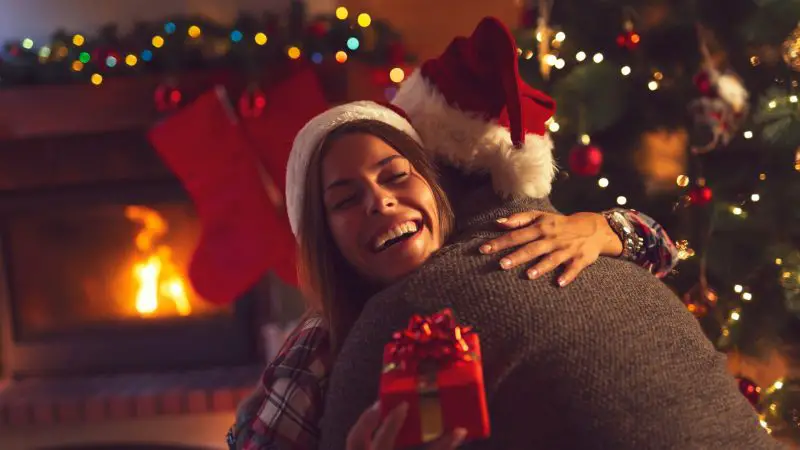 Christmas is a holiday that's all about love and peace. As such, there's nothing better than sharing a wonderful photo with your dear partner during this time. Thankfully, this idea can go into many directions and it's only a matter of your choice where will it go. For example, you can use fabric dear horns and place it on your and your girlfriend/boyfriend's head and take a cute photo near your fireplace. Alternatively, you can do it outside, especially if you have a giant Christmas tree with a beautiful decoration. If you don't find it too awkward, you can even take a photo while kissing in the snow. These extreme weather conditions such as snow and rain somehow always make photos more romantic… I wonder why…
---
4. Dear Santa…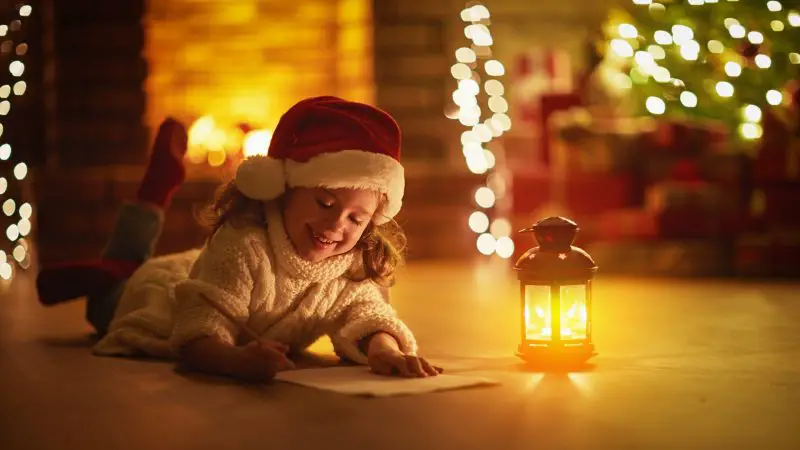 For a photo like this, you don't need anything aside from board and a chalk, and of course, your creativity. This photo is all about creativity and what you can write on board to make it unique. For example, you can go with "Dear Santa, let me explain!" or "Dear Santa, I want this, this, and that". It's also great if you have a baby, so you can write anything you want, place it in its hands, and take a cute photo.
Homde Christmas Tree Artificial Full Xmas Tree...
PRE-DECORATION DESIGN: With natural green leaves, flocked snow and pine cones, this hinged Christmas tree is So realistic, and must become an eye-catching addition to any room during the holidays
FULL CHRISTMAS TREE: This 6 feet full-bodied Christmas tree is 49 – 53 inches wide, enabling you easily place lights and ornaments. Fill your home with Christmas cheer
FOLDABLE & STURDY METAL STAND: Made of high quality wire iron, this stable Christmas tree stand can support at least 176lb, and certainly keeps your tree standing tall. Collapsible design makes it easy for storage
Creating a proper background is also necessary in this case, so you'll want to include something that alludes to Christmas, such as
Christmas lights
,
Christmas trees,
socks
, etc.
---
5. Christmas Costumes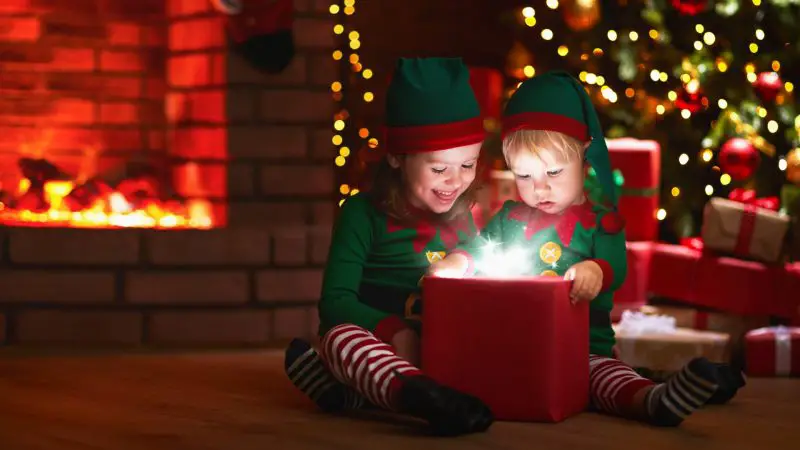 One time I saw a whole family with Christmas costumes and as much as I laughed, I realized that this is a badass idea! Buying some Christmas costumes isn't so expensive and when you snap a few photos, you'll see how good of an idea that was. Christmas costumes don't always have to be similar to one another. You can spice things up with some non-Christmas things. For example, you can paint your face in green, dress in a green costume and be Hulk. This idea is great for family photos, however. Snapping a photo of one person with a costume doesn't have that same "wow" effect.
Sale
Adult Christmas Elf Costume - L/XL
100% polyester interlock knit & velvet; 100% polyurethane foam
100% polyester interlock knit & velvet; 100% polyurethane foam
Velvet tunic has jagged hemline, red zigzagged collar & cuffs
Related: Creative Christmas Gift Ideas for Photographers
---
6. A Cozy Afternoon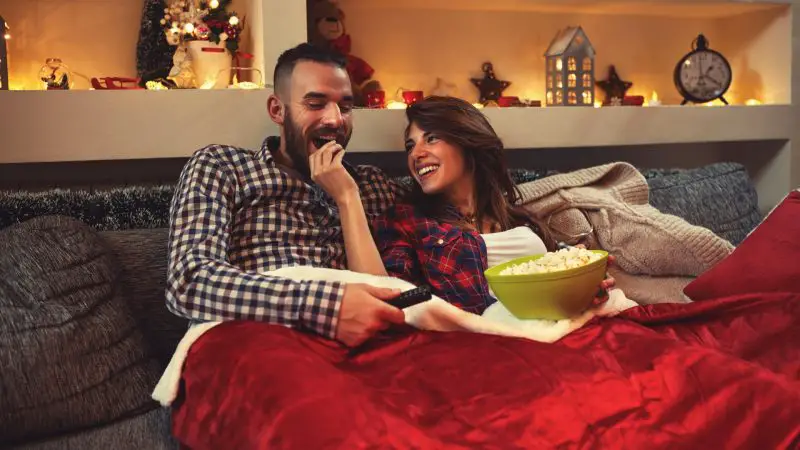 After a long day of work before Christmas, you just want to lay down with your loved person, cover yourselves with a blanket, and watch Home Alone for the tenth time. When Christmas comes, you can do that and you know what? You can take photos of it! These photos might not be unique but it's not always about uniqueness. Photos are meant to evoke some feelings in the person who's watching them and this one is surely going to ring some bells. For this photo, you need only a bed, a blanket, and your loved one.
---
7. Christmas Cookies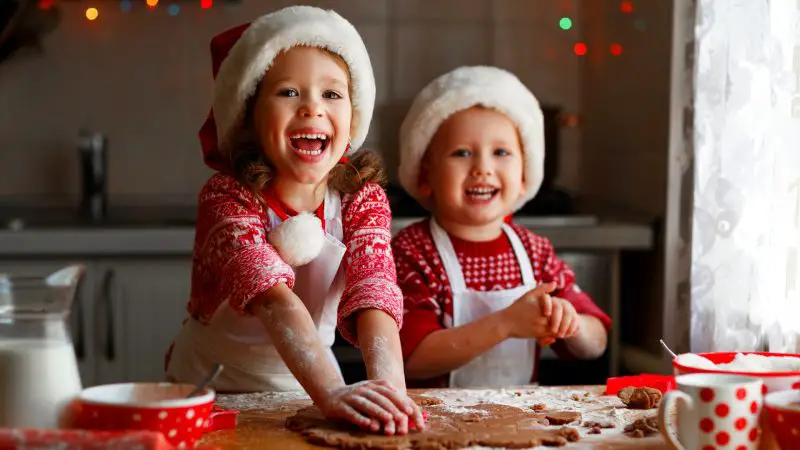 Making some Christmas cookies in the morning is a joy to many and thankfully, this joy can be transferred to a photo in no time. If you decide on this option, we suggest involving kids or using kids as subjects. Kids can make for some stunning photos and in this case, the effect is tenfold. The important thing about this photo is to make sure that the area is well lit. Otherwise, you'll end up with a dark photo that loses its point. If you manage to brighten the area efficiently, you'll make the subjects stand out, which creates a cute and unique photo.
---
8. Baby Cheeks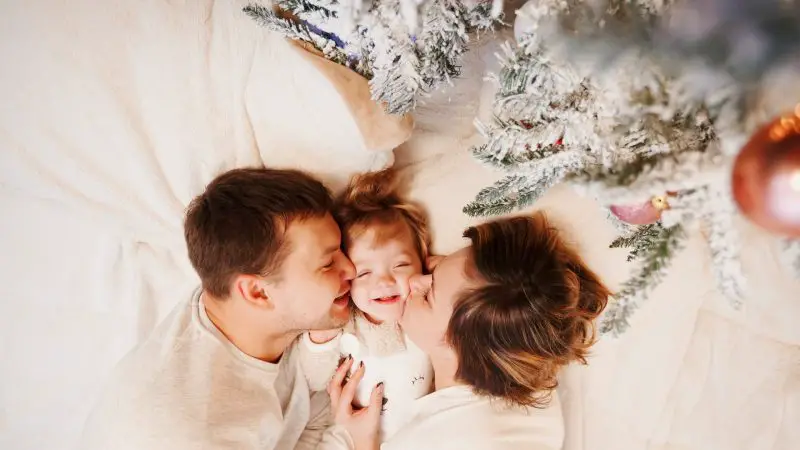 Kissing and squeezing baby cheeks is undoubtedly one of the most satisfying things to do. When it comes to Christmas photo ideas, this is a great one for you and your babies. The way you can take this photo is to stand next to your Christmas tree or wherever your Christmas decorations are, lay down with your partner, place your baby between you, and kiss it at the same time. Alternatively, you can take a photo while grabbing the baby's cheek(s) but please be gentle. Babies aren't made of steel.
---
9. The Pajama Party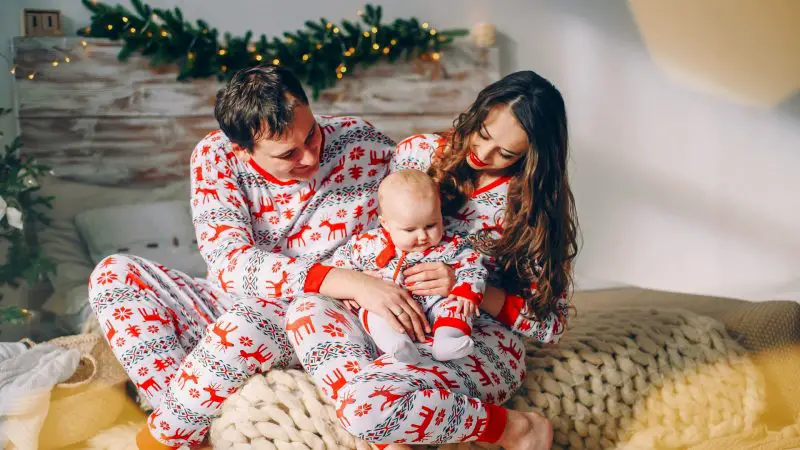 How about matching your pajamas with the Christmas tree? Sounds awesome to me! This is the right moment to buy a brand-new pair of pajamas that will create the whole Christmas atmosphere. Although not that unique, we suggest getting plaid white & red pajamas that go with Christmas like bread and butter. Now, for the scenery, it can be either outside or inside, depending on the temperature outside. If you ask for our opinion, we tell that you go for the inside, as it fits the Christmas atmosphere better. A fireplace, a gigantic Christmas tree, and you with your family… That's what we call a proper Christmas photo!
---
10. Sandman (Snowman)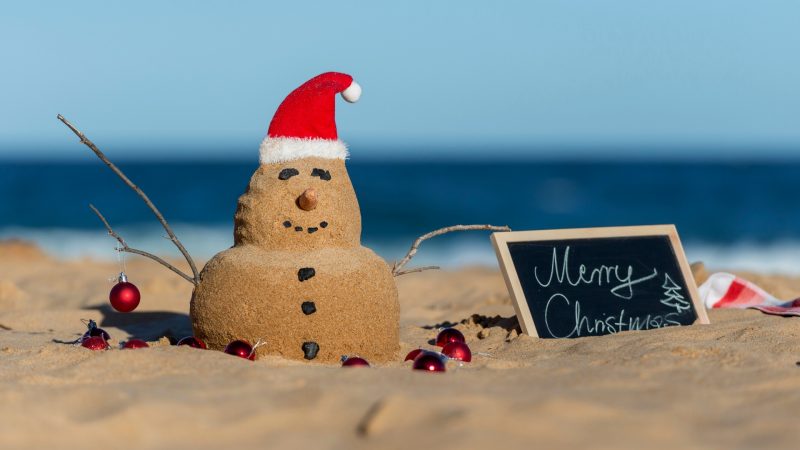 Not everyone goes to skiing during the Christmas holidays. Some of you will prefer going to Hawaii or Florida in mid-December and I don't blame you, that's more than okay. However, you can still get a breath of Christmas atmosphere even there, by making a snowman out of sand or as we call it, a sandman. Making a sandman with the Christmas hat and scarf is a great idea, considering how rare this idea is realized. By doing this, you'll blend in two different periods of the year – one where you sit next to a fireplace, and the other where you walk through the beaches of Florida or Hawaii.
---
11. No Humans Allowed!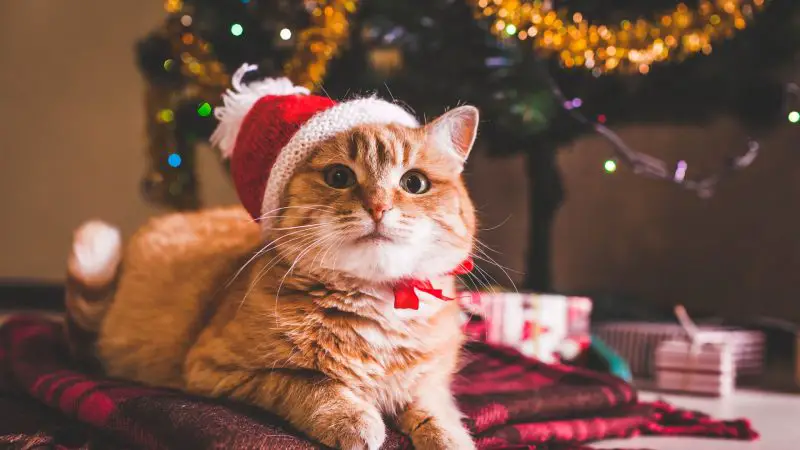 You know what? Let's ditch these humans, I've had enough of them. Christmas photos don't always have to be about humans, so you can be creative and shoot some still life or introduce your animal and make it the star of the show. Remember – no humans allowed! This means that your dog, cat or whatever you have, will need to take the main role. Thankfully, animals go very well with this scenery, making it easy for you to take this idea. For example, you can take a photo of your dog with deer horns next to the Christmas tree. Or you can wrap your cat inside a Santa hat with some Christmas lights and snap a photo.
---
12. Simplicity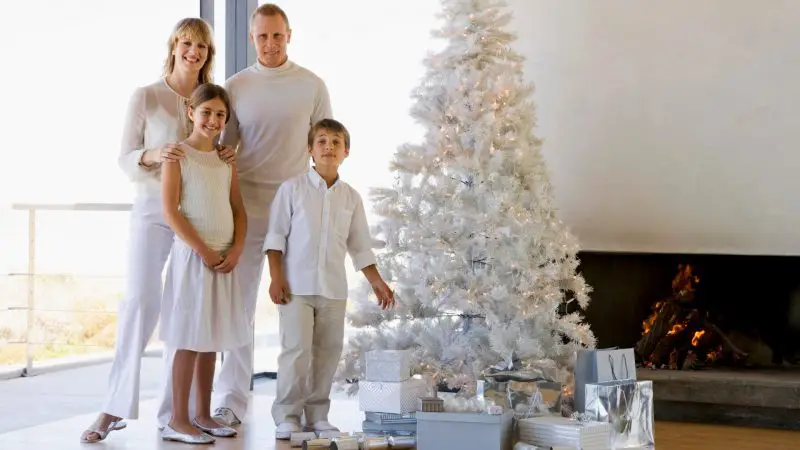 If you're not in a creative mood at the moment of a photoshoot, being simplistic is not really that bad. For this photo, you can use the whole family. Line up family members on a place where it can be seen that it's Christmas time, and snap a photo. This photo can turn unbelievably good if you know how to take it and it's not going to take a lot of time. Simplicity sometimes looks breathtaking.
Related: How to Take a Stunning Family Christmas Photo | 10 Tips
---
Summary
Getting inspiration for your Christmas photoshoot isn't very hard for those who have some imagination. Those who want more ideas can always check our website in search of some inspiration, not just for Christmas but photography ideas in general. Now that you've finished reading this article, you can read more about how to photograph Christmas lights. It's going to be an interesting read, we promise.
Related: 30 Creative Photography Ideas for Beginners: Get Creative with Different Photography Styles