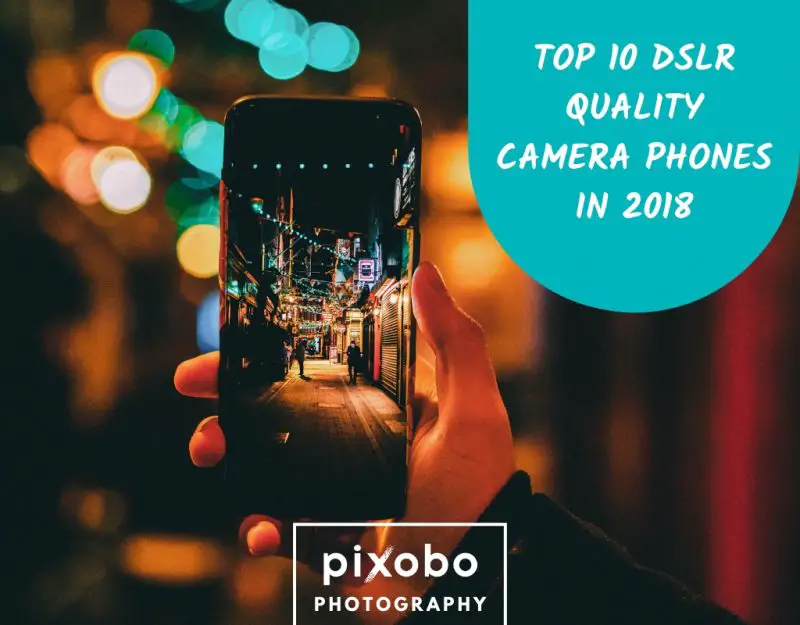 Smartphones quickly became the most popular devices in the tech world due to their huge capabilities. From the phones like the legendary Nokia 3310, we jumped onto something like Galaxy S9 and the difference is astonishing!
Like every ordinary person, a photographer needs to have his own daily driver in the shape of a smartphone. Let's not lie – today's smartphones have some of the best camera sensors out there!
And yes, you can do your photography work on a smartphone. As technology progresses, smartphone cameras are getting better with each new release, granting some stunning photos in almost every lighting condition. So, what is the best phone for pictures in 2018?
---
Top 10 Best Smartphones for Photography in 2018:
---
Top 5 Budget Smartphones for Photographers
---
1. Samsung Galaxy S9 Plus
SAMSUNG Galaxy S9+ Factory Unlocked Smartphone...
Super Speed Dual Pixel Camera with Rear Dual Camera
Infinity Display: edge to edge immersive screen, enhancing your entertainment experience
IP68 rating: withstands splashes, spills, and rain so it can take a dip, worry free
Samsung Galaxy S9 Plus released in March 2018 and it's still one of the best phones out there. Last year's Galaxy S8 came with, now aging, Snapdragon 835 chipset, which is still fast enough.
In contrary to that, Galaxy S9 Plus came with the all new and shining Snapdragon 845 chipset that will blow you away with its performance! With this great CPU comes Adreno 630 GPU that knows how to handle some demanding games like PUBG or Asphalt 8. After all, photographers need some time to relax and play with their phones!
And now, the most important part – the camera.
Oh, baby, this one is one of the best the high-end market has to offer. As it has two cameras, the first camera features an f/1.5 – f/2.4 aperture lens, while the other camera features a telephoto lens.
These cameras are both 12MP and both of them offer serious OIS (optical image stabilization). Many smartphones fail to deliver this level of OIS at 4K resolutions, but Samsung did it great here. Even a 4K video looks and feels stable now.
As for the front camera for taking Insta-worthy selfies has seen some upgrades. 8MP at f/1.7 is still a good set for this boy at the front. Oh, and this one can record 1440p videos at 30fps – fair enough.
For taking a glance at your photos and videos, Samsung offers a stunningly bright AMOLED display that packs 6.2 inches in size and comes with a sharper-than-ever 1440x2960p resolution. Coupled with 6GB of RAM and the aforementioned set of hardware, this phone has everything that one photographer needs.
Check out the current price for Samsung Galaxy S9 Plus on Amazon.
---
2. Google Pixel 2 XL
Google Pixel 2 XL 64GB Unlocked GSM/CDMA 4G LTE...
6.0-inch P-OLED Capacitive Touchscreen, 1440 x 2880 pixels with Corning Gorilla Glass 5
Android OS
12.2MP Camera with f/1.8, 27mm, 1/2.6" Sensor Size + 8MP Front Camera with f/2.4, 27mm, 1/3.2" Sensor Size
Google's Pixel 2 XL is a smartphone that needs no special introduction. Usually, Google doesn't introduce their flagship phones every year and they took some pause to craft this one.
Released in October of 2017, the phone is still a beast. It rocks a huge 6-inch P-OLED display with a razor-sharp 1440×2880 display. It's nice to see an 18:9 display at the front of this beauty. Since this is a Google phone, it will receive the most recent Android updates, making it a great daily-driver material for the years to come.
As for the hardware, we have Snapdragon 835 chipset and Adreno 540 iGPU. This isn't the most powerful set of hardware out there, but still, it kicks some ass.
Moving on to the camera, Pixel 2 XL has a SINGLE sensor. Yes, you've read that well! And this single sensor is capable of doing some serious damage to the competition. The 12MP sensor with the f/1.8 aperture comes with the excellent OIS, as well as deadly-accurate laser autofocus.
The photos taken with this device are absolutely breath-taking. Every picture boasts vivid colors, the focus is always on point, and we have that great bokeh effect that we all love. While the selfie camera comes with the 8MP sensor, we still took some nice shots in good lighting conditions.
When it comes to the video recording, 4k is available, but at 30fps. Unfortunately, we have only gyro-EIS for videos, regardless of resolution. Nonetheless, the phone can record in 1080p up to 120fps and in 720p at 240fps (slow-mo).
The main downside of this phone is the absence of a 3.5mm headphone jack, which I find frustrating.
Check out the current price for Google Pixel 2 XL on Amazon.
---
3. Apple iPhone X
I know – Apple just announced their iPhone XS, but until we get some real benchmarks from that one, we have to stick with the good old X. This phone started it all, and you know what I'm thinking about… the notch, a trend that's been quickly adopted by almost all manufacturers.
Just underneath the notch, there is an AMOLED display that packs 5.8 inches in size and comes with a resolution of 1125×2436. Oh, Apple, again confusing us with these strange resolutions.
Coming with their own Apple A11 Bionic hexacore CPU, and 3-core Apple GPU, this phone is a behemoth in a world of smartphones. Arguably, this CPU is able to overtake the older Snapdragon 835 and even goes up to par with Snapdragon 845… damn!
As for the RAM, it comes in a single variant – 3GB. Don't let this fool you, though. This phone has some serious RAM management, making it feel and behave like there's more RAM.
And now, the most important feature for photographers. Apple iPhone X is known for its two 12MP cameras that are one of the best even one year later.
The first camera comes with a wide-angle 28mm lens, while the other one is a telephoto 56mm lens. And both of these guys have OIS! The photos in both excellent and less-excellent lighting conditions look stunning and jaw-dropping. The video recording can be done in 2160p, at 24, 30, and 60fps.
Despite having a 7MP sensor, the front-facing camera is still great.
Check out the current price for Apple iPhone X on Amazon.
---
4. Huawei P20 Pro
You knew it from the moment you engaged in reading this article, that P20 Pro would be on our list. This is the first phone that features not one, not two, but THREE rear-facing cameras.
The first camera has a 40MP sensor with a f/1.8 lens, the second one is a 20MP monochrome sensor, while the third lens is a telephoto one, coming at 8MP with f/2.4 aperture.
Impressive, isn't it?
They say that P20 Pro produces the best low-light photos and it isn't too far away from the truth. This is mostly due to Huawei's aggressive image processing that occurs after you take the photo, but also due to three juggernauts on the back.
The huge downside of this camera setup is the lack of OIS when recording 4K videos, making the camera inferior to S9's one. Sorry, but Huawei will have to think of something better next time.
The selfie camera has a 24MP sensor with f/2.0 aperture. This one is solid, but I expected higher video resolution, not only 1080p. In the end, it's great for Skype conversations, as well as live Instagram/Facebook streams.
Before you skip to OnePlus 6, let me tell you that this phone packs some serious hardware under the hood. Hisilicon Kirin 970, a Huawei's high-end CPU powers this beast, alongside Mali-G72 MP12 GPU, which could've been better.
I hope that Huawei can improve their GPU performance in the next flagship phone. On the brighter side, we have two variants of 6 and 8GB of RAM, which is more than sufficient.
And again, we have no SD card slot and 3.5mm jack whatsoever. I'm getting mad again.
Check out the current price for Huawei P20 Pro on Amazon.
---
5. OnePlus 6
OnePlus 6 is one of those phones that is in that "flagship killer" category.
Coupled with Adreno 630 GPU and an amazing 6.3-inch AMOLED display, this phone feels, looks, and performs like a true champ! Despite its bigger screen, OnePlus decided to opt for a 1080+p resolution, to be precise, 1080×2280.
Again, we have a notch design here, but that's nothing bad, is it?
Camera-wise, OnePlus 6 goes shoulder to shoulder with flagships like S9 Plus and P20 Pro, yet it's an octave below them. Nonetheless, the camera setup consists of two great cameras, one being 16MP, f/1.7 and the other being 20MP f/1.7.
Both lenses are 25mm, which tells us that this camera has two wide-angle lenses. Not only that, but there is some serious OIS going on, although I would like it to be more prominent at 4K videos. Speaking of 4K videos, this phone can shoot at both 30 and 60fps.
The selfie camera packs astonishing 16MP with the aperture f/2.0. Regardless of this, we still don't have 1440p video recording and we're stuck at 1080p at 30fps, with gyro-EIS.
When it comes to connectivity, I'm very happy with the inclusion of 3.5mm jack, but there isn't a microSD slot.
Nonetheless, the phone comes with 64, 128, and 256 GB internal storage, as well as 6 and 8 GB of RAM. Can you get a better deal at this price? Hell no!
Check out the current price for OnePlus 6 on Amazon.
---
6. Samsung Galaxy Note 9
SAMSUNG Galaxy Note9 N9600 128GB Unlocked GSM DUOS...
Display: 6.4 inches, Super AMOLED capacitive touchscreen, 16M colors, Main Camera: Dual: 12 MP (f/1.5-2.4, 1/2.55", 1.4µm, dual pixel PDAF, OIS) + 12MP (f/2.4, 1/3.4", 1µm, AF, OIS) ; Front Camera: 8 MP, f/1.7, 1/3.6", 1.22µm, AF, DIS, Octa-Core 2.7GHz + 1.7GHz CPU ; 128GB ROM, 6GB RAM ; Supports microSD, up to 512 GB (uses SIM 2 slot) ; 4000 mAh battery.
Unlocked cell phones are compatible with GSM carrier such as AT&T and T-Mobile, but are not compatible with CDMA carriers such as Verizon and Sprint.
Please check if your GSM cellular carrier supports the bands for this model before purchasing, LTE may not be available in all areas: Dual Nano-SIM (4G + 4G) ; 3G WCDMA B1 / B2 / B4 / B5 / B8 ; 4G LTE B1 / B2 / B3 / B4 / B5 / B7 / B8 / B12 / B13 / B17 / B18 / B19 / B20 / B25 / B26 / B28 / B32 / B66 / B38 / B39 / B40 / B41.
Note 9 released in August 2018 and this one…this one is big, nasty, and has the firepower of the German howitzer. On the front, we have a stunning 6.4-inch AMOLED display with 1440x2960p resolution. And I must admit that this is the best display on any smartphone out there. Don't try to argue with me!
The phone comes with the newest Android 8.1 as well as Snapdragon 845 chipset that works like a charm! This huge display is great for gaming, but the main "culprit" for that is Adreno 630 GPU that's able to handle all those console-level graphics.
When it comes to the camera, though, we see slight improvements over S9 Plus, but again, we expected a bit more. And that's not a bad thing since S9 Plus has an amazing camera.
Once again, we have two 12MP cameras with 2x optical zoom and OIS. Photos look nice, the dynamic range is excellent, and the colors are more or less accurate. Video-wise, this phone shoots 4K with ease, offering a stable OIS at every possible resolution. The front-facing shooter sports an 8MP f/1.7 sensor, capable of shooting 1440p videos at 30fps.
It's also important to mention that Samsung kept 3.5mm jack and even a microSD slot – hooray! The phone has two variants – with 6/128GB and 8/512GB.
This is the first phone that comes with 512GB of internal storage, which is mind-boggling. With this, you'll have a portable PC that you can carry around.
Check out the current price for Samsung Galaxy Note 9 on Amazon.
---
7. Huawei Mate 10 Pro
Huawei Mate 10 Pro (Dual-SIM) 128GB BLA-L29 (GSM...
4G LTE Dual SIM ; Works with AT&T, T-Mobile ; DOES NOT work with Sprint, Verizon, U.S. Cellular and all other CDMA carriers ; LTE compatibility: This is international stock, varies per carrier (ensure to check with your carrier before purchase)
Hisilicon Kirin 970 Octa-core (4x2.36 GHz Cortex-A73 & 4x1.8 GHz Cortex-A53) CPU ; 128GB ROM, 6GB RAM.
Main Camera: Dual: 20 MP +12 MP, f/1.6, OIS, 2x lossless zoom, Leica optics, phase detection & laser autofocus, dual-LED (dual tone) flash; Front Camera: 8 MP, f/2.0.
Huawei once again found its place on our list, with its top-of-the-line flagship Mate 10 Pro. We have an amazing AMOLED display with a 1080x2160p resolution.
Being a flagship phone, this one is quite big – 6 inches. The camera of this phone is designed by Leica and once again, we have 2 cameras. One of them is a 12MP camera, while the other is a 20MP monochrome camera.
Both of these cameras include OIS, as well as laser AF that works flawlessly. Leica is known for producing some of the best cameras out there and their dual-LED flash brings some serious lighting to your photos.
The video recording is possible up to 2160p at 30 fps, which is a solid result for a phone that's slightly cheaper. On the front side, we have this 8MP f/2.0 camera which again, gives solid performance regarding Insta-worthy selfies and Skype conversations.
The hardware consists of the same Kirin 970 CPU coupled with Mali-G72 MP12 GPU. This combination is known to produce an amazing performance, especially when it comes to multitasking. I'm quite disappointed this phone doesn't have a 3.5mm jack and microSD slot. In that case, you must rely on either 64 or 128GB of internal storage. At least, we have a Type-C USB port.
Check out the current price for Huawei Mate 10 Pro on Amazon.
---
8. Honor 10
HUAWEI Honor 10 (COL-L29) 128GB Black, Dual Sim,...
5. 84 inches 1080 x 2280 pixels, 19: 9 ratio (~432 pip density) - Corning Gorilla Glass - Android 8. 1 (Oreo) - Octal-core, 128GB of Storage Capacity + 4GB RAM - Non-removable Li-Po 3400 mash battery - Ultra-fast Face Unlock, Rear Dual Camera: 24MP+16MP New Dual AI Camera - Video: 2160p@30fps, 1080p@30fps - Secondary Camera: 24 MP, f/2. 0 - Fingerprint (front-mounted).
Unlocked cell phones are compatible with GSM carriers such as AT&T and T-Mobile, but are not compatible with CDMA carriers such as Verizon and Sprint.
Please check if your GSM cellular carrier supports the bands for this model before purchasing, LTE may not be available in all regions: 2G : GSM 850 / 900 / 1800 / 1900 - SIM 1 & SIM 2, 3G bands: HSDPA 850 / 900 / 1700 / 1900 / 2100, 4G bands: LTE 2100 (B1), 1900 (B2), 1800 (B3), 850 (B5), 800 (B6), 2600 (B7), 900 (B8), 1700/1800 (B9), 700 (B12), 700 (B17), 800 (B20), 850 (B26), 700 (B28), 1500 (B32), TD-LTE 2000 (B34), 2600 (B38), 1900 (B39), 2300 (B40), 2500 (B41).
Honor 10 is one of the prettiest smartphones on the market that comes with flagship-like specs. First of all, the back of this phone looks stunning, especially the Phantom Blue color.
The front is also beautiful, packing both a 5.8-inch IPS display and a fingerprint sensor. I must mention that I don't find this fingerprint sensor placement that convenient. It's not that fast and not precise as it would be if it was placed behind. I know you guys are interested in the camera, so let's check what this boy has to offer.
Huawei decided to put a 16MP f/1.8 camera on the back, alongside a 24MP monochrome camera with the same capabilities as the first one. However, this camera lacks some features to be called a flagship.
For example, there isn't any OIS and low-light performance is nothing you'll get excited with. The great thing is that this phone can record 4K videos at 30fps, but with no OIS or EIS. Thankfully, video can be shot at 60fps in 1080p, and there is EIS, which works… well, not that bad.
Since we mentioned Huawei for a second, you know that Honor is a sub-brand of Huawei, do you? In that regard, we once again have Kirin 970 under the hood and the same old EMUI skin. Many users prefer stock Android experience over what Honor/Huawei has to offer, but hey, this one is pretty nice. And I can tell you that since I use a Huawei device.
Check out the current price for Honor 10 on Amazon.
---
9. Sony Xperia XZ2
How can we even make this list without Sony Xperia XZ2?
Sony is one of my favorite manufacturers out there, but their smartphone production was quite abolished in the past few years. Luckily, Xperia XZ2 returned to the high-end market through the big doors. Let's begin with the impressive single camera on this phone.
As with Pixel 2 XL, Sony put a single 19MP sensor on the back of the phone. With its f/2.0 aperture and laser AF, this camera promises to deliver some stunning results.
When it comes to taking photos, XZ2 ticks all the boxes. The video can be captured in 4k at 30fps, but with no IS whatsoever. Thankfully, the 1080p video has the support of EIS and there's even a super slow-mo video at 960fps.
The front-facing shooter is a 5MP sensor with f/2.2 aperture and some solid EIS when recording video. Overall, the camera setup is stellar.
Hardware-wise, we have Snapdragon 845 and Adreno 630 GPU. This hardware setup is powering almost every top flagship phone now, making this phone blazing fast.
While there isn't a 3.5mm jack, we still have a MicroSD slot, which is a nice addition. After all, this phone comes with 64GB of internal storage, so you might want to buy an SD card for recording 4K videos.
Check out the current price for Sony Xperia XZ2 on Amazon.
---
10. LG G7 ThinQ
LG G7 ThinQ is an extraordinary phone. It really is. In fact, this is one of the best phones at the moment which you'll never buy or use.
LG now pushed some boundaries with this IPS 6.1- inch display that packs a resolution of 1440×3120 pixels. I must admit, this is one of the best LCD panels I've ever seen.
The hardware on this phone is also powerful. It's powered by Snapdragon 845 and Adreno 630 GPU, which grants some stunning performance. LG also offers two variants of this phone; one with 4/64GB and the other with 6/128GB.
The main issue with these specs isn't CPU, GPU, RAM, or any kind of performance-enhancing features, but the battery. With a 3000mAh battery, this phone will never make it through a full day, especially if you're a demanding user.
Now, let's talk about the camera. The dual camera setup comes with two 16MP cameras with one having OIS and laser AF and the other…well, no. I don't know why LG decided to exclude such a feature, as this is still a flagship device. It's all great when it comes to picture quality and all, but video OIS in 4K isn't the best out there. Thankfully, we can shoot it at 60fps.
The front-facing camera is the same old 8MP with f/1.9 aperture. Some great cameras there, but not at this price.
Check out the current price for LG G7 ThinQ on Amazon.
---
Budget Smartphones for Photographers
And what if you don't have that much cash to give on a phone? Well, we also made a budget best camera smartphone list, these phones are no joke trust me. They can compete with some flagship smartphones. Here is the list:
---
1. Xiaomi Mi A2 Lite
No products found.
Xiaomi Mi A2 Lite is the real flagship killer. This phone is known for its mid-range Snapdragon 625 CPU that works like a charm and it's better than 425, which Xiaomi used to offer earlier. But, what's more, impressive about this phone is its camera.
This camera can compete with OnePlus 6's camera, offering a dual camera setup. Both 12 and 5MP cameras do an excellent job at capturing some sharp and color-accurate photos.
To make things better, there is 1080p video recording and electronic image stabilization (EIS). Coupled with 32/64 GB of internal storage and 3/4GB of RAM, this phone packs some serious firepower for the price.
Check out the current price for Xiaomi Mi A2 Lite on Amazon.
---
2. Motorola Moto G6
Moto G6 with Alexa Hands-Free – 32 GB –...
Pre-installed selection of Amazon apps, including the Amazon Widget, Amazon Shopping, and Amazon Alexa. Prime members have easy access to daily deals, Prime movies and TV shows, Prime Music, Amazon Photos, and more with a single sign-on experience
Amazon Alexa: Simply say "Alexa" or double press the power button to play music, hear the news or check the weather wherever you are. Just ask - and Alexa will respond instantly
5.7" Full HD+ Max Vision display with an 18:9 aspect ratio, 3 GB of RAM and 32 GB of internal storage with option to add up to 128 GB of microSD expandable memory, and Android 8.0
Motorola Moto G6 offers one of the best camera experiences at this price range. Despite having a 12MP sensor accompanied by a tinier 5MP one, this camera still kicks ass. We don't have 4K video recording at this price, but 60fps in 1080p is still not that bad. The design is awesome, the build quality is superb, and the whole phone feels premium.
On the hardware side, we have an aging Snapdragon 450 and Adreno 506 GPU. This is enough to give you a smooth voyage through your daily tasks, but don't expect it to run PUBG at 60fps.
And the display is still 1080×2160 pixels, which is nice for the money you pay for this phone.
Check out the current price for Motorola Moto G6 on Amazon.
---
3. Honor 9 Lite
Honor 9 Lite was released in December of 2017, but it's still a nice phone. This phone has everything you need for a smooth experience. Kirin 659 CPU is here to take care of your daily tasks, and a beautiful 5.65-inch LCD display looks really nice, despite being an LCD panel.
Once again, we have a dual camera setup that consists of 13MP and 2MP cameras. There isn't any OIS and EIS here, which isn't anything out of place at this price.
Still, the picture quality is nice if you shoot in good lighting conditions. In low light, don't expect to have a blast with this phone. The highlight of this phone is the front-facing dual camera setup which is great for some selfies.
Check out the current price for Honor 9 Lite on Amazon.
---
4. Samsung Galaxy A8
Samsung Galaxy A8 (2018) Factory Unlocked SM-A530F...
This refurbished product is tested and certified to look and work like new. The refurbishing process includes functionality testing, basic cleaning, inspection, and repackaging. The product ships with all relevant accessories, and may arrive in a generic box
Galaxy A8 is a bit more expensive, but we all know Samsung – they love to crank up the prices. This phone looks and feels excellent with its unibody metal design and a beautiful 5.6-inch AMOLED display that's crisp and sharp.
The CPU that powers this beauty is Exynos 7885 and with Mali-G71, the phone can do some gaming if you love playing some games.
The phone has a single 16MP f/1.7 camera that's not that bad. In fact, it's very good for taking outdoor photos and the performance drops slightly when in low-light conditions.
Unfortunately, there isn't 4K video recording and we're once again stuck with 1080p at 30fps. On the brighter side, there are two selfie cameras (16+8MP) and they are solid for the price.
Check out the current price for Samsung Galaxy A8 on Amazon.
---
5. Huawei P Smart
Huawei P Smart (32GB) 5.6" Fullview Display & Dual...
3G HSDPA 850 / 900 / 1700(AWS) / 1900 / 2100 4G LTE band 2(1900), 4(1700/2100), 5(850), 7(2600), 28(700)
5.65-inch with Fullview Full HD IPS LCD capacitive touchscreen, HiSilicon Kirin 659, Octa-core, Main Camera's: DUAL 13MP+2MP, f/2.0, autofocus, LED flash; Front Camera: 8 MP
32GB ROM, 3GB RAM. Finger Print Sensor. 3000mAh Super Battery. MicroSD slot up to 256GB (microSD Slot uses SIM Slot 2.)
Huawei P Smart offers amazing value for the money. You get a sturdy aluminum design coupled with a modern 18:9 display.
It's important to mention the amazing screen quality, as well as Android 8.0 Oreo out of the box! Despite its aging Kirin 695 chipset, this phone offers some serious performance for non-demanding users.
There are two cameras on the back – 13MP and 2MP. There isn't any kind of image stabilization, but we do get some interesting camera settings, as well as some of Huawei's camera AI.
On the front, the 8MP selfie camera will not betray you. You'll still be able to look pretty and tidy with some of Huawei's processing. All in all, a solid choice for the money.
Check out the current price for Huawei P Smart on Amazon.
---
What to Look For in a Smartphone:
Today's smartphones are either built of metal or a combination of metal and glass. While the glass looks more premium, it's fragile. The aluminum phones are usually sturdier, but they look a bit less premium.
If you prefer stronger build quality over aesthetics, you can opt for phones with aluminum backs. If you don't care about that, you can always slap a case or a skin on your phone. This will grant additional protection.
---
The quality of the display is very important in a smartphone. Like most smartphones today have a display measuring over 5 inches, the size isn't that important. And there are two main categories of smartphone displays – LCD and LED ones.
The LCD display is almost always inferior to LED display at the cost of price. Samsung is known to produce some of the best AMOLED displays, just to note. If you can, always opt for a phone with an LED display, as it offers much better contrast, color accuracy, and viewing angles.
---
Hardware is very, very important. There isn't any general rule about hardware, as even the software can slow down a phone. However, you want the hardware to be powerful enough to take on some basic tasks without hitching and slowdowns. If a phone has less than 3GB of RAM, it's more likely that it will stutter and have some performance issues over time.
---
When buying a phone, ALWAYS check if it has the latest version of Android. In this case, it's 8.0 until we finally get a full-fledged Android Pie. It's important that you have the newest Android available since the functionality and phone's features are drastically improved with each consecutive update.
---
If you want to stroll through the whole day without having to plug your charger into a phone, battery life matters. To make things worse, the capacity in numbers sometimes means nothing!
Usually, 3000mAh is called an average, but having more than 3500mAh is always better. The battery life depends on the hardware, software, and battery life optimization that comes with the phone.
All in all, you should inform yourself about the battery life of the phone you want to buy.
Related: 6 Most Common Phone Camera Mistakes Everyone Does
---
We talked about this before and there's no need to elaborate on it again. If you want a great camera on a smartphone, you need to pay more. The good camera is what separates a cheap phone from the more expensive one. In that regard, if you want a high-end camera, you should aim for flagships that we mentioned before.
Related: Do Phone Cameras Distort Your Face?
---
Best picks: Samsung Galaxy S9 Plus and Xiaomi Mi A2 Lite
It's known that photographers can greatly benefit from the high-quality smartphone that can take some great photos when the camera isn't with them. We broke down some of the best flagship phones that can easily replace some of the cameras, but also some budget phones for those with a shallow pocket.
Our best pick would be Xiaomi Mi A2 Lite, as this phone has an amazing camera for the price. Who would guess that this phone could compete with many expensive phones? If you don't have a lot of money to throw around, this phone is a steal deal. Since it's an Android One device, you'll have a reliable companion for years to come.
As for the more expensive devices, Samsung Galaxy S9 Plus is still a monster so it's our best pick. P20 Pro could easily take this place if it had any OIS at 4K video recording.
Related: Top 10 Best Smartphone Cameras for Photography in 2019