Recently, Sony released their brand new A6400 camera pointed towards vloggers. Vloggers were excited about this camera, as it promised some major improvements over previous Sony cameras, giving the vloggers another reason to be excited. Just a month ago, Sony A6400 was released and much to our surprise, some vloggers immediately went for the Sony A6400 as a vlogger-oriented camera.
In this article, we're going to point out some of the best and some of the worst features of this camera, in order to see what's so special about this piece of hardware.
---
3 Reasons Why all Vloggers are Going Crazy about Sony A6400?
Sony Alpha a6400 Mirrorless Camera: Compact APS-C...
20.1MP stacked back illuminated 1" Exmor RS CMOS sensor w/ DRAM, large aperture 24-70mm1 F1.8-2.8 ZEISS Vario-Sonnar T lens
Enhanced subject capture: wide 425 Phase/ 425 contrast detection points over 84 percent of the sensor
Fast and accurate: Up to 11Fps continuous shooting at 24.2 MP raw with crisp, clear natural colors
At first glance, Sony A6400 looks almost the same as the previous A6300 cameras. Nothing jaw-dropping here and the design is definitely a bit dated – to which many vloggers will agree. We still have the same button layout, the battery, the mount, and the top of the camera. Being a compact camera, it's surprising that it has a slightly larger grip. However, there are three major changes on this camera that got vloggers so pumped up…
---
1. The Flip-Screen
The flip-screen on a Sony camera might sound like a million bucks. In theory, this screen should give you more possibilities for vlogging, as you can now pop up the screen and see yourself as you're recording. Not too many cameras have this feature, making them not as ideal for vlogging like this one. Usually, you can record your vlog with an ordinary camera and then take a look at the video when it's finished recording. This method is a bit a hit or miss, as you'll need to record it all over again if it's not good. Sony A6400's flip-screen is nothing short of perfection… until you mount a microphone.
Sony A6400 comes with a flip-screen that flips vertically, which is a bit strange design decision. Given that the microphone, which is usually used for vlogging, is mounted on the top, it will clearly obstruct the screen, and that's actually pointless. Sony could've gone with a screen that flips from the side of the camera. That's a pretty common design nowadays and there's nothing wrong with that. You can easily mount the microphone and use the camera freely this way. If you don't know what I'm talking about, here is a Twitter post of a professional photographer Tony Northup:
Yay for the flip screen on the Sony a6400! Not exactly perfect for vlogging, tho. 😂 pic.twitter.com/XbYeVYTFTv

— Tony Northrup (@tonynorthrup) January 15, 2019
Some users in the comments gave the suggestion that you could mount the microphone to the tripod mount. Yes, it could work, but it's not as practical as the hot shoe mount. Either way, users will have to take the suggestion or simply use the camera without the microphone, although the audio quality with the microphone is vastly improved, especially with this camera, as reviewers say.
---
2. The Video Quality
Having a camera for vlogging usually means expecting it to have a top-notch video quality. Really, vloggers were going crazy about the video quality on this camera as it offers 24.2 APS-C CMOS sensor with the ability to shoot 4K videos. Sounds promising, right? Well, the video is good but the downside is that A6400 doesn't have any kind of in-body stabilization. While the video quality is relatively good, you can't help but notice how shaky it can be if you are moving. Since it's 2019, we expected the inclusion of any kind of in-body stabilization, as it could drastically increase the value of this camera.
Vloggers are now forced to use a lens that has the image stabilization. If you like to do vlogs while you walk or carry your camera in your hands, you should know that handheld videos are not that good. Some of the YouTubers also mentioned it, and in the link below, you can see a video of the channel by the name of The Everyday Dad. Still that aside this is an amazing video camera for vloggers. Vloggers are definitely going crazy about the video quality and this camera.
---
3. A Sophisticated AF System
During the camera's announcement, Sony mentioned that this camera will boast a high-end AF system, which is true. In fact, many reviewers say that it's an understatement to call this AF system high-end. The focusing speed of 0.02 seconds is definitely important to mention as this is the fastest speed in the world, at this very moment. With the 84% coverage of the frame, the 425 phase-detection points will make sure that this system works like a well-oiled machine. Numerous vloggers and YouTubers are praising this feature as it comes with the brand new Real-time Tracking and Real-time EyeAF technology that will be available on Alpha A9 and some other cameras in April.
With this technology, users can now select a subject with the AF, and then let the camera track it in real-time around the frame. When the subject turns toward the camera, the EyeAF technology will kick in, taking advantage of the subject's eyes. When the subject turns to the opposite side, the camera will implement real-time tracking, which works as intended. Overall, the autofocus system works consistent, regardless of the settings you use, as shown by many reviewers out there.
---
Is Sony A6400 a Perfect Vlogger Camera?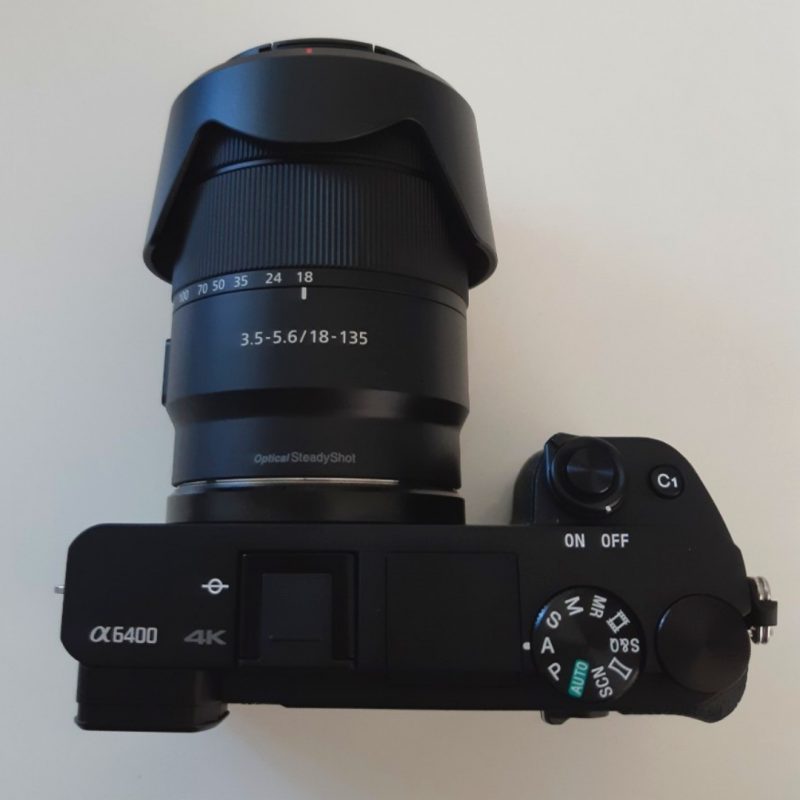 Judging by the reviewers and vloggers who use this camera, we can't say for sure. Some vlogger like it, some don't, and it generally receives good reviews. The main thing that will put down this camera is its lack of in-body stabilization. The image quality is great and those who like to vlog using a tripod will surely benefit but some vloggers are all about recording the footage on foot. Overall this camera is worth the buy if you are a vlogger.
If you are interested in buying this camera click here to see the detailed specification and the current Sony A6400 camera price.
Also, you can check out our list of the best lenses for Sony cameras in 2019.