When it comes to photo editing there are a lot of choices on the market. Whether you are a pro when it comes to photography or just an occasional user, you want to use software that is easy to use, has a lot of functions and delivers images with ease, either for web, email or for printing.
Between other numerous photo editing software, Lightroom is a standout, because it is at the same time a powerful editing tool and photographers find it easy to use. Common users can easily get adapted to the simplicity of the Lightroom and after that, they tend to use it more frequently than any other photo editor.
So, do most of the photographers use Lightroom? Yes, many photographers use Lightroom as their main photo editing software. One of the main reasons for that is because Lightroom is simple to use and affordable to almost anyone. Research that was conducted among photographers shows clearly that Lightroom is one of the most commonly used photo editing software products. Lightroom is always ranked somewhere in the first three on the review lists, so without a doubt is it frequently used among both pros and amateur photographers.
A lot of photographers have written blogs and articles about Lightroom and because of that amateur photographers can find all kinds of tips and guides that make it easy to master the Lightroom. After mastering one photo editing program it is really hard to switch to the other one.
It is important to note that Lightroom lacks some advanced tools that other more priced photo editing software products have.
We really went in-depth on the pros and cons of the Lightroom and compared it with some of its competition, like Photoshop. Every software has its good and bad sides, but we are here to see what makes Lightroom so popular among all types of photography users.
There are a lot of interesting facts to go through, so we think that you will find this a good read. Let's start!
What Attracts Photographers To Lightroom?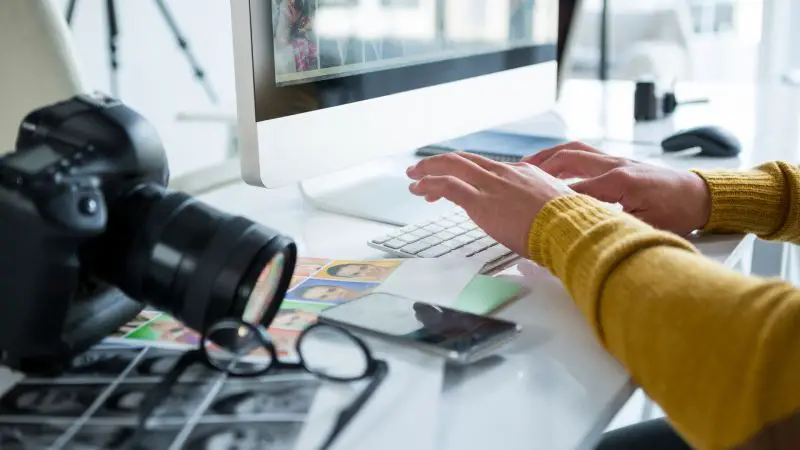 Most regular photographers are looking for ease of use, with some basic functions for editing. Professional photographers look for more advanced tools, and they are keen on using Photoshop.
Lightroom is a part of the Adobe family but offers the simplicity for everyday editing of the photos. We want to point out several Lightroom features:
Excellent image organization through library module.
Easy publication of the photos.
Working with virtual copies.
Lightrooms great and fast develop module.
Adding watermarks to the photo with ease.
---
Important features of the Lightroom also includes easy creating of backup files in the format that the photographer desires, the option to compare the original photo with the "end result", a great file conversion tool that allows conversion to the majority of the file formats.
A great thing about Lightroom is also its unlimited undo tool: every step of the work is saved, so you can go backward as long as you want.
What about the ease of use that we are talking about? What can be more user-friendly than slider-based controls? Any feature that you want to change, from brightness and clarity to anything you desire, you can use the sliders.
The Lightroom also offers some powerful tools, like merging to HDR, conversion of photos to black and white, and you can create panoramic pictures with a couple of clicks.
In its Develop module, Lightroom offers some powerful features, like spot removal, cropping, correction of the lens and other tools like contrast, saturation, and noise reduction.
All this allows faster work before you needed Photoshop for all of this. You don't need to save the masters in large .tiff files, and you can make several virtual copies of the same image, only different versions, which you can easily compare.
---
Library Module
The library module is one of the brightest features that draw many of the photographers to the Lightroom. The user can browse and search for images by all kinds of parameters.
Do you want to find pictures taken in one specific location? That is not a problem, Lightroom takes care of that! Do you need pictures taken with a specific lens? Easy as pie. Different cameras? Of course.
We still haven't come to Lightroom's powerful tool – the import window. There are basic options, like copying, moving or adding an image, but at the same time, you can also make a backup of the image. You can easily add keywords and metadata, and rename the picture.
Changing some settings is also available at this time. All these options are saving time, and that is one of the good sides of using Lightroom.
Publishing part of the module is also user-friendly because it offers you several publishing services, like Flickr, Facebook, Behance, and many more. These options work seamlessly and publishing your work is simple and fast.
---
Develop Module
This module has two sets of panels for editing and viewing of the photo. It doesn't have all the powerful tools like Photoshop, but there are quite a few tricks in the Lightroom's sleave. Some of those include:
Reference view – helps you compare the original photo with the one you are editing.
Tools in the tool strip include Crop overlay, Spot removal, Red-eye correction, Adjustment Brush, Radial Filter, and Graduated filter. With these functions, you can easily edit specific parts of the photo.
The usual set of tools like zoom, copy/paste option, before and after views, saturation, noise-canceling, etc.
---
Difference Between Photoshop And Lightroom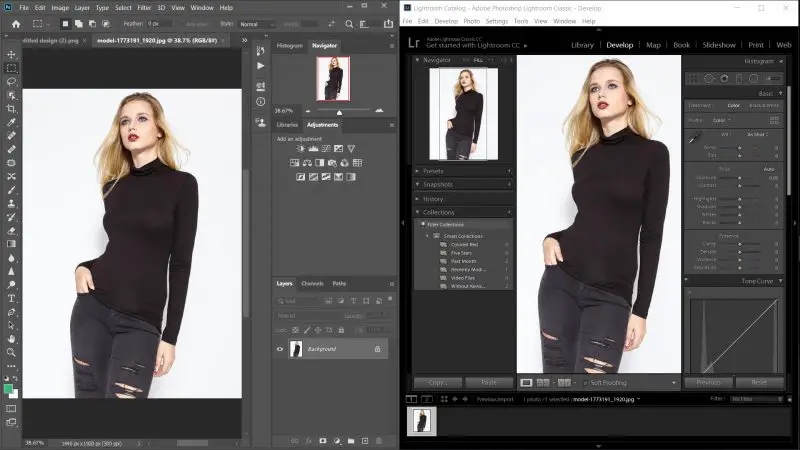 Photoshop – Raw Power, Sometimes Too Complicated
Photoshop is a great and powerful tool but also complicated to use. You can conduct edits on smaller parts of the image, but it is preferable to be used on large composite images.
Heavier edits are done in Photoshop, and for smaller edits, you can use some alternatives, like the combination of Camera Raw and Bridge.
The drag is if you are working on one image in a batch of images, you will frequently be using these three programs. Sometimes you won't need Photoshop at all.
With it, you can only work on one image, and copying and pasting from one image to the other is rather complicated and time-consuming. A lot of simple edits require a lot of time, and that can be frustrating, especially when there is a tool that is simpler and faster to use.
---
Lightroom – Simple and Fast in Use, Lacks Some of the Advanced Tools
Lightroom is so easy and fast to use, it makes editing photos fun. Yes, sometimes advanced tools are needed, but most of the users of these programs rely on Lightroom, so the simplicity is more important for a regular photographer.
Sharing images on Facebook, Flickr and such is much easier, and metadata and keywords are there with the image. Lightroom modules are jewels in its crown. The Library module helps you collect and organize all your images with ease, and the Develop module is there to help you edit the images.
Those modules are so user-friendly, but not simple! Don't let the ease of action fool you. Some powerful tools for editing are included and Lightroom allows you to modify more photos at the same time, and it lets you compare them.
---
When It Comes to Support, Which One Is Better – Photoshop or Lightroom?
A lot of photographs, either pros or amateur are using Lightroom, there are a lot of tutorials and forums where you can get answers really fast to any of the problems that may occur. That is because of the sheer number of users.
There is always a large number of them commenting and chatting about all sorts of problems and features of these programs.
Photoshop is used mostly by pros, but getting info about some problems you ran into could be a little more demanding, just because of the complexity of the software itself, and the smaller user base.
Yes, both programs are widely used but when it comes to the support from the online community, Lightroom is a little ahead of Photoshop.
---
What About the Lightroom's Price?
For individual users, there is a monthly subscription for a standalone version of Photoshop that costs US$20.99/mo (plus 100GB of cloud storage). When you take a look at the price of the Lightroom, which is US$9.99/mo (plus 1T of cloud storage), that is really not that big of a difference but for some people, it certainly can be a game-changer, especially if you look at the cloud space.
There is also a bundle that costs US$9.99/mo where you get both Lightroom and Photoshop and also a 20GB of cloud storage.
Yes, if you are a professional, you will not have a problem with paying the full price, because that is your bread and butter. But if you are are not doing heavy edits and you are a photographer that edits a couple of photos for his social media profile, the user-friendly and the cheaper Lightroom will be a better solution.
The price itself is surely one of the reasons for the popularity of the Lightroom. So when you draw a line, for $10 a month you get a program that is fast and simple to use and also 1T of cloud space, and it still keeps the most important tools available to the user.
Click on this link to see the Adobe Monthly Subscription Plan.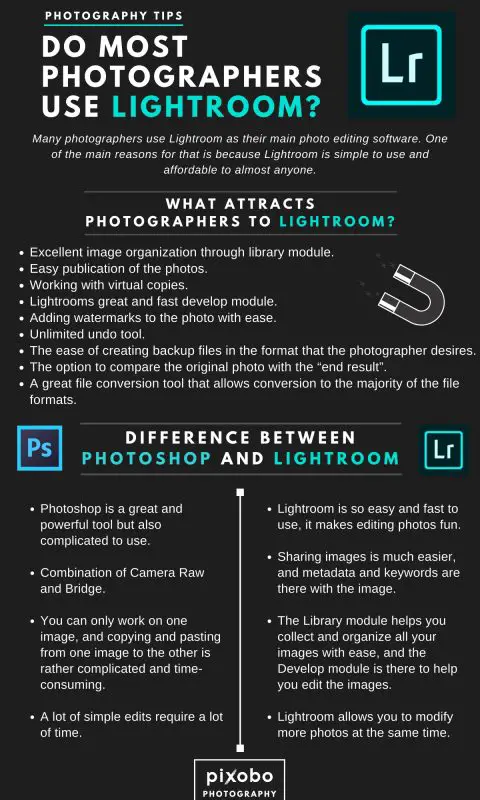 ---
Summary
Before Lightroom, the most popular image editor was Photoshop but the sheer complexity of its tools and features didn't allow photographers to edit their images without some previous tutorials or training.
They needed to hire a pro to do that job for them. Then some other, easier to use programs came and along with them Lightroom, which made editing, available to any photographer.
Learning Lightroom is easy, because you can find blogs, tutorials and, forums all over the internet, and you can solve any head-scratching problem relatively fast. All that made Lightroom a favorite pick for image editing along with basic and even professional photographers.
Everything about Lightroom is user-friendly, from the interface to the price, it allows almost anyone who wants to ponder with image editing to buy it. It made image editing available to all, and that is the main reason for its popularity.
If you want to continue reading about tech and photography topics, keep following our blog, we will continue in the same manner, always thinking about our readers and their preferences!
---
Related: Outsourcing Photo Editing Services for Photographers Debunked