In February 2019, Samsung revealed its premium flagship lineup that consisted of S10e, S10, and S10 Plus. Users were very satisfied with every member of this family, as they all packed, more or less, the same internals. For instance, Snapdragon 855, a processor that's even today one of the fastest ones used in phones.
After one year of the lineups' existence, Samsung, in its tradition, launches a brand new lineup that promises a lot. Samsung Galaxy S20, S20 Plus, and S20 Ultra.
Does this new lineup from Samsung have the ultimate photographer's phone? We certainly think the camera from Samsung Galaxy S20 Ultra has set a new standard when it comes to phone cameras. Photographers are certainly going to take this phone into consideration as it can replace lots of heavy and robust equipment. We think that Samsung Galaxy S20 Ultra is almost perfect for social media photographers because they don't need to have photos that are on the quality level of a high profile DSLR or mirrorless camera.
Now let's compare this lineup with the previous one and most importantly – let's see what can you expect a lot from its cameras? Let's not waste a second more of your time because time is the most precious resource on the planet. Let's begin!
Samsung Galaxy S20 Ultra: Cameras
We, photography nerds, always turn our phone on the back and check the cameras. Not that we can really check the cameras' quality this way but you know… we just like to look at them. If you turn S20 Ultra on the back, you will see – a huge, square-like cutout where 4 different types of cameras are located.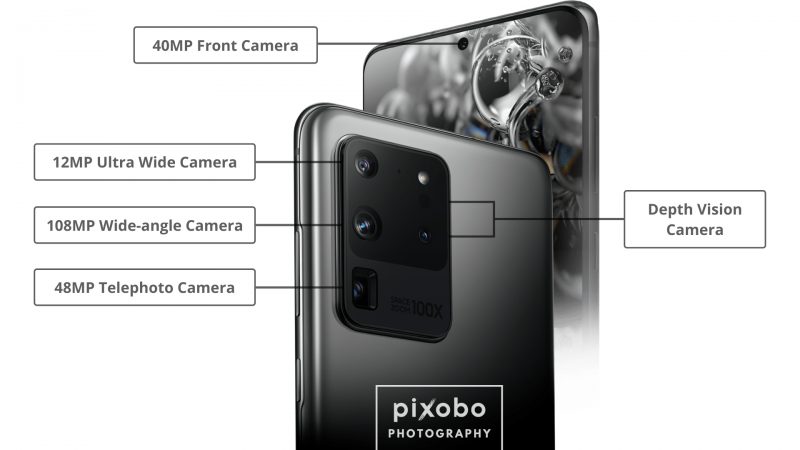 Let's just say that we don't like the way they look but we'll leave the design talk for the next section. The main camera here is the star of the show. We have a jaw-dropping 108-megapixel camera with 26mm focal length and f/18 aperture.
This camera uses a nona-binning technology that crams 9 pixels into 1, which is certainly an interesting advancement in the phone world. So, how good it is? Well, we'll be completely honest – it blows away every flagship phone on the market.
The picture quality is phenomenal and since it has OIS, your hands don't always have to be very calm. The night mode is also excellent. You can now capture photos during the night with ease although we're not sure if it's better than the night mode found on Huawei P30 Pro or iPhone 11. Still, we're glad that Samsung finally decided to amp up their night mode.
In terms of video recording, this main sensor can record 4K videos at 30/60fps with OIS and even 8K videos at 24fps. Needless to say, the quality of those is top-notch. The video is buttery-smooth and will capture all the fine details, even when walking faster. To accompany this excellence, we have a super-steady mode for additional stabilization.
This mode uses an ultra-wide lens' footage, which is zoomed in, so you get a cropped, yet stabilized video. Speaking of this lens, the ultra-wide camera is also here and it's a 12MP sensor with f/2.2 aperture. The quality of this camera is slightly lower but you get to capture the landscape around you in the full glory.
What about a telephoto camera? You've probably heard that it's one of the best smartphone cameras in 2020. Technically, it is. This camera is also called a periscope camera and comes equipped with 48 megapixels, with a pixel size of 0.8 microns. It's a beefy camera with OIS and a 100x zoom, which they call the Space Zoom.
This technology is… creepy, to say the least. If your neighbor buys this phone, consider closing your curtains and never take a shower with your window exposed. This thing is a beast. You can literally zoom in on people's newspapers and see what they're reading.
Related: 5 Reasons Why Some Phone Cameras Are Better Than a DSLR Camera
The last 'camera' here is the TOF sensor that packs 0.3 megapixels. It's basically a depth sensor for improving the bokeh effect for selfies or other purposes. Not to forget that all of these cameras can shoot 4K videos with OIS!
Now, let's talk a bit about the front camera. This 40-megapixel monstrosity is going to impress you with its quality. You'll get some Insta-worthy selfies and if you decide to record some vlogs, know that you can ramp up the quality to 4K.
Camera-wise, this is the best Samsung device ever. Will Huawei and Apple beat it during 2020? We've yet to see that. So far, Samsung did an excellent job, not only on paper but also in practice.
Related: Do Phone Cameras Distort Your Face?
---
Samsung Galaxy S20 Ultra: Display & Design
When you buy a Samsung phone, you immediately know what to expect – the best display on the market. Samsung S20 Ultra comes with a 6.9-inch Dynamic AMOLED display with 1440 x 3220 pixels resolution, and 511 pixels-per-inch density.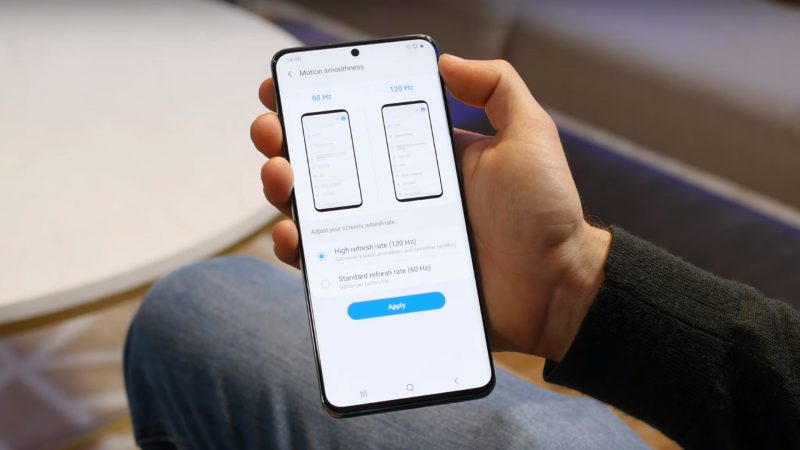 To make things even better, this display has a refresh rate of 120 Hz but only when using Full HD resolution. Still, if you aren't a tech geek, you won't notice much of a difference. So, you might ask – how does 120 Hz feel in practice? Not to exaggerate but it's awesome and extremely fluid.
The display quality is, as you would expect, great. The colors are vivid, yet accurate. The level of brightness is insane. If you crank it up to the maximum your eyes will probably hurt if you're in the darkness. But, in the hot, sunny day, you'll have no problems using it and the visibility will always be on point.
Just below the upper edge of the screen, in the middle, sits the front camera. This time, it's a single front camera, so it isn't as intrusive as it was in a Samsung Galaxy S10 Plus. So, if you watch Netflix a lot, this tiny punch-hole won't bother you very much, leaving a whole display just for you. After all, we're talking about an 89.9% screen-to-body ratio.
Now, let's talk about design. This is subjective but we think that this is the only place were the Samsung messed up. Sure, the colors are nice and the build quality is on the level of a Tiger tank. But, that gigantic square camera cutout at the back of the phone… that's what bothers me.
We knew that the iPhone 11's trend will soon be copied by many Android manufacturers and before you know it, Samsung comes up with A51, A71, Note 10 Lite, S10 Lite and these phones have a similar square cutout. Guys, just stop it. The square camera cutout is not a good design. S10 was a wonderful phone and in my opinion, had a perfect camera placement.
If something's gonna deter potential buyers from getting this phone, it's probably the camera placement on the back. But, not everything is THAT bad. For instance, Samsung finally decided to put the volume rocker and the power button on the right side – where it always should've been.
Furthermore, the screen edges aren't very curved like on S9+, for instance. This is what we pretty much like about it. Curved edges are usually weak spots and if the phone falls to the ground, this is where it's going to break.
For protecting the camera bump on the back, we recommend using a solid phone case. It protrudes, meaning it will scratch the surface it lies on. After all, you don't want to damage your $1,000+ phone, right? More about the price later.
---
Samsung Galaxy S20 Ultra: Hardware & Software
For a phone that's going to leave you hungry for the rest of the month when you purchase it, you expect some dope specs. Samsung isn't stupid. They know that it must bring its A-game to the table if they want to sell this phone.
Under the hood, we have the brand new Snapdragon 865, which is a 7nm chipset from Qualcomm. Those who buy a phone in Europe will get Exynos 990 chipset. Now, a whole debate can start about these two chipsets but in my opinion, Qualcomm is an undisputed king of chipsets.
So, we think that it's a bit of injustice that people from Europe get Exynos. Nevertheless, we'll focus on the Snapdragon 865 version. This chipset comes with Adreno 650 graphics accelerator or Mali-G77 MP11 for the Exynos version. Once again, Adreno is a much better GPU manufacturer.
Performance-wise, Samsung Galaxy S20 Ultra is going to breeze through every task you throw at it. With its 12 GB of RAM, you'll have no problem opening 10 or 20 tabs in the Google Chrome app and we know how RAM-hungry this browser is. Everything works smoothly here. Even snapping 108MP photos is amazingly fast.
S20 Ultra also gets 128 GB of internal storage and if you want to upgrade it, you can get a microSDXC memory card. 128 GB is more than enough, in my opinion, except if you want to record a lot of 8K videos. In that case, getting a 512GB card is a smart idea because 8K videos will eat your memory in a blink of an eye.
---
---
Last year, people complained a lot about its ultrasonic fingerprint sensor. So, is it better now? Well, it is better in terms of speed. It's a tad faster now and very precise, although we always prefer a physical sensor since it's always faster. The only in-display fingerprint sensor that managed to impress us is the one in the OnePlus 7.
We don't think that S20 Ultra's sensor is bad. It's very good and with further updates, it's going to be even better. Speaking of updates, S20 Ultra comes with Android 10 and One UI 2 from the box.
We know that Samsung isn't the best when it comes to software updates. But, this time, they obviously decided to surprise us, Android 10 brings some important improvements to the platform. One UI 2 is a very smooth user interface that looks and feels great.
You can enter the app drawer by swiping up from any part of the screen, which is very convenient and we like it a lot. Due to the 120 Hz screen, all of this looks very smooth. When swiping from the upper portion of the screen, you'll open the notification bar. Here, you can enable or disable Wi-Fi, mobile data, etc.
One feature we like is the Dark Mode. This enables a dark mode on all Samsung's apps, and since it's an AMOLED display, this mode will save your battery by quite a lot! In the Settings, you can find tons of customization options. For example, you can customize the display, optimize the battery, and so forth.
---
Samsung Galaxy S20 Ultra: Battery and Speakers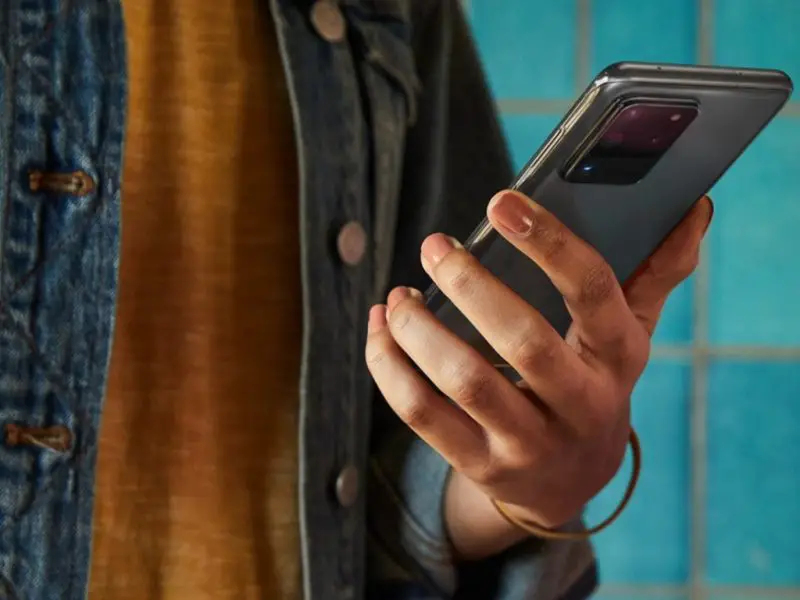 All these specs can't work well on a tiny battery. It's like trying to start an electric car on your phone's battery and expecting it to behave like a Ferrari. Samsung didn't cut any corners here and included a massive Li-Po 5000 mAh battery. This monstrous battery will easily last you a whole day, without needing to charge, even if you're a heavy user.
This time, they also upgraded the charger. You will get a 45W fast charger that connects to the USB 3.2 Type-C port. Since we're talking about a top-of-the-line flagship, you also get 15W wireless/Qi charging.
Also if you want to charge your Samsung Smart Watch, you can turn on the reverse charging, plant the watch on your phone, and let it charge. Many people think that this feature is a gimmick. Sure, if you want to charge other phones, that may be the truth.
But, for these little gadgets, reverse charging works flawlessly. Finally, we need to mention the sound on this phone. Samsung flagship phones are known to have some of the best-sounding speakers on the market. In 2020, nothing has changed. You still get stereo speakers that are amazing.
Unfortunately, the phone doesn't have a 3.5mm jack, which is a shame. But, when we think about it, Samsung is probably forcing its users to use wireless buds made by them.
Just to make something clear. We're not against wireless solutions. In fact, we use them a lot. However, sometimes you just forget to charge your wireless buds and you realize it when you are about to leave your home. For that reason, a 3.5mm jack is always welcome.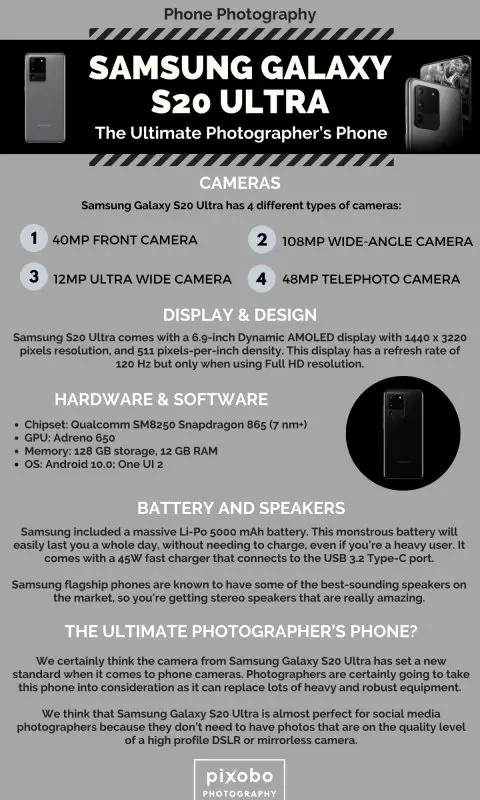 Related: 6 Most Common Phone Camera Mistakes Everyone Does
---
Summary: Is It Worth Buying?
With all that we said in mind, only one question remains – should you buy it? We can't finish our review without mentioning the price. Samsung Galaxy S20 Ultra costs around $1500. This is a very high price but given how beefy this phone is, we think it's worth it.
Samsung Galaxy S20 Ultra 5G Factory Unlocked New...
Power of 5G: Get next-level power for everything you love to do with Samsung Galaxy 5G; Share more, game harder, experience more and never miss a beat
Single Take AI: Capture video and multiple types of images with one tap of the shutter button; Lenses, effects and filters capture the best of every moment, every time
Hi-Res Camera Zoom: Capture hi-res images from 300 feet away that look like they were taken from 3 feet away; The game-changing new 100x Space Zoom delivers unprecedented power and clarity
Have in mind that an average user won't use more than 20% of this phone's capabilities, so think twice before you give money on this phone. If you want to make outstanding photos and videos and enjoy the beautiful display and powerful hardware, this is a phone for you.
Simply put, if you want an experience with zero compromises, you should buy the Samsung Galaxy S20 Ultra.
You can still save some cash by buying S20, which will cost significantly less and give you, more or less, the same features but a weaker camera. From a photographer's standpoint, good photos are invaluable, so we have no doubts that our readers with bigger earnings will gladly give the aforementioned amount of money for this phone.
If you enjoyed our review please follow our site and share our content. Thanks!
Related: How to Take Good Photos with Phone?