If you are new to photography, there are lots of acronyms that you should learn. This includes SLR, DSLR, EOS, and TTL. Camera makers also use letters, numbers, or a combination of both to distinguish the features and models.
Models with no numbers usually refer to the entry levels, while those with higher numbers are newer versions.
Just like other camera manufacturers, Canon uses letters and numbers so people can easily identify their products, which include cameras, lenses, and flashes.
Note, however, that some cameras are not suitable for beginners. In this article, you will learn some of the notable Canon cameras, as well as the meaning of important acronyms.
What Is Electro-Optical System (EOS)?
Technically speaking, an electro-optical system (EOS) is a system that combines electronics and optics to detect, generate, or measure radiation in the optical spectrum. This includes light rays, UV radiation, and infrared (IR) radiation. Among its applications are thermal imaging, long-range imaging, lasers, and night vision for military operations.
What Exactly Does EOS in Photography Stand For?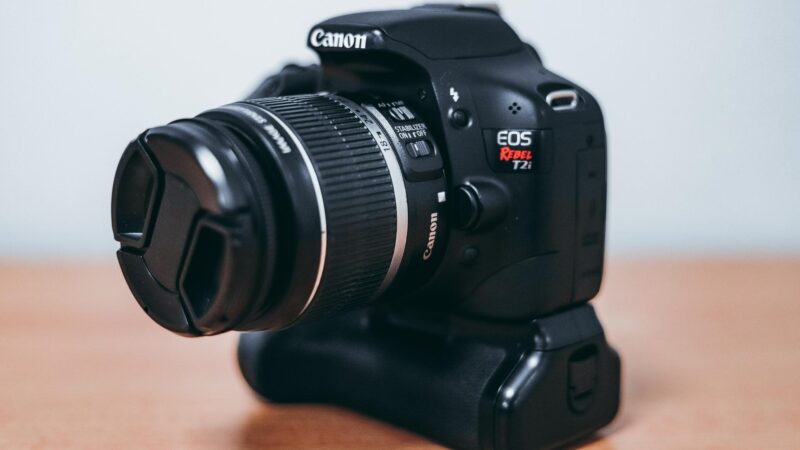 In photography, EOS also stands for "electro-optical system," but it does not exactly refer to its technical meaning. Instead, EOS was used by Canon Inc. to market their latest camera series and lenses since March 1987. Coincidentally, Eos is also the name of the ancient Greek goddess of the dawn, which has no relation to cameras whatsoever.
At that time, Canon released its EOS 650 SLR camera, wherein SLR means "single-lens reflex." That same year also marked the 50th anniversary of Canon. This 35mm film camera was introduced along with other accessories such as interchangeable EF and RF lenses. The EOS 650 camera is the company's first autofocus SLR camera. 
The Canon EOS 650 also featured the world's first fully electronically-controlled mount system, which replaced their conventional, mechanically-controlled FD mount.
This newer EF (Electro-Focus) mount eventually became the standard for all the EOS camera series. In March 2022, Canon celebrated the camera's 35th anniversary.
What Is the Difference Between a DSLR and an EOS Camera?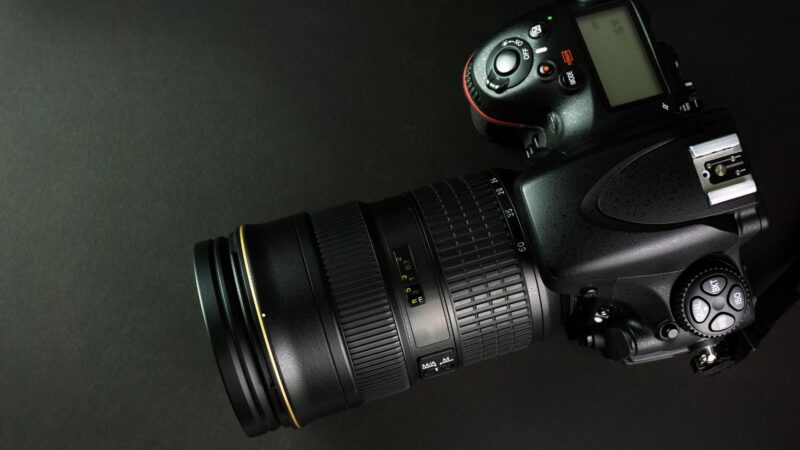 DSLR is the acronym for "digital single lens reflex" or a digital camera. As mentioned above, EOS is the acronym for "electro-optical system" and is also used by Canon as their branding technology for many of their cameras. Canon has been using EOS since the late 80s. Thus, it is included in some of their SLR, DSLR, and mirrorless cameras.
The Evolution of Canon EOS SLR Series
Canon decided to use EOS as part of their succeeding SLR cameras. EOS 650 was immediately replaced by an upgraded version, the EOS 620. Its successor was EOS 630, which had a faster AF speed. In 1989, Cannon released EOS-1, the company's first professional-level EOS camera. Five years later, it was followed by EOS-1N.
In 2000, Canon released its EOS-1V to replace the EOS-1N. It was then the fastest moving-mirror film camera, with a speed of 10 frames per second. Being the last EOS-1 SLR series, EOS-1V was the first Canon camera to use the E-TTL autoflash mode, which measures the flash output required to obtain the correct exposure.
In March 1990, Canon launched EOS 10, a 35mm autofocus SLR film camera that provides three autofocusing points. Also called EOS-10s (in the US) or EOS 10QD (in Japan), EOS 10 is the world's first camera that comes with a bar-code program. The release of this EOS model also marks the company's 60-millionth 35mm camera sold.
The Evolution of Canon EOS DSLR Series
With the growing popularity of digital SLR cameras in the 90s, Canon collaborated with Kodak and released Canon EOS DCS 3 in July 1995. This Canon DSLR camera used a modified Canon EOS-1N film camera with a modified digital camera back for Kodak NC2000e. It was followed by the less popular EOS DCS 1 in December 1995.
To continue the EOS-1 series, Canon launched its first EOS-1 DSLR camera, the EOS-1D. Released entirely by Canon, the EOS-1D sports a faster image processing speed and is the only Canon camera that had a shutter speed up to 1/16000 of a second. Instead of the usual CMOS sensor, EOS-1D used a CCD (charge-coupled device) sensor.
Despite being Canon's first professional DSLR camera, the EOS-1D has the same features and body as the EOS-1V. Its camera sensor had a low resolution, which is not suitable for some professionals, such as portrait and wedding photographers. In 2002, Canon replaced it with 11.1-MP EOS-1Ds, becoming the brand's first full-frame DSLR camera.
The Evolution of Canon EOS Mirrorless Camera Series
Unlike DSLR cameras, mirrorless cameras don't use mirrors, hence the name. Instead of a mirror, this camera design has an electronic viewfinder (EVF) or digital screen. This is where the image is fed from the sensor as light passes through the lens. Mirrorless cameras have fewer components, making them thinner and lighter than DSLRs.
Canon was the last camera maker to release mirrorless cameras. In June 2012, the Japanese multinational company released Canon EOS M. Here, the "M" stands for "mobility," while the EOS still means "electro-optical system." EOS M was Canon's first mirrorless interchangeable-lens camera. It was followed by EOS M2 in December 2013.
Canon EOS M2 was not sold in the US and Europe. Nonetheless, its successor, EOS M3, was sold in these regions. The same thing goes for EOS M10, EOS M5, EOS M6, EOS M100, and EOS M50. In 2018, Canon started to release its full-frame mirrorless cameras. It started at EOS R, where "R" stands for "Reimagine optical excellence."
The Evolution of Canon Cinema EOS Camera Series
In November 2008, Canon introduced the EOS 5D Mark II DSLR camera, which was the world's first camera capable of recording full HD videos. It was succeeded by 5D Mark III, which was released in March 2012. But before that, in November 2011, the company launched its first Cinema EOS camera, the Canon C300 cinema camera in Hollywood.
With an introductory price of around $16,000, the Canon C300 cinema camera came with two models – the EOS C300 Digital Cinema Camera and the EOS C300 PL Digital Cinema Camera. Interestingly, it was also the start of the evolution of the Canon Cinema EOS System. The C300 was replaced by the Canon C300 Mark II in September 2015.
As part of the Canon Cinema EOS camera range, the company introduced EOS-1D C and EOS C500 in April and August 2012, respectively. In March 2018, Canon released its first full frame Cinema EOS camera, the Canon C700 FF. But as part of switching to mirrorless cameras, Canon announced its full-frame mirrorless camera, the EOS R5.
What Does TTL Stand For in Photography?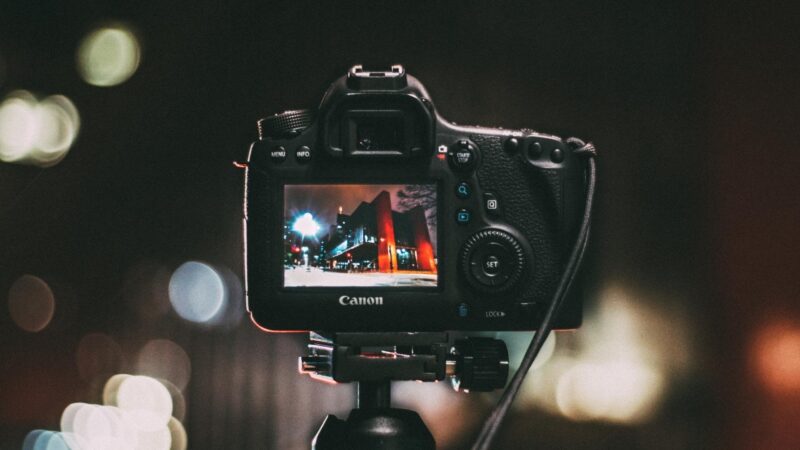 TTL stands for "through the lens," wherein Nikon was the first one to apply it in their prototype rangefinder camera, the SPX. Canon first used TTL on their manual focus, 35mm film camera, Pellix in 1965, and their FT QL camera in 1966. As time passed by, camera makers decided to provide their versions of TTL flash metering.
If you are using a TTL flash on your camera, it will measure the amount of ambient light that is coming through the lens. Once you press the shutter halfway down, the flash will send a pre-flash to your subject.
Then, that flash will go back to your camera through the lens. Therefore, TTL flash is simply the automatic version of the manual flash.
P-TTL vs. I-TTL vs. E-TTL: What's the Difference?
As a DSLR camera user, you may have heard of the acronyms P-TTL, I-TTL, and E-TTL. P-TTL (Pre-flash TTL) was introduced in 2001 and is for Pentax cameras, while I-TTL (Intelligent-TTL) was introduced in 2003 and is for current Nikon cameras. I-TTL flash replaced D-TTL (Digital-TTL), which was for Nikon's earlier DSLR camera models.
On the other hand, E-TTL (Evaluative-TTL) is only for Sony and Canon cameras. Canon introduced the E-TTL in 1995 and E-TTL II from 2004 until now.
All of these TTL flashes work on the same principle, but not all of them are compatible with your camera. For instance, you cannot use E-TTL II flashes if you are using a Pentax or Nikon camera.
What Is the Best Canon Cinema EOS Camera During Harsh Weather?
For creating movies using a Canon camera when the weather is tough, experts strongly suggest using the Canon EOS R3. Released in November 2021, EOS R3 is Canon's first high-end, full-frame mirrorless camera.
This hybrid EOS cinema camera is ideal for capturing still photos and lengthy videos even in hotter months and snowy weather.
Canon EOS R3 is equipped with a DIGIC X image processor that can capture continuous shooting of up to 30 frames per second. With its new Dual Pixel CMOS AF technology, this weather-sealed mirrorless camera can detect not only vehicles and animals but also the eyes and faces of people, even those that are wearing masks. 
What Is the Best Canon EOS Camera for Vlogging?
Whether you are now into vlogging (video blogging) or are an aspiring vlogger, you would want to use the best camera. If you are a fan of Canon, product specialists highly recommend the EOS M50 Mark II. Launched in November 2020, EOS M50 Mark II is an interchangeable-lens mirrorless camera and an upgraded version of the EOS M50.
Also called the Canon EOS Kiss M2, EOS M50 Mark II is equipped with Digic 8 image processor, a 2.36M-dot electronic viewfinder (EVF), and a fully-articulated LCD touch-screen monitor.
This lightweight mirrorless camera uses a 24-MP APS-C sensor and a new Dual Pixel autofocus system, which now includes eye-tracking for moving subjects.
With EOS M50 Mark II, vloggers can shoot vertical videos and does live streaming on YouTube. Note, however, that so far, YouTube only allows verified vloggers to use mobile devices (such as phones and cameras) for live streaming if they have at least 1,000 subscribers. But then, Facebook Live has no limit on the number of subscribers.
Summary
Throughout the years, Canon has been consistent in coming up with new and bright ideas for the public. With the fast-changing advancement in technology to improve image quality and user convenience, new versions of Canon EOS cameras are expected to be released. After all, photography and video-making are very useful forms of art.