If you are planning your wedding, a wedding photographer will surely play a major role. But still, there are other wedding vendors that you should also hire. This includes the wedding officiant, wedding planner, caterer, hair and makeup artist, and others. Tipping your wedding photographer is something to think about with all the awaiting expenses.
The tipping culture is an endless debate, particularly in restaurants. But when it comes to weddings, the decision to tipping wedding photographers or not can be tricky.
First of all, there is no law stating that wedding couples should tip them. When it comes to the amount, it's really up to you. Nonetheless, here are some factors that can help you decide.
When Not to Consider Tipping Your Wedding Photographer?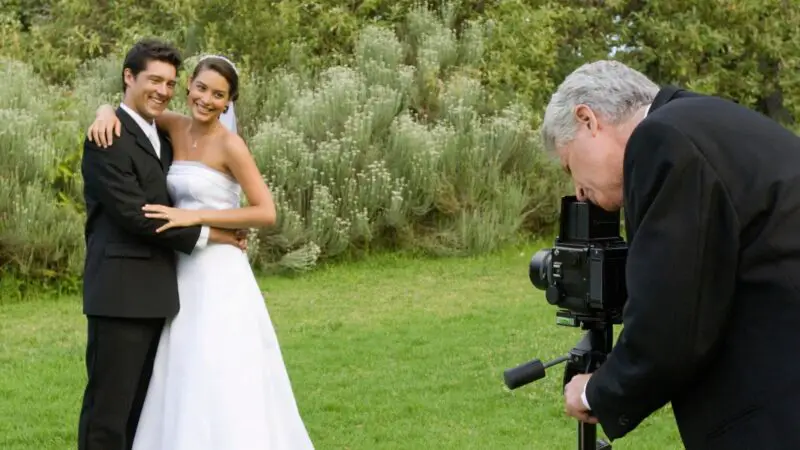 You are not required to tip your photographer. If you decide not to, your wedding photographer will not be offended. More importantly, the future of your marriage will not depend on it.
But certainly, tipping is a wonderful gesture to show appreciation to them. Hence, here are some instances when not to consider tipping wedding photographers:
1. If Wedding Photographers Own Their Business
Generally speaking, it is not a tradition to tip wedding photographers who own their businesses. Based on their computation, they will already earn a reasonable profit from the event. Therefore, it is very unlikely that these business owners are expecting to receive a tip. After all, their employees are also not expecting a bonus from them. 
2. If You Are Not Satisfied With The Service
Your wedding photographer does not deserve a tip if you are not satisfied with the service. You should not reward him if he is always late during your meetings or if you noticed that he is not dedicated to his work. Photographers are also expected to offer some suggestions and should be very creative, instead of merely taking photos of you.
3. If Tipping is Not in the Contract
In some cases, tipping is mentioned in the contract with your wedding photographer. This is why you must read the contract very carefully before signing it. In fact, you can also ask about it even before booking them. In some cases, gratuity is already included in their fees. Otherwise, you are free to decide whether to tip or not.
4. If You Are on a Tight Budget
Regardless of your wedding theme, you still have to spend money. So, if you are on a tight budget, don't force yourself to tip your wedding photographer. Or else, you will end up blaming yourself for giving away the money that you need. Remember, tips are given voluntarily. After all, there are other ways to show your appreciation for his service.
When to Consider Tipping Your Wedding Photographer?
Giving tips does not necessarily mean that you are rich. You also should not give away extra money to show off because the wedding expenses did not exceed your budget.
Remember, tips are given as rewards only in return for a good service. Therefore, here are some scenarios when you may consider tipping your wedding photographer:
1. If You Hired a Freelance Photographer
You are not obliged to tip your wedding photographer if it is not in the contract or if he is the owner of the business. But if you hired a freelance wedding photographer or an employee of a photography business, giving them an extra amount for a job well done is a great motivation. You don't need to give them much.
2. If the Photographer Goes Beyond Your Expectations
Wedding photographers don't just create stunning photos; they are also serving their clients. And in some cases, they have to go the extra mile, such as arriving on such short notice, giving you brilliant suggestions, or spending more hours than what they signed for. Indeed, excellent customer service deserves a tip.
3. If the Photographer Offered a Discount
Before agreeing with your terms, experienced wedding photographers can easily decide how much you should pay them. In some cases, they may offer some discounts not because they provide poor quality of work but rather as a token of gratitude for trusting them. In return, you may give them a tip, especially if you are satisfied with the results.
4. If You Will Give Tips to Other Vendors
Photographers are not the only ones that helped you during your wedding. In most cases, it seems awkward to give a tip to your wedding officiant. But if you plan to tip your musicians, makeup artist, catering staff, and parking attendants, you might also want to include your photographer. After all, you want to be fair with everybody.
How Much Should You Tip Your Wedding Photographer?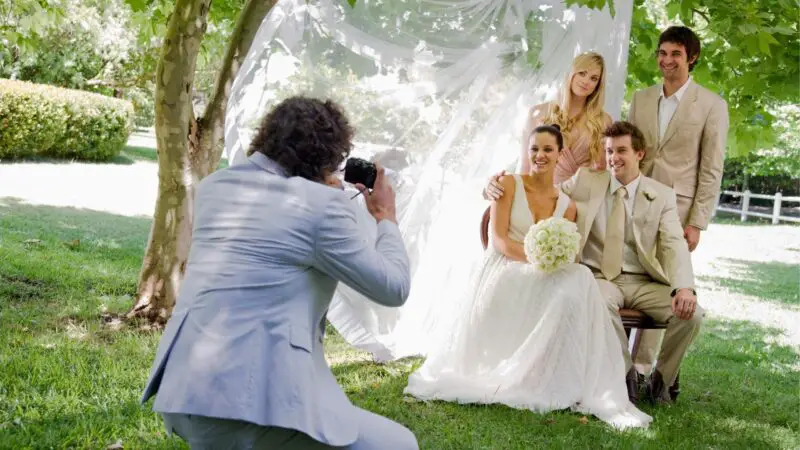 There is no standard when it comes to the amount when tipping your wedding photographer. However, you should consider the amount of work he has done for you, as well as his effort just to make your wedding photos extra special.
But to give you an idea, a tip of 10-15% of the total fee for the wedding photography service is a decent amount.
When Should You Tip Your Wedding Photographer?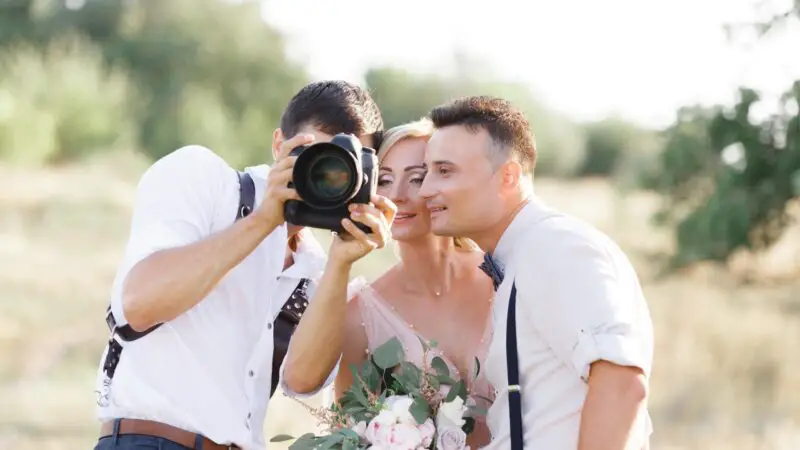 Ideally, you would want to tip wedding vendors right after the ceremony. Prepare them as early as possible. Place the tips in small envelopes and request a family member or your wedding coordinator to distribute them.
But for your wedding photographer, experts suggest that it is better to tip him (or them) right after you receive your wedding photos.
Instead of Tip, How Can I Thank My Wedding Photographer?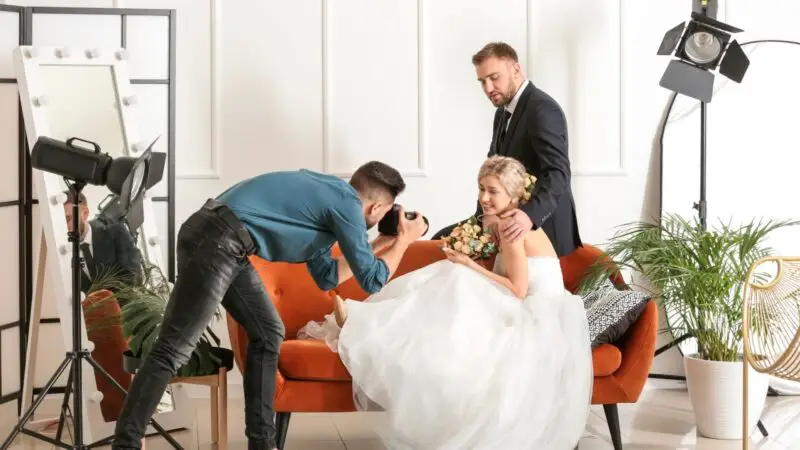 Sometimes, you may feel that giving extra money is not enough to thank your wedding photographer. Although rare, some photographers may not be satisfied with the amount, especially if the wedding is extravagant.
So, instead of tipping your wedding photographer, here are other wonderful ways to express your gratitude for his service:
1. Send Them a Gratitude Gift
Instead of cash, give your photographer a special gift. Know his or her favorite dish, flower, or anything that he or she will appreciate so much. You may also send them at least a "thank you card" that they can show their potential clients. If time permits, you can also invite your photographer to your house for lunch or dinner.
2. Buy a Souvenir From Them
If the photography company is selling photo albums, picture frames, or any valuable item, buy some of them. In doing so, you are not only showing appreciation but also keeping some souvenirs for yourself. If they become famous around the world or an icon in their field, these tangible items can also be a very good investment on your part.
3. Write a Positive Review
These days, every business has a website wherein people can post comments. You can use this chance to thank them by leaving some wonderful words about them. Since you cannot post your wedding photos in the comment section, you might also want to include some details on how they have helped make your wedding very special.
4. Tag Them on Social Media
If you plan to post your wedding photos on social media, mention the name of your photographer (or the photography company) in your caption and tag him. This is not just to give credit for their outstanding job but also to help them promote their service. You may also leave a comment on their latest post so that their followers can read it.
5. Recommend Them
Aside from recommending your wedding photographer online, you can also recommend him to your friends or officemates who plan to get married. Sharing your experiences with others personally is better than just posting about them on social media. In doing so, you may also give additional details that you did not mention in your online posts.
6. Hire Them in the Future
If you plan to celebrate your wedding anniversary or any special occasion, consider hiring them again. This time, there will be more fun moments and less pressure. After all, you have already established trust towards each other. And although you should not expect it, your photographer might be willing to give you some discounts or freebies.
Related: Best Gifts for Photographers ($5-$675)
Summary
Once again, tipping your wedding photographers is an option, not mandatory. Don't be pressured by people who will tell you that you should do it. But if you feel like doing so, be reasonable with the amount.
Otherwise, it's better to keep your money. After all, professional photographers are not just taking photos for money; they enjoy doing it.