Most laptops already have a built-in camera, so you might think you no longer need a standalone webcam. But if you are a working professional, a businessman, or a businesswoman engaged in virtual meetings, or serious about your live streaming, having a webcam with a zoom lens is a must. Fortunately, there are a lot of webcams with interesting features to choose from.
With webcam users today becoming more concerned about convenience and video and image quality, here are the seven best webcams with zoom lenses in 2023.
9 Best Webcams With Zoom Lens in 2023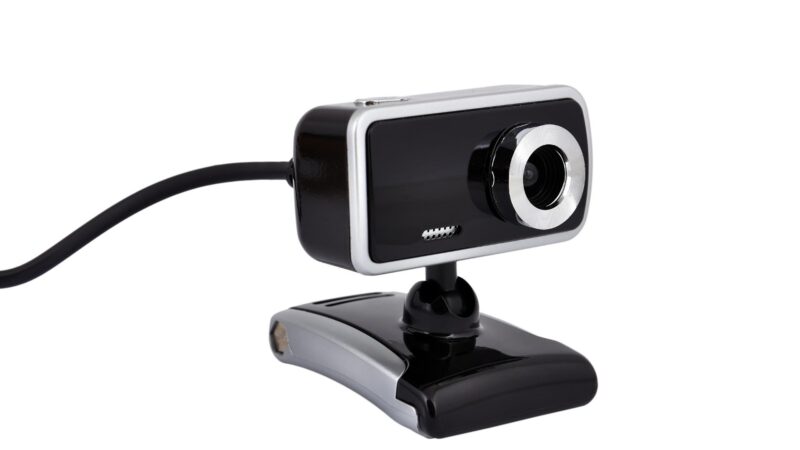 1. Logitech C920 HD Pro Webcam
Sale
Logitech C920 - Discontinued by Manufacturer
Full HD 1080p video calling (upto 1920 x 1080 pixels) with the latest version of Skype for Windows; Webcam with 5 foot cable
720p HD video calling (upto 1280 x 720 pixels) with supported clients; Full HD video recording (upto 1920 x 1080 pixels). Max Resolution: 1080p/30fps 720p/30fps
Video compression, Built in dual stereo mics with automatic noise reduction; Automatic low light correction, Tripod ready universal clip fits laptops, LCD or monitors
Since its release in January 2012, many content creators and professionals consider the Logitech C920 HD Pro Webcam to be the best webcam with a zoom lens.
Despite having some strong competitors over the years, its key features, along with the sleek design continue to be ideal for video calls, video conferencing, streaming, and webinars.
The Logitech C920 HD Pro Webcam allows you to capture 1080p sharp photos and video resolution of 1080p at 30 fps and 720p at 30 fps. Compatible with Windows 7, 8, 10, or later, zooming in and zooming out is pretty easy once you download the free Logi Capture software. Here, you can find settings for brightness and other cool features.
Armed with built-in dual stereo microphones with automatic noise reduction and automatic low light correction, along with superior quality speakers, this superior-built webcam offers a generous 78° field of view (FOV). As expected, you can conveniently attach the Logitech C920 HD Pro to your monitor or laptop. It also works well in standard tripods.
But unlike its other variants, the Logitech C920s and C920e, the C920 does not come with a detachable privacy cover. It is lightweight at 162 grams (5.7 oz), while the cable length is 5 ft (1.5 m).
Nonetheless, the main disadvantage is that Logitech C920 HD Pro has been discontinued since 2016. But don't worry; there are still a lot of stocks online.
2. Logitech C922 Pro Stream Webcam
No products found.
The Logitech C922 Pro Stream Webcam replaced the Logitech C920 in October 2016. This version is almost the same as its superstar predecessor but with some notable improvements.
Since Logitech seems to understand the needs of their customer, the company granted their requests. Yet, some requests were not granted in this model.
Like the Logitech C920, the C922 Pro Stream webcam can produce the same 1080p gorgeous photos and can create 1080p videos at 30 fps. But instead of recording at 720p at 30fps, the maximum frame rate is now 60fps. The FOV remains at 78, and it has the same 5-foot cable that attaches the camera to your device via a USB-A port.
The Logitech C922 also features the same L-shaped lip/joint. At the bottom, you can see the threaded hole for the tripod. But unlike its predecessor, this newer version comes with a bonus tripod and a 3-month license for XSplit Premium. It is also equipped with dual microphones for stereo audio, each located on each side of the camera.
Adjustment settings are also available via the free Logi Capture software. Background removal is easy but seems to be slow. The rubber cable is also quite flimsy as the one on the older version.
But then, the autofocus is a bit faster, and the low-light support is somehow better. Overall, this is a superb option in case Logitech C920 is gone.
3. Logitech Brio 4K UHD Webcam
Sale
Logitech Brio 4K Webcam, Ultra 4K HD Video...
SUPPORT WORK FROM ANYWHERE WITH SYNC: Whether employees are in the office, at home, or somewhere else, Sync device management software helps everyone stay connected by letting you ensure their Logitech video collaboration personal devices are being used and up to date.
Ultra 4K HD resolution: 4 times the resolution of a typical HD webcam; look your best and enjoy professional video experience wherever you are with 5x HD zoom.
Auto light adjustment: Logitech RightLight 3 uses HDR technology to show you in the best light, even in low-light and backlit situations.
Launched in February 2017, the Logitech Brio 4K UHD Webcam is another superstar webcam in its own right. Although 4k video via webcam is not yet available for Skype, Zoom, and FaceTime, the company felt that being ready for the future is very important. Interestingly, this masterpiece has other stunning features that you need in a webcam.
To start with, this Logitech Brio 4K webcam should not be confused with the Logitech Brio Stream, which only provides two video quality options – 4K at 30fps or 1080p at 60fps. Instead, the Logitech Brio 4K webcam offers additional recording of HD 1080p at 30fps, as well as HD 720p at 30, 60, or 90fps, giving content creators more options.
Apart from that, Logitech Brio 4K webcam offers 3 field-of-view presets via Logi Tune – 65°, 78°, or 90°, which allows you to have someone beside you. Instead of optical zoom, you can use 5x digital zoom.
It also comes with a detachable 2.2m (7.2 ft) USB-A to USB-C cable, giving you the freedom to use any compatible cable you like.
This Logitech 4K webcam also features a built-in dual stereo microphone with noise-canceling technology and can capture clear audio up to 1 meter away. Video quality is superb; thanks to RightLight 3 with HDR technology. It is compatible with Windows, macOS, and Chrome OS. Yet, these enchanting features come with a hefty price tag. 
4. Insta360 Link Webcam
Sale
Insta360 Link - PTZ 4K Webcam with 1/2" Sensor, AI...
4K Resolution with 1/2" Sensor: Always look your best in stunning Ultra HD 4K resolution. With a best-in-class 1/2" sensor, Link captures life-like detail with an excellent dynamic range.
AI Tracking: With a gimbal design and a powerful AI tracking algorithm, Link's lens rotates to follow your every movement. With automatic zooming and framing, you'll always be center stage.
Gesture Control: Control the camera with 3 simple hand gestures. No clicks necessary. ✋ = Enable AI tracking | 👆 = Zoom in/out | ✌️ = Enable Whiteboard Mode.
Released in August 2022, the Insta360 Link Webcam is probably the most advanced today. Instead of competing against Logitech, Insta360 decided to go after Apple's Center Stage by delivering very impressive features.
The only reason it is not on top of this list is it has a shockingly expensive price. Yet, it is the best webcam of its kind.
Instead of using software to digitally rotate to your every movement, the Insta360 Link webcam uses a 3-axis gimbal and built-in powerful AI algorithms.
Thanks to PZT (pan-zoom-tilt) technology, you no longer have to manually adjust your webcam as you move around. More importantly, zooming in and out are fully-automatic, no clicks required.
On top of that, the Insta360 Link webcam can capture 4K video at 30 fps or 1080p (and below) at 60 fps. Not to mention, it works well with FaceTime, Google Meet, Microsoft Teams, Skype, and Zoom and is compatible with Windows and macOS. The 0.5-inch sensor is the largest in webcams and has a 79.5-degree diagonal field of view (DFOV).
As a premium-level webcam, Insta360 Link is unmatched in so many ways. Video quality is superb, while dual noise-canceling microphones work just fine. However, it easily gets hot after an hour or two.
There is no lens cover and no carrying case included. The $299 price is incredibly high, but only if you don't need the extra features.
5. Razer Kiyo Pro Streaming Webcam
Sale
Razer Kiyo Pro Streaming Webcam: Full HD 1080p...
UNCOMPRESSED FULL HD 1080P WEBCAM — Experience smooth and vibrant professional quality with the highest fidelity through uncompressed Full HD 1080p 60FPS video. Works great for streaming, gaming, recording, video calling, conferencing, and online school. Field of View 103°, 90°, 80°. Sensitivity: -38 dB. Audio Codec: 16 bit 48 kHz. Sensitivity: -38db
UNCOMPRESSED FULL HD 1080P WEBCAM — Experience smooth and vibrant professional quality with the highest fidelity through uncompressed Full HD 1080p 60FPS video. Works great for streaming, gaming, recording, video calling, conferencing, and online school. Field of View 103°, 90°, 80°. Sensitivity: -38 dB. Audio Codec: 16 bit 48 kHz. Sensitivity: -38db
SUPERIOR LOW-LIGHT PERFORMANCE — Reduces graininess and brings out details to show the person in the best light even in darker environments. The Razer Kiyo Pro's light sensor performs better in more conditions compared to 4K webcams, which rely on professional lighting gear to achieve the same result
Released in February 2021, the Razer Kiyo Pro is a relatively new webcam but has attracted video game streamers and office professionals for very good reasons.
This excellent webcam succeeded in its promise to become a better version of the original Razer Kiyo. Interestingly, this Kiyo Pro is a great alternative for Logitech webcams.
To start with, Kiyo Pro omitted the integrated ring light on the front of the original Razer Kiyo. Instead, there is now a rigid plastic to protect the zoom lens.
Although it is still circular, the field-of-view now has three options – 80, 90, and a super-wide 103 degrees. This now allows you to include several people during a video group call or conference.
The Kiyo Pro is equipped with a fast 2.1-MP Sony CMOS AF sensor with an f/2.0 aperture. To protect it from scratches, this lens-shaped webcam is covered with Gorilla Glass 3, which is pretty impressive.
It features stereo omnidirectional microphones, which produce clearer audio than the original version. There is also a 4x digital zoom.
With a maximum video resolution of 1080p at 60fps and an enhanced HDR mode, the Kiyo Pro is superb in low-light performance. It also comes with a cap-like privacy cover and a detachable USB-C cable.
Adjustments can easily be done via the Synapse software. However, Kiyo Pro doesn't work with Windows Hello and is pretty expensive.
6. Elgato Facecam Webcam
Sale
Launched in July 2021, the Elgato Facecam Webcam is not as sophisticated as Logitech webcams. Instead, this premium but the intriguing model is designed for streamers who want simple features only.
Therefore, it is not surprising to find that some key features in most webcams are missing. Yet, the Elgato Facecam offers what other webcams don't. 
Being the company's first-ever webcam, the Elgato Facecam has no built-in microphone, so users have the freedom to choose which mic to use. After all, some of them don't produce high-quality sound.
There is also no autofocus but an optimized fixed-focus system. However, zooming in will digitally enlarge the image and can be frustrating.
Powered by a Sony Starvis CMOS sensor, the Elgato Facecam offers video recording of 1080/60fps but lacks HDR support. Zooming in and out and other adjustments, such as shutter speed and contrast, are done via Elgato's Camera Hub software. The webcam itself is plug-and-play, but the software is very useful and is truly a standout.
Amazingly, the Elgato Facecam is so far the only webcam with a customizable ISO setting. The focus range is 30-120 cm (11.8-47.2 in), while FOV is 82 degrees (diagonal). But, performance under low light conditions is not as good as expected. Overall, this tiny sensor competes with Razer Kiyo Pro in terms of the $200 hefty price tag.
7. Dell UltraSharp Webcam
Sale
Dell UltraSharp HDR 4K Webcam with Privacy Cover,...
CONNECT LIKE YOU'RE THERE: Experience sharp and bright professional video quality with Dell's HDR 4K webcam including a 4K Sony STARVIS CMOS sensor which captures more light providing clear, vivid and vibrant video clarity
KEEPING YOU IN FOCUS: Image Signal Processing inside the webcam optimizes your visual experience to guarantee superior picture quality in extreme lighting conditions. AI Auto Framing keeps you at the center of the screen
THE FULL PICTURE: With an easy to use interface, you can effortlessly tweak the brightness, sharpness, contrast and saturation, digitally zoom, auto focus, or select your desired view with 65°, 78° and 90° options
Launched in June 2021, the Dell UltraSharp Webcam is the company's first external camera but is packed with awesome features. It is powered by an 8.3-MP Sony Starvis CMOS sensor, which is similar to the sensor used by Razer Kiyo Pro. Yet, this excellent webcam offers 4k UHD at 24 or 30fps, while the Logitech Brio only allows 4k at 30fps.
Aside from 4k video, the Dell UltraSharp Webcam also shoots 1080p or 720p at 24, 30, and 60fps. The zoom lenses have FOV options of 65, 78, and 90 degrees, and there is up to 5x digital zoom. There is also an AI auto-framing feature that will adjust itself to keep your face at the center of the image. The picture quality is sharp and crystal clear.
The Dell UltraSharp Webcam is compatible with Windows and Mac OS. However, all the webcam settings can be only changed through Dell Peripheral Manager Software and are only for Windows. There is no software for Mac, though. As expected, it works well on Windows Hello. But like the Elgato Facecam, there is no built-in microphone.
Weighing 111.56 grams (3.93 oz) and measuring 90 mm (3.54 inches) long, the Dell UltraSharp Webcam is quite sturdy but heavy to sit on a laptop screen. Nonetheless, the design is aesthetically pleasing.
It also comes with a magnetic camera cover and a tripod mount. This Dell webcam is fairly expensive but is ideal for serious streamers.
8. Tenveo (TEVO-VHD102U) Video Conference Camera
Tenveo PTZ Video Conference Camera 10X Optical...
➤【1080P FHD Video Conference Camera】The VHD102U USB PTZ Conference Camera is equipped with a 10x optical zoom wide angle lens which is reach up to 1080P FHD video output. Equipped with a 1./2.9'' SONY CMOS Sensor with 2.1 MP, combined with advanced ISP processing technology, so that it can easily cope with a variety of scenes. The professional enterprise-level 1080P conference room camera is suitable for conference room under 40 square meters, an ideal selection for church live streaming.
➤【Smooth and Silent Pan/Tilt Movement】Tenveo PTZ Camera can be controlled remotely to rotate 350° (±175°) horizontally and 180°(±90°) vertically in an accurate, smooth and silent way. It is also supportive of 10 presets setting through the IR Remote Control and is available to set up to 64 presets via RS232 and RS485 interfaces for professional control. The convenient way could quickly control the PTZ camera pan, tilt, zoom, and move to the preset position for close-up sequence.
➤【USB Webcam Plug and Play】Plug and play, No additional drivers required. Launch video meetings with a plug-and-play USB connection to your laptop, desktop, computer, or Smart TV, and then you can start it immediately and run it on the video conferencing software. Anyone can easily set up this USB optical zoom camera and control video conferencing or live streaming.
While many video conferencing cameras have a tendency to operate somewhat slowly, this particular camera performs flawlessly.
This camera has a maximum panning speed of 80 degrees per second and a maximum tilt speed of 60 degrees per second, enabling quick transitions to center on the specific speaker as soon as they begin speaking.
You'll have the impression that you're in the same room with people when using this camera. With a full HD 1080p camera, a professional-quality video can be produced that clearly shows everyone in the room. Larger conference spaces, particularly those up to 645 square feet in size, were intended for it.
Most of the functionality that one would expect from a camera designed expressly for video conferencing is included in this model, including full pan 0 to 340 degrees (maximum speed is 80 degrees per second) and tilt 0 to 120 degrees.
It also has zoom capabilities: A 2.1 megapixel HD lens with a 10X optical zoom. It also comes with a simple-to-use remote control that enables users to quickly and effectively adjust the camera for any given circumstance.
9. NexiGo N940P 2K Zoomable Webcam
Sale
Zoom Certified, NexiGo N940P 2K Zoomable Webcam...
【2K QHD 5 Megapixels Sony Starvis Sensor】Powered by a 2K (2560x1440, 30fps) QHD 5-megapixel Sony Starvis CMOS Sensor, the N940P captures bright and crisp video even in low light. It's perfect for work, conferencing, and streaming!
【Remote with 3x Digital Zoom】 Control your video calls with a remote so even away from the desk you are still in charge. Turn off the webcam, adjust the volume, zoom in and out, mirror/flip your image, and more. With support for 3x digital magnification at 1080P@30fps, the NexiGo 2K webcam makes it possible to zoom in gradually with the single press of a button.
【USB Type A or C & Privacy Cover Included】 The NexiGo webcam is compatible with USB-A as well as USB-C input ports when using the included USB-C adapter. A webcam privacy cover is also included to provide security and peace of mind.
With dimensions of 1.96 x 1.96 x 3.93 inches, Nexigo Webcam is a relatively portable gadget. The N940P shoots bright, clear video even in dim lighting with its 2K (2560×1440, 30fps) QHD 5-megapixel Sony Starvis CMOS Sensor. It's ideal for streaming, videoconferencing, and work.
The camera has a remote control. With the help of this remote, you can manage video calls and remain in control even when you are not at your desk. You can even disable the webcam, change the volume, zoom in and out, flip or mirror your view, and more using this remote.
The NexiGo 2K webcam allows for 3x digital magnification at 1080P@30fps, allowing users to gradually zoom in with a single button click (remote). Also included is a noise-canceling microphone. This lessens background noise, improving the audio of your video.
To swiftly record and concentrate on any subject, the NexiGo N940P webcam features high-sensitivity autofocus technology. Your face will always be in focus thanks to the autofocus feature's sophisticated tracking. Under most circumstances, automatic exposure and white balance correction can aid in achieving a more realistic appearance.
Because of the NexiGo webcam's 360 Degree Adjustable Rotation, you can record whatever you want. You can effortlessly position the camera at whatever angle you want.